Tanushree Dutta on Amitabh Bachchan's response: I am hurt, these evasive responses make no sense
Days after saying that she was abused by Nana Patekar on film sets, Tanushree Dutta says she is not afraid of anyone.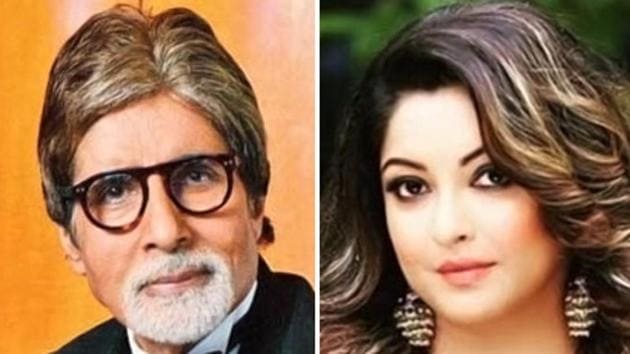 Updated on Oct 01, 2018 11:19 AM IST
By Rishabh Suri
, New Delhi
"What's fantastic by itself is that people are coming out in support, which wasn't there before. Most of the industry has still perhaps decided to stay mum, I'm trying to see how far that goes," says a tired yet confident Tanushree Dutta. She recently gave Bollywood its #MeToo moment with her allegations that veteran actor Nana Patekar sexually harassed her on the sets of Horn Ok Pleassss (2008), and that the director of Chocolate (2005), Vivek Agnihotri, had asked her to take off her clothes to give cues to her co-actors.
Despite support from the likes of Priyanka Chopra, Farhan Akhtar and Twinkle Khanna, there has been speculation that she's doing this for publicity and enter the reality show Bigg Boss. But Tanushree tackles it head on: "I am the kind of woman who never keeps quiet. If someone did anything, the very next day, my friends, their friends, and people on the next movie set will know about it. I will never keep quiet… nothing can discourage me now. They are saying Bollywood comeback, Bigg Boss… so what? I am not disparaging those inside the Bigg Boss house, but do people really think for somebody who walked on the Miss Universe stage and went ahead to do 16-18 Bollywood films, my aspirations in life would be so limited? Isn't there anything bigger than Bigg Boss or Bollywood they can think of? Even if so, does that take away from my story or what I have been through?"
Talking about Nana saying that he would hold a press conference, she said, "Why should I have any views on this statement (Nana Patekar said he will hold a press conference to 'look into the camera and answer every question')? That's what pathological liars do; they can look you in the eye or wherever you want them to and say what they want. I'm tired of people who are still saying Tanushree is 'claiming'. I don't have anything to say."
Tanushree says she was disappointed by actor Amitabh Bachchan, whose response to the controversy was: "Neither is my name Tanushree Dutta nor Nana Patekar". She says, "I'm hurt, as these are people who do movies on social causes. They play roles in films and the audience applauds. But when it comes to standing up and doing something about what is happening in front of you, there are these evasive statements that don't make sense."
Tanushree feels people judged her harshly for her sexy avatar in films like Aashiq Banaya Aapne (2005), Chocolate (2005) and the like, saying, "Probably, I didn't have the thought process, [and was] doing what came my way. People formed a certain image."
She also refuses to come back to Bollywood. "I am through with this Bollywood chapter. I am a US citizen. I was disillusioned, traumatised and walked away despite 30-40 offers. People called and supported me, but there was no public reaction, no condemnation. If I had walked onto another film set after that (the incident on Horn Ok Pleassss), someone would have thought 'You can get away with everything with this girl. You can even say s**t about her'."
Topics
Close Story