Vishal Sikka resigns as Infosys CEO after tussle with Narayana Murthy; company shares drop
UB Pravin Rao has been appointed as interim-managing director and chief executive of Infosys. The company said it has appointed Vishal Sikka as the executive vice-chairman.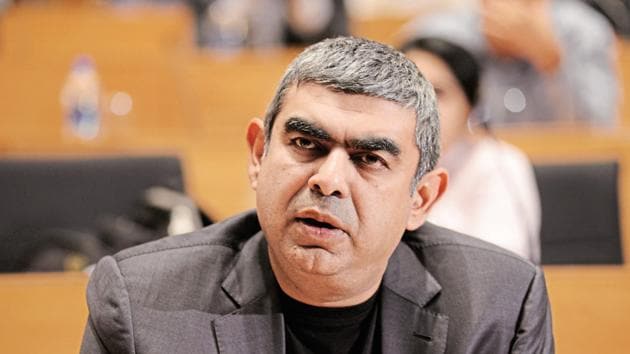 Updated on Aug 18, 2017 02:28 PM IST
Vishal Sikka resigned as Infosys CEO on Friday, citing a stream of "unrelenting" and "increasingly personal attacks" in recent months, a surprise move that sent the IT major's shares plummeting more than 12%.
B Pravin Rao, Infosys' chief operating officer, was named interim chief executive. Rao will report to Sikka, who will take the executive vice chairman role until a permanent CEO takes charge, which should be no later than end-March 2018, Infosys said in a statement.
Though Sikka, 50, did not name anybody in a parting letter to Infosys employees, the board said company founder NR Narayana Murthy's "continuous assault and misguided campaign" was main reason behind the exit.
The resignation came a day after it emerged that Murthy had expressed doubts over Sikka's ability to lead the company, India's number 2 software services exporter.
In an email to some of his advisers, Murthy said he had been told by at least three independent directors of the company that Sikka was more chief technology officer (CTO) material than CE0 material.
Murthy had also publicly lambasted Infosys in the past six to seven months for alleged lapses in corporate governance, allegations the company has denied repeatedly.
Sikka, known for his black T-shirts in contrast to his suit-clad peers, suceeded Murthy as Infosys head three years ago, the the first non-founder to head the software giant.
"...I have decided to leave because the distractions, the very public noise around us, have created an untenable atmosphere. I deeply believe in creating value in an atmosphere of freedom, trust and empowerment," Sikka said in his letter which he also posted on his blog.
"...I cannot carry out my job as CEO and continue to create value, while also constantly defending against unrelenting, baseless/malicious and increasingly personal attacks," added Sikka, a former member of the executive board at German software firm SAP.
In a scathing six-page letter to stock exchanges, the Infosys board referred to Murthy's "latest letter" and said his "campaign against the board and the company has had the unfortunate effect to undermine the company's efforts to transform itself".
The board believed it should set the record straight on the false and misleading charges made by Murthy because the founder's actions and demands are damaging the company, it added.
The shake-up came amid a protracted war of words between the company and its founders and some former executives, who were unhappy with various decisions taken by the board.
The founders, who still own 12.75 percent of the firm, had questioned a pay rise granted to Sikka and the size of severance payouts given to others, including its former finance head Rajiv Bansal.
Harsh Goenka, chairman of the $3.1 billion (revenue) RPG Group, tweeted: "To run an organisation effectively you need to humour and understand the axis of power. PM knows its the public and RSS. Cyrus, Sikka didn't."
Cyrus Mistry was ousted as chairman of Tata Sons in a boardroom coup in October last year after the company criticised his performance.
"Post demonetisation, old 'sikkas' not working. 'Vishal' change in Infosys. Old guard wins," Goenka added in another tweet.
Anand Mahindra, executive chairman of the Mahindra Group who tweets frequently and is followed by five million people, posted: "Crises are like a furnace that forges more durable steel. Infy is iconic & will always have people cheering for it. I certainly will.."
Sikka's resignation send Infosys shares plunging more than 12 % on Friday before recovering slightly.
The Sensex also shed more than 357.48 points in trading till afternoon.
(With agency inputs)
Close Story
Personalise your news feed. Follow trending topics