20kg gold, 21 luxury cars, team of bouncers: Golden Baba in Ghaziabad on last leg of Kanwar yatra
Aug 07, 2018 12:08 PM IST
"My love for gold and cars will not die. I will hand over the gold to my favourite disciple when I leave the world," Sudhir Makkar alias Golden Baba says.
Donning heavy gold ornaments, including 25 chains — each not less than 500gm — 58-year-old 'Golden Baba' arrived in Ghaziabad on Monday, in his cavalcade comprising 21 luxury cars, for the final leg of the 200km Kanwar Yatra.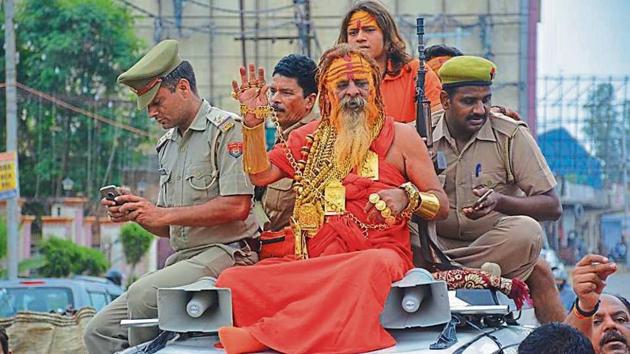 While resting at a resort on Delhi-Meerut Road on Monday, Sudhir Makkar alias Golden Baba — known for participating in Kanwar Yatra wearing heavy gold ornaments — said he will embark on more yatras in the future if his health permits.
As against 14.5kg last year, he is wearing 20kg of gold during this year's yatra.
"The gold has increased, by the grace of god. If the almighty permits and my health allows, I will continue my yatras. I have a severe stomach infection, which has deteriorated in the past three years. The infection interferes with the rites to be followed during Kanwar Yatra. I visited the best hospitals, even in Mumbai, but found no relief," Makkar said.
Last year, he had announced that 2018's Kanwar Yatra would be his last. For his 'silver jubilee' yatra, he said he spent nearly ₹1.25 crore in hiring cars, Delhi's best caterer and waterproof tents, along with doctors and an ambulance.
"With the passage of time, my expenditure on the yatra increased every year. But I still remember my first yatra; it cost me just ₹250. I still want to perform the yatra that way but it is difficult to return to those times. I remember sleeping in tents and eating food offered to devotees," he added.
Watch: 'Golden Baba' starts his silver jubilee Kanwar Yatra
Apart from gold chains, Makkar possesses 21 lockets (of deities), armlets and a Rolex watch that weighs half a kg and is valued around ₹27 lakh.
Makkar also owns a BMW, three Fortuners, two Audis and two Innovas, which are part of his cavalcade. On several occasions, he has travelled in rented Hummers, Jaguars and Land Rovers during the yatra.
"My love for gold and cars will not die. I will hand over the gold to my favourite disciple when I leave the world," he said.
Before taking up spiritualism, Makkar ran a successful cloth and property business at the Gandhi Nagar market in Delhi. He now owns a luxurious flat in a high-rise in Indirapuram, Ghaziabad.
Makkar, however, was not born with a golden spoon. He attended a gurukul at the age of six and went to Haridwar in search of a livelihood. He even sold rosary beads and cloth on pavements.
"Later, by the grace of Lord Shiva, my business flourished. I sold jeans, shirts and jackets; even my property business flourished," he said.
On his yatras, Makkar travels with a team of bouncers and security officers.
Also known as Shri Mahant Ji Golden Puri Babaji, Makkar's disciples estimate he owns property worth over ₹150 crore.
Exciting news! Mint is now on WhatsApp Channels
Subscribe today by clicking the link and stay updated with the latest financial insights!
Click here!