Siddaramaiah will contest from Kolar: Son
Jan 31, 2023 12:37 AM IST
Last week, Yathindra said that "Varuna is still open if Siddaramaiah would like to contest from Varuna, considering this is his last election.''
Former Karnataka chief minister and senior Congress leader Siddaramaiah will contest the upcoming Karnataka assembly elections from the Kolar constituency, his son and Varuna MLA Yathindra said on Monday.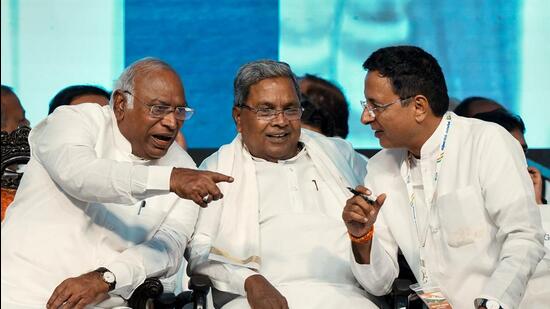 Last week, Yathindra said that "Varuna is still open if Siddaramaiah would like to contest from Varuna, considering this is his last election.''
However, on Monday, addressing a rally in Kolar, Yathindra said his father would contest from Kolar.
"Siddaramaiah has announced that he would contest the election from Kolar. The high command cannot go against his wishes. Several rumours are spreading about him not contesting Kolar. I want to clarify that he will contest from here," said Yathindra.
Though MLA Yathindra has, on many occasions, announced that he would give up his seat for his father, Congress leaders from Chamundeshwari had appealed to Siddaramaiah to throw his hat into the ring from the constituency he lost in 2018 and stage a comeback, Siddaramaiah did not show interest, preferring Kolar over Chamundeshwari and Varuna.
Last week, former chief minister B S Yediyurappa said Siddaramaiah would not contest the assembly polls from the Kolar constituency and was "playing a drama".
"I will say one thing, do not think I'm making a prediction. I think Siddaramaiah will not contest Kolar for any reason. He is playing a drama and is trying to go back to Mysuru," Yediyurappa said.
The former chief minister said the Congress legislature party leader is aware that he would face a defeat and have to go home if he contests from Kolar. "He is playing political circus and drama, according to me. He will not contest from there (Kolar) and may try to go back to Mysuru, if that happens, we will do the strategy we need to," he added.
Responding to the allegations, Congress working president Eshwar Khandre said, "They have an entire dirty tricks department to spread wrong and misleading information against Congress on WhatsApp. He can contest from anywhere, and wherever he contests, the entire region benefits. There are invitations from many constituencies requesting him to contest. Finally, the decision would be taken by the high command," he said.
Meanwhile, Siddaramaiah's supporters have gone to Kolar to identify a suitable house he would occupy on the outskirts of the town. Also, a team will be stationed in the constituency to work on his campaigning, leaders close to the developments said.