Fresh spell of snow in J&K, Himachal throws life out of gear
Published on Jan 26, 2023 01:19 AM IST
Gulmarg records 3ft snow, Himachal's tribal areas cut off as inclement weather hits power supply; J&K disaster management authority has issued medium to low danger level avalanche warning in Kupwara, Bandipora and Ganderbal districts for next 24 hours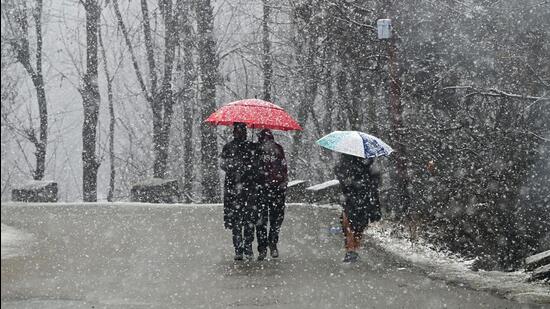 Fresh snowfall in most places of Kashmir and higher reaches of Himachal Pradesh, coupled with rains in the lower hills and plains of Jammu threw normal life out of gear on Wednesday.
The visibility dropped to 500 metres on Srinagar airport, affecting air traffic to and from the Valley. Himachal's tribal areas, including Lahaul-Spiti, Pangi, Dodra-Kwar, Bada Bhangal and Bharmour, were rendered out of bounds with the inclement weather also affecting power supply.
The J&K meteorological (MeT) department said maximum 39mm rain was recorded in Jammu division's Batote followed by 24mm in Banihal and 21mm in Katra till 6am.
"Srinagar recorded 1cm snow while Jammu witnessed 3mm rains," MeT director Sonam Lotus said. "January 26 will be generally cloudy with possibility of brief spells of light snow and rainfall in the morning," he added.
Kashmir's Gulmarg recorded 21cm snow, while Kokernag saw 13.5cm snow, Pahalgam 16.2cm and Qazigund 9cm.
J&K disaster management authority has issued medium to low danger level avalanche warning in Kupwara, Bandipora and Ganderbal districts for next 24 hours.
The cloudy weather and precipitation on the Tuesday night improved minimum temperatures across Kashmir with Srinagar recording zero degrees Celsius.
The MeT has predicted wet and erratic weather till the end of this month.
729 transformers develop snags in HP
Far-off areas of Himachal Pradesh have plunged into darkness as snag in more than 729 transformers disrupted power supply, said Sudesh Kumar Mokhta, director of state disaster management authority. The Chamba district faces worst power outage where 533 transformers stopped working. Lahaul-Spiti district had 117 broken transformers.
Mokhta said Khajjiar in Dalhousie, Killar in Pangi, Kullu's Jalori Jot, Rohtang top, south and north portals of Atal Tunnel, Malana and other high-attitude areas experienced one to three feet of snowfall.
Shimla's Kharapathar, Narkanda, Khirki and Churdhar and Chanshal Pass received considerable snow affecting the traffic to the upper area of the district.
"Till late evening, 239 roads were blocked for traffic across the state, highest 139 in Lahaul-Spiti, 53 in Chamba and 11 in Shimla," he added.
Cold wave has tightened its grip in the plains with heavy rainfall recorded across the state since Tuesday.
With 93mm rainfall, Dehra-Gopipur in Kangra was the wettest place in the state followed by Nagrota Surian 90mm and Chamba 73mm.
There was no large change in mercury though the minimum temperatures were recorded below normal.
Keylong was the coldest place in the state recording minimum temperature of -4.7º Celsius, followed by Kukumseri at -2.5ºC, Kalpa -1.8ºC and Narkanda -0.5ºC.
State capital Shimla saw a low of 3.1ºC and famous tourist resorts of Manali 2.4 and Dalhousie 0.9 degrees C.