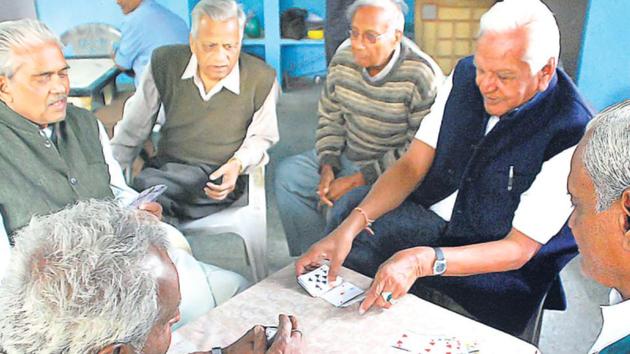 Few Covid-19 deaths in India's old-age homes, survey finds
Globally, age is one of the strongest predictors of the risk of death from Covid-19, which hits older adults the hardest even though the majority of cases are in people younger than 65 years.
UPDATED ON DEC 14, 2020 04:48 AM IST
Old-age homes in India have recorded very low numbers of deaths from coronavirus disease (Covid-19), according to a study of data of more than 3,000 residents in 44 care homes in the three western states of Maharashtra, Gujarat and Rajasthan.
There were 146 Covid-19 cases and four deaths in 44 homes with 3,146 residents, found the yet to be peer-reviewed study, published in the pre-print, medRxiv. This makes the reported Covid-19 cases rate to be 928 per 10,000 residents, the study said.
Globally, age is one of the strongest predictors of the risk of death from Covid-19, which hits older adults the hardest even though the majority of cases are in people younger than 65 years.
Data from states in India shows that a little over half (53%) of Covid-19 deaths are in people who are 60 years, compared to around 75% of deaths in those aged 65 years and above around the world, according to data reported to World Health Organization (WHO) till October.
"There have been accounts of fewer deaths in congested urban slums and old age homes in India, so we investigated data from 44 old-age homes in three states. We found no increase in Covid-19 deaths or all-cause mortality there, even though older persons account for more than half of all Covid-19 deaths in India," said Dr Dileep Mavalankar, director, Indian Institute of Public Health-Gandhinagar, who is one of the authors of the study.
"The study indicates that older persons in care homes are somewhat protected from the new coronavirus infection, in large part because of the protective measures being taken, which included decongesting homes and sending residents home wherever possible, stopping all visitors, giving attendants temporary accommodation within the home if needed, sanitisation all items from outside, including fresh fruit and vegetables, and frequent sanitisation of the premises," said Dr Mavalankar.
The study found that on average, 26% of the residents were sent back to their homes or to relatives before the lockdown to decongest the care homes, and administrators strictly adhered to the government guidelines for social distancing and personal protection. All the homes, including the 15% under-funded ones, made dietary changes were made to add vitamins C and D and multivitamins to the diet and increase physical activity to improve the health of the residents. The residents were also encouraged to make video calls to their families and films and entertainment was added to the daily routine to reduce anxiety.
Farmers to step up stir, plan sit-in across country today
Around 18% faced the staff shortage and higher absenteeism during and after lockdown because of commuting disruption. But all 44 care homes had thermometers, 95% had blood pressure measuring equipment, 80% had an isolation facility, 70% with oximeters, 5% had oxygen cylinders.
Doctors regularly visited the care homes with the frequency was varying from weekly to even monthly.
Only three care homes, however, had resident doctors for medical emergencies and a referral system to take the sick to hospitals with ICU beds for Covid-19 patients.
Developed countries, including many with well-funded social welfare systems, such as Sweden, Italy, France, Spain, Canada, United Kingdom and the United States of America, have reported disproportionately death rates in care homes.
Delhiwale: The head that wears the helmet
"We propose that some people may have an innate resistance to the new coronavirus, as many of these old age homes offered shared rooms for the destitute and people from low socio-economic groups, who may have a more robust immunity because of frequent past infections. Even if you argue that diagnosis may be missed in these groups, I would say that we haven't come across high death rates across several vulnerable groups, such as people in congested urban slums with shared toilets, homeless shelters, among children with thalassaemia who need repeat blood transfusions, or people with HIV who have low immunity, " said Dr Mavalankar.
Agrees Dr Anurag Agrawal, director, CSIR-Institute of Genomics and Integrative Biology, New Delhi: "It does seem that the death rate in India has been lower than the west. It is unlikely to be genetic since Indians in UK had a higher risk of death, but is conceivably due to different lifestyle. It is possible that treatment protocols with relatively early adoption of steroids and anticoagulation have contributed to lower deaths secondary to inflammation or thrombosis. However definitive evidence is needed."
Close