Opinion: The SC needs an institutional reset
May 02, 2019 11:11 AM IST
While the court lectures us on transparency, it remains the country's most opaque institution
Most of today's judges on the Supreme Court (SC) bench were in their thirties on May 7, 1997, when, famously, the full court sat and issued a 16-point declaration called Restatement of Values of Judicial Life. That year was the 50th anniversary of our Independence. You can find the full text here.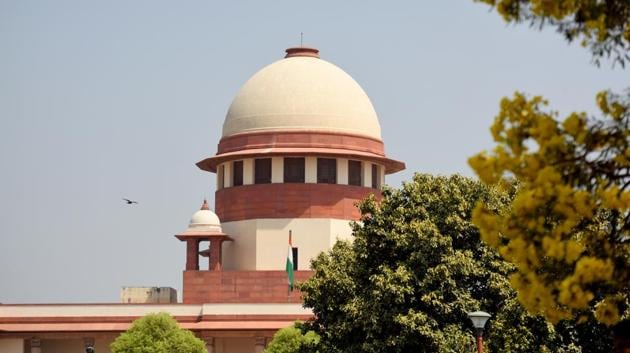 Twenty years on, we should check if our most hallowed institution has lived up to it.
You might begin with the question: Why is it so that the SC has been making headlines more for controversies than for good news? The current Chief Justice of India, Ranjan Gogoi, just like his two immediate predecessors, Justices Dipak Misra and JS Khehar, has had to deal with a crippling controversy. The two before them managed convenient sarkari sinecures; one of these in a Raj Bhawan.
Justice Khehar was "mentioned" in the diaries of the late Arunachal Chief Minister, Kalikho Pul. Justice Dipak Misra first faced an unprecedented joint press conference by his four senior-most colleagues, protesting what they saw as his high-handedness and lack of institutional democracy, and then an impeachment threat by the opposition. The allegation of sexual harassment levelled against Justice Gogoi now is the gravest.
Let's presume that each of these judges was spotless and targeted by interested parties. But we cannot defend none of them facing any scrutiny. Mostly, it happened because there was no procedure, mechanism or institution for such an inquiry. And where there is one, the Internal Complaints Committee for sexual harassment under the Vishakha Guidelines laid down by the SC, the matter was referred to a specially constituted committee of SC judges first, which the complainant rejected.
Here are the three key reasons our judiciary has dug itself into a deep hole.
First, its insistence on ducking inconvenient questions by invoking stature and reputation. This means there's never closure on any issue.
Second, that while the court lectures us on transparency, it remains India's most opaque institution.
And third, there is no mechanism, even a council of respected elders, that could step in when a crisis of credibility or internal distrust became evident.
Parliament had tried to create the National Judicial Accountability Commission (NJAC) exactly for such situations but the SC struck it down (4-1) as unconstitutional. Three of the judges who served on that bench (including Justice J Chelameswar, the lone dissenter) figured in the four-judge press conference in Justice Gogoi's company.
Since Justice Gogoi was the senior-most among the four and the only one still in the chair, he needs to reflect on how his institution ended up here. Why is his SC looking like a big, flailing body oozing blood from a dozen, mostly self-inflicted, cuts? And piranhas of various kinds are lurking.
It's a tragedy when SC judges complain that they are victims of conspiracies. How did this most-powerful institution, which is supposed to protect us and give us justice, become so vulnerable that busybody conspirators can threaten it? If it is so weak, where will we citizens go for justice?
The CJI's office is a most exalted one. It is also possible that, as he and his brother judges in that most avoidable Saturday morning outburst indicated, there indeed is a conspiracy to undermine him. The Chief Justice of India (CJI) deserves the fullest protection against interested parties throwing muck at him. But exactly the same principle should also apply to the complainant and the underdog.
Justice Gogoi and colleagues erred gravely in holding that peremptory Saturday morning sitting and pre-judging her case. Subsequent repair work is now lost in the thickening murkiness, with an activist lawyer popping up with conspiracy theories. What these precisely are, we don't know, because he has submitted these in a sealed cover.
The sealed cover has now become a defining metaphor for the last of the three big mistakes the court has made: Making itself the most opaque institution while preaching transparency from the Republic's highest pulpit. Here is an indicative list. In the Rafale case, the NDA government's evidence is in a sealed envelope, as indeed are all the reports of the officer in-charge of the National Register of Citizens process in Assam. In former Central Bureau of Investigation chief Alok Verma's case, the Central Vigilance Commission's report remains in a sealed cover, as do the NIA's reports in the Hadiya conversion case.
The court's order to political parties to submit details of their donors to the Election Commission is the latest example of this quaint judicial doctrine of the sealed cover. You might understand the need for secrecy in a rare case. But if even the compensation for the assorted retirees heading the court-appointed Committee of Administrators of Indian cricket remains in a sealed cover for three years, it's fair to ask why the court should be hiding behind secrecy when its entire Board of Control for Cricket in India excursion was about transparency.
Opacity is comforting. You can so easily get used to it. The Supreme Court protects the Right to Information Act for us, but claims immunity for itself. Only seven of 27 SC judges have disclosed their assets. There is no transparency or disclosure of the collegium proceedings or even explanation when it changes its mind on an appointment. Shouldn't you have the right to know exactly how many special and empowered committees the court has set up, mostly as a result of PILs, the members of the panels — especially retirees — and compensations? If the executive hid such information from you, you'd go to the courts. Where do you go against the Supreme Court?
Judges are wise people. It follows that top judges should be among the wisest of all. They must reflect on the consequences of their making the judiciary an insulated and cocooned institution while being the supreme force for transparency and disclosure elsewhere. It is this contradiction and hypocrisy that the complainant against the CJI has laid bare. That's why the court is looking unsure.
Read that 16th and last point in that 1997 Restatement of Values of Judicial Life: "Every Judge must at all times be conscious that he is under the public gaze and there should be no act or omission by him which is unbecoming of the high office he occupies and the public esteem in which that office is held."
The Supreme Court's refuge in opacity does not live up to this principle. An institutional reset and retreat are called for here. Of course, while both the complainant and the CJI get justice.