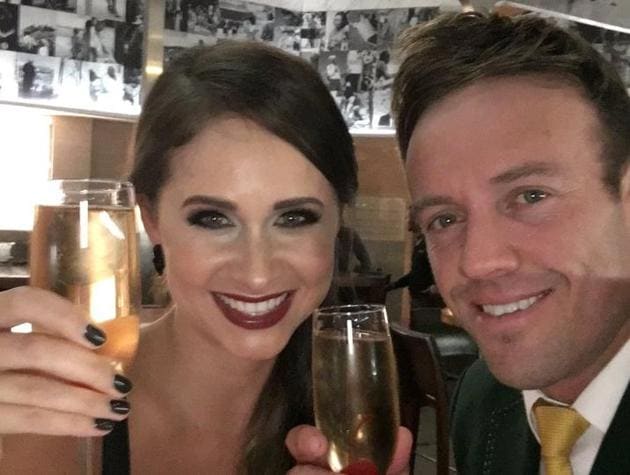 AB de Villiers reveals story behind proposal to wife Danielle at Taj Mahal
AB de Villiers tied the knot with his wife Danielle de Villiers in 2013 and the pair have two kids together
UPDATED ON MAY 18, 2018 04:45 PM IST
South African cricketer AB de Villiers has revealed that the idea to propose his wife for marriage at the Taj Mahal was such an elaborate plan that he had to lie to his wife Danielle de Villiers while asking photographers and videographers to follow them as security guards to the mausoleum.
"About a couple of months leading up to the IPL, I was obviously planning, got the ring and all that, and I decided to do it there. And once I got to the IPL, I got "security guards", who were actually photographing and videographers to film the whole thing," de Villiers said in an interaction on web series What the Duck Season 3. "But I told Danielle that I have to travel with security guards, so that's why they got to go with us. And it ended up to be a great surprise and I got it all on camera."
The Mr. 360 degrees of cricket tied the knot with his wife in 2013 and welcomed their second child last year. "That was a very special time in my life. I surprised Danielle completely. She didn't know a thing about it. And I could not have done it at a more special place than that," he said. "I remember what Virat told me when I got back. He's like 'you're raising the bar way too high for us'. But I think he did a pretty good job now with Anushka (Sharma)."
READ | 'Spiderman' AB de Villiers defies gravity with stunning IPL catch for RCB
South African legend Jonty Rhodes, who was also part of the interaction, lauded De Villiers's decision to try and keep his wife in the dark while designing the engagement ring. "I thought reverse sweeping Dale Steyn for a six was very brave but designing your future wife's ring, that's very, very brave," Rhodes quipped, to which De Villiers stated: Maybe she's not honest with me but she says she likes it. Maybe she's hiding it."
De Villiers, who slammed a trademark 39-ball 69 against Sunrisers Hyderabad on Thursday to help his side post a 14-run win and keep their play-off chances alive, also recalled how Rhodes was a childhood hero for his lot back in his school days. "I still have grass prints on my knees from trying that dive from 1992 against Pakistan. Growing up, I was just eight-years-old and the "in-thing" in school was to imitate that run-out so I did it plenty of times. I always wanted to be like him, and I had a green Jonty cap with Jonty written in yellow on it. I bought it at the first Test that I ever watched live at the Supersport Park.He is a good man as well, not only a good teacher," de Villiers added.
Taking inspiration from Rhodes naming his daughter India, de Villiers further stated that he felt Taj should be a good name in case he's father to a baby boy!
Close