Cricket Australia removes head of integrity amid match-fixing investigation
Cricket Australia (CA) has parted ways with its integrity chief, Iain Roy, two months after he completed an investigation into the ball-tampering scandal. CA confirmed Roy's departure has nothing to do with the recent allegations of match-fixing aired by an Al Jazeera documentary.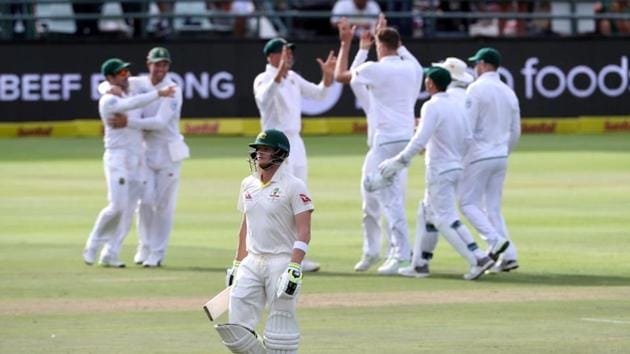 Published on Jun 01, 2018 05:56 PM IST
A few days after an Al-Jazeera documentary titled 'Cricket's Match Fixers' claimed alleged involvement of two Australian players in match-fixing during an India-Australia Test at Ranchi last year, Cricket Australia (CA) has taken a sudden decision to remove its head of integrity and a member of legal team, Iain Roy.
Roy, who led CA's ball-tampering investigation and was instrumental in handing over quick bans to Steve Smith, David Warner and Cameron Bancroft, was informed on Tuesday that his service was no longer required, according to The Australian.
READ | Steve Smith to donate Global T20 Canada League earnings to grassroots cricket
CA, though, said that Roy's sudden removal had nothing to do with match-fixing probe and was effected by mutual agreement.
The Australian also reported quoting CA sources that anti-corruption officer Sean Carroll will handle the match fixing allegations, which former Australian captain Ian Chappell recently said was the number one issue in cricket.
READ | Shahid Afridi reveals his plans regarding a possible return to international cricket
Roy took over as the head of integrity unit in December 2013. The unit was especially formed to manage integrity issues related to the game.
After the ball-tampering scandal broke out in South Africa, Roy was the person who interviewed Smith, Warner and Bancroft that resulted in sanctions for the trio.
READ | David Warner holidays in Singapore with wife Candice and daughters - see pics
CA's decision may have been driven by the organisation's cost-cutting drive following a new player contract deal which requires the Australian board to find $25m in savings across five years and use it for the development of grassroots cricket.
"We are currently reviewing organisational efficiencies within Cricket Australia in order to direct as much funding as possible into community cricket and fan-facing initiatives.
"We have restructured various departments in recent weeks to ensure best possible alignment and delivery on our new strategy, a CA spokesman was quoted as saying by The Australian.
"We are aware there are these types of individuals and types of criminal groups around world who are trying to get into cricket, trying to get hold of players, trying to get hold of groundsmen," he said. "It was reminder these guys are at work and they are not going away and we've got our work cut out trying to disrupt them."
Close Story
Personalise your news feed. Follow trending topics