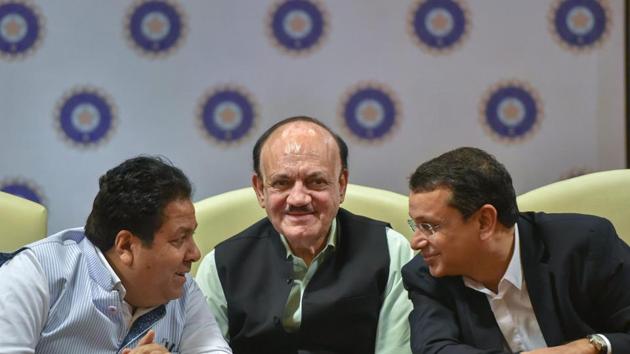 E-auction provides thrills, and windfall to BCCI at the end
The Board of Control for Cricket in India laughed its way to the bank after the auction for five years (2018-2023) fetched a record Rs 6138.1 crore from Star India
Hindustan Times, Mumbai | By Sanjjeev K Samyal
UPDATED ON APR 05, 2018 10:43 PM IST
The Board of Control for Cricket in India's (BCCI) decision to go for e-auction to sell Indian cricket's media rights has proved a stunning success.
On Thursday, BCCI laughed its way to the bank after the auction for five years (2018-2023) fetched a record Rs 6138.1 crore (USD 944 million) from Star India, which beat a spirited challenge from Sony Pictures Network to extend its grip on the lucrative deal.
E-auction was used for the first time in Indian sports and BCCI netting 60 percent more than the Rs 3851 crore Star India paid for the 2012-17 rights deal is sure to encourage other sports bodies to opt for it, instead of submitting bids in sealed envelopes, to get maximum value for their product.
A timeless process, the e-auction had the classic ebb and flow of a Test match as the three parties in the fray – Reliance Jio was the third -- were locked in a slugfest for three days. Played at a slow pace initially, it picked up momentum midway before heading to a calm finish.
The move of the auction came on Wednesday afternoon when a straight jump of R900 crore plus was made. Till then, the trio was content to meet the minimum bid increase of Rs 25 crore plus. A senior BCCI official confirmed it was Star India's move. It wasn't just an attempt to speed up things, it was also to show intent and deliver a psychological blow to the rivals.
In response, the bid went up by another Rs 300 crore. However, it must have become clear Star would not give up. Sony though matched the other two for two-and-a-half days. Its last bid was Rs 6118.59 crore. Star then came up with Rs 6138 crore, which proved the winning hand.
The air was heavy with tension on Thursday too. There was only one update in the morning, a bid of Rs 6111.70 at noon, and then a lull for three hours. The figure had touched the upper limit and the parties were trying to buy time or waiting for clearance from their top boss.
The suspense was broken by BCCI acting treasurer, Anirudh Chaudhary's tweet of the winning bid.
Uday Shankar, Star India chairman, hailed the e-auction. "The experience was great. It was like a movie that was great, but was not just moving ahead, it went on and on. It took some time to understand, but it was a very scientific and transparent process where everyone got enough time to respond. It nailed the misconception that e-tender or a sealed tender is better.
"Ultimately it is about who make the highest bid."
Asked whether Star had paid too much, he said: "Like every great thing, BCCI rights come a little expensive, but then good things have a price. Star and BCCI can transform the sporting experience of cricket fans altogether."
Close