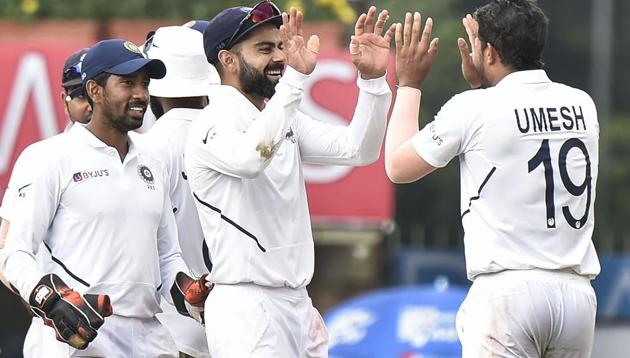 India vs South Africa Highlights, 3rd Test, Day 4: India clean sweep series 3-0 with massive win in Ranchi
Highlights: The play did not last for long on Day 4, with Shahbaz Nadeem picking up the final two wickets in just the second over of the day. Theunis de Bruyn was the first to go as he edged it to Wriddhiman Saha behind the stumps. On the next ball, Lungi Ngidi was caught by the bowler in a bizarre fashion, and sealing India's win by an innings and 202 runs. India register a series cleansweep, winning the series 3-0. This is 11th straight home series win for India. Their last home series defeat in the longest format was against England in 2012-13.
Ind vs SA 3rd Test Day 4, Highlights:
UPDATED ON OCT 22, 2019 10:30 AM IST
10:26 hrs IST
End of the series
Well, if you are an Indian cricket fan, the series has a lot of factors that you must have enjoyed. Starting from Rohit Sharma as opener, to seamers, to spinners, to debutant Shahbaz Nadeem, to wicketkeeper Wriddhiman Saha, everything worked out perfectly. India clinch trophy with a 3-0 win and the rise and rise continue for the team. The next challenge is Bangladesh. Till next time!
10:19 hrs IST
Winning captain - Kohli speaks
"Amazing. You guys have seen how we're playing. Making things happen on pitches that don't seem to offer too much, is something we're very proud of. Even when we travelled away from home, we wanted to compete. Getting into the right kind of mindset is something these guys have worked really hard to get into. Looking at the way these guys run into bowl, or even in the field, you can see that mindset. To be the best side in the world, you have to be multi-dimensional. Spin was always our strength, batting was never a problem for us. Ishant was the only experienced bowler for us. We said we can play an extra bowler, and as batsmen we said we'll get the job done. We've got runs in every Test match, our catching has been good too. (Goal) As I said, even without much experience, we travelled very well. We believe we can win anywhere. As long as we keep working with honest intent, those things will follow. We've wanted to be the best team in Test cricket, and as long as we compete, things will work out well for us."
10:15 hrs IST
Man of the match & Series - Rohit Sharma
"I said it before as well, thankful to the management. Considering how the series has gone by, I can take a lot of positives. The new ball will be a threat anywhere in the world. It's been a great start, so I don't want to let it go. That started long back in 2013, when I started opening for India. Once you are in, you can play your game. That's what I have done, I follow a template. You need support from the management, coach, captain, that has helped a lot. Test cricket is a different ball game, getting that big score will give me the confidence. I was trying to be mindful about that. You need to be disciplined, I kept talking to myself. I wanted to make a big score and get the team into good positions."
10:15 hrs IST
Best partnership - Rohit and Rahane
That was a glorious partnership that changed the nature of the match. India were 3 down for 39 and the two added over 250 runs for the side.
10:13 hrs IST
Swag star of the match - Mohammed Shami
Mohammed Shami for his performance has been named as the star of the match. The meteoric rise for the pacer continues.
10:10 hrs IST
Losing captain - Faf du Plessis speaks
"(After 431 in Vizag, what happened) That's the frustating part of the tour. There were some really good signs, but it went the other way. Every Test, we made more mistakes. But we have to give credit to the Indian team. They were ruthless and they were better than us in every department - spin bowling, fast bowling, batting and even the fielding. They are a difficult team to overcome. (On Indian pace) The mindset after 2015 was to prepare ourselves for really spinning tracks, but it's been the opposite. Really sporting tracks - fantastic for fast bowlers and even for batsmen. There's a lot to learn for us. (Pace on Indian pitches vs South Africa) I think it's the skill of the bowlers. They have a skiddy nature and they hit the right spots and the stumps at all times. Those are the things we talked about before we came here, but naturally the length in South Africa has to be a little shorter, and that takes time to adjust. (On positives) It's important that we have some young guys, and they'll experience this in 3-4 years ago. It was important for us to take something back again. We have to learn to compete the next time again. This is the toughest tour on the circuit...11 series wins in a row bears testament to that."
09:52 hrs IST
Ravi Shastri speaks - 'Bhaad mein gaya pitch'
Ravi Shastri: "We had a wish that we could take pitch out of the equation. We always wanted to take 20 wickets irrespective of where we were playing. Our batting is pretty much like a Ferrari taking off. We are just focussed on taking 20 wickets. Ajinkya Rahane was always there. He just needed to rediscover himself. When you need to open in Tests, you might get out in the first 10 balls. But Rohit did well to hang in there for the first two hours. And things changed after lunch for him to take advantage of that. The job satisfaction that an opener gets is wonderful. Extremely impressed with Nadeem. He comes over the top and has a great wrist position. The guy has put in the yards at the domestic level and am glad he finally had his chance at his home ground. He had no nerves and bowled three maidens on the trot. It is a team effort. Normally, in India you have two players hogging the limelight. But in this series, everyone chipped in. That is what you want. "
09:50 hrs IST
Mohammed Shami and Mayank Agarwal speak
Mohammed Shami: We're always ready. We know how to bowl in Indian conditions now. We're always prepared. The team management gives us the confidence, the fields we want. The crowds are always behind us. The focus is always on consistency.
Mayank Agarwal: I was happy to make my debut in Australia, very happy to make whatever little contributions we can for the team. It's hard work over a period of many years that we're able to produce these results for the team. But kudos to the bowlers, for all the hard work they've put in and bowl the way they have. It's a lot of fun standing at short leg and seeing the opposition batsmen facing the heat, ducking and weaving out of the way or trying to fend. Shami, Ishant, Umesh & Bumrah keep giving back what they get. Not just bounces, they bowl wicket-taking balls. Good balls.
09:40 hrs IST
GONE! India clean sweep series
Ngidi hit it straight to Nortje and the ball hit his head and is caught by Nadeem. Proteas are all out for 133. India win by an innings and 202 runs and clean sweep series 3-0.
09:38 hrs IST
Nadeem strikes!
WICKET! Nadeem's low kept delivery has been edged by de Bruyn and Saha takes a great low catch. India are now just one wicket away from the win. SA 133/9
09:36 hrs IST
Nadeem into the attack
In this India vs South Africa match, Shahbaz Nadeem is out to bowl from the other end. Interesting tactics for skipper Kohli, to employ a spinner on the other end.
09:30 hrs IST
HERE WE GO!
Theunis de Bruyn and Anrich Nortje out to bat for Proteas. Mohammed Shami will start the day's play for India. Saha is back on the field. How long will this go on for? HERE WE GO!
9:24 hrs IST
Action about to begin
India need only 2 wickets, the weather is clear, the stage is set for Virat Kohli and company to register their maiden sweep over South Africa in Test series.
9:17 hrs IST
Umesh speaks
"If you have pace and bounce, you can be successful at home. Earlier they said as fast bowlers, you've to just be ready for reverse swing after the new ball's shine is done, to allow spinners to come in. But with Shami, Jasprit and I, we plan and we know how we have to go about bowling. All of us have pace. I'm happy to see our fast bowlers are doing what overseas pacers are doing. It gives us wings," Umesh on Star Sports.
8:52 hrs IST
Hamza rues lack of better preparation
South Africa are staring at a whitewash and thus, young batsman Zubayr Hamza on Monday admitted they should have been better prepared mentally before embarking on what has been a nightmarish India tour.
Read more about it here.
8:28 hrs IST
Saha blow for India
India wicket-keeper Wriddhiman Saha took a blow on the ring finger of his left hand on Monday and was replaced by Rishabh Pant as India inched closer to a 3-0 series whitewash on Day 3 of the third Test in Ranchi.
Read more about it here.
8:18 hrs IST
Potent Indian fast bowlers
It was a day for the Indian fast bowlers to slice through the South Africa batting order with some absolute peaches. They also hurled in few bumpers to keep them honest and Sunil Gavaskar was thrilled with the bowlers.
Read what he had to say about them.
8:08 hrs IST
Nadeem on impressive debut
After years of toil in the domestic cricket, Shahbaz Nadeem realised his dream of playing for India and he had an impressive debut. He spoke about learning from Ashwin and Jadeja and how they helped him in Ranchi.
Read more about it here.
7:59 hrs IST
Day 3 recap
India enforced follow-on Day 3 and the bowlers vindicated this decision in the first 10 minutes by slicing through the South Africa top order. To pile on the misery, Dean Elgar was hit on the head by a Umesh Yadav bumper and had to be taken to the hospital. He was substituted by Theunis de Bruyn. India now need only a couple of wickets to complete the formality and bag the series 3-0 and complete their first-ever clean sweep of South Africa in a Test series.
Close