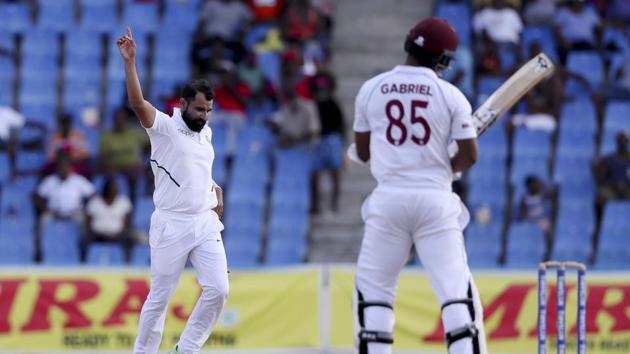 India vs West Indies highlights, 1st Test, Day 4: Virat Kohli and Co. win first Test by 318 runs
Highlights: Jasprit Bumrah struck five while Ishant Sharma took the wickets of Shamarh Brooks, Shimron Hetmyer and Kemar Roach to win the match for India. It was a clinical performance from the Indian bowlers as they bowled out the Windies for just 100 runs. India win the match by 318 runs to earn their fourth-highest Test victory. Earlier, Ajinkya Rahane scored a brilliant ton while Hanuma Vihari slammed 93 as India declared their second innings on 343/7. As a result, West Indies needed 419 runs to win the first Test encounter.
India vs West Indies, highlights:
UPDATED ON AUG 26, 2019 03:17 AM IST
01:40 hrs IST
Victory for India
It's over. Ishant Sharma has picked up the last West Indies wicket. India win the first Test by 318 runs after bowling out West Indies for just 100.
01:35 hrs IST
Impressive striking
Roach and Cummins have frustrated the Indian bowlers. They are striking the ball well and hitting the ball out of the park continuously.
01:15 hrs IST
Three sixes
Kemar Roach is taking on Ravindra Jadeja as there is nothing to lose for the batsman. He has hit three sixes on Jadeja's bowling in an over.
01: 07 hrs IST
Shami in a hurry
Shami has picked the second wicket of the over. Shannon Gabriel tried to hit the ball to the boundary but edged one to Rishabh Pant.
01:01 hrs IST
OUT
It is the third straight clean bowled inflicted by the Indian bowlers. Mohammad Shami came into the attack and straight away picked up Roston Chase's wicket. India need just two more to win the match.
00:39 hrs IST
WICKET
Jasprit Bumrah has struck again and sent back WI captain Jason Holder with a peach of a delivery. Bumrah now has 4 wicket in the second innings while Windies are staring at a humiliating loss.
00:21 hrs IST
No Hope
Shai Hope had no clue what to do to the Ishant Sharma delivery. The ball crashed straight into the stumps and Ishant got his 3rd wicket of the innings.
00:04 hrs IST
Play resumes
Play has resumed after a short tea break. Chase and Hope are on the crease as the Windies 'hopes' wrest on their shoulders.
23:44 hrs IST
Tea on Day 4
West Indies are 15 for the loss of five wickets at tea and if India can continue this run of form, the match can end in the next session!
23:42 hrs IST
Bravo castled
Another in-swinger from Jasprit Bumrah and Darren Bravo is castled! West Indies are five wickets down for 15 and this is just disappointing from the hosts. Bumrah continue his brilliant run of form as India can smell victory.
23:40 hrs IST
Four wickets down
Ishant Sharma strikes again as Shimron Hetmyer is caught in the slips, West Indies 13 for the loss of four wickets. He edged it once again and this time, Ajinkya Rahane made mistakes in completing the catch.
23:33 hrs IST
Catch Drop
A golden opportunity goes missing as Virat Kohli dropped Shimron Hetmyer at second slip. It was a thick outside edge and the carry was quite comfortable but Kohli was unable to judge the ball well. WI 11/3
23:24 hrs IST
Brooks out
Shamarh Brooks departs for 2 as Ishant Sharma strikes for India, West Indies 10 for the loss of three wickets. An in-swinger from the pacer and the batsman was caught LBW.
23:20 hrs IST
Bumrah strikes again
A brilliant delivery from Jasprit Bumrah and John Campbell is castled for 7, West Indies 10/2. Horrible footwork from the batsman and the swinging delivery crashes straight into the off stump.
23:13 hrs IST
Good start
A brilliant start for India as Jasprit Bumrah struck early and they will be looking to take as many wickets as they can in this session. West Indies need a good partnership and a lot will depend on their top order. WI 7/1
23:07 hrs IST
Bumrah strikes
Kraigg Braithwaite departs as Jasprit Bumrah strikes early for India, West Indies 7/1. Braithwaite went fishing for the delivery outside the off stump and ended up edging it to the wicket-keeper.
22:59 hrs IST
WI start chase
Kraigg Brathwaite and John Campbell start proceedings for West Indies as the new ball is handed over to Ishant Sharma. Can India strike early? Let's wait and watch.
22:54 hrs IST
Steep Chase
India declare for 343/7
India set a target of 419 runs
This is the highest target set by India against WI in test matches
On the other hand, if WI achieve this target, it will be the highest successful chase for WI (by mere 1 run)
22:47 hrs IST
India declare
An extremely loose shot from Rishabh Pant and Keemo Paul pulled off an easy catch as the wicket-keeper departs for 7. Vihari also followed suit after a few balls and India have declared their innings on 343/7. West Indies need 419 runs to win!
22:32 hrs IST
Vihari living dangerously
These are nervous times for Hanuma Vihari as he is heading for his century and it is clear from his shot selection. Two half chances for West Indies fielders but the India batsman managed to survive. IND 334/5
22:17 hrs IST
Rahane out
Ajinkya Rahane departs for 102 as India are 322 for the loss of five wickets. A fast delivery from Shannon Gabriel and Rahane completely miscued the shot as Jason Holder completed an easy catch to complete the dismissal.
21:57 hrs IST
Ton for Rahane
Rahane scores a ton
His 10th century in tests
His 2nd against West Indies (both in the WI)
His 7th century away from home
After 30 test innings has Rahane scored a century
The 8th instance of an Indian scoring a century and a fifty in the same test in the West Indies
21:44 hrs IST
Session 2
India are back for the second session and Hanuma Vihari starts proceedings with a boundary off Roston Chase. India will be looking to score fast now and will try to give their bowlers four sessions to bowl West Indies out. IND 295/4
21:04 hrs IST
Lunch on Day 4
It's lunch on Day 4 as India are 362 runs ahead. Hanuma Vihari and Ajinkya Rahane are looking in good touch as the visitors are 287 for the loss of four wickets.
20:52 hrs IST
Fifty for Vihari
Fifty for H Vihari
His 2nd test fifty
His only fifty before today's was against ENG in his debut test inns
20:28 hrs IST
250 up for IND
250 comes up for India and the lead is now 325. This is the perfect place for Virat Kohli & Co and with more than five sessions to go, they will be the favourites to win this match. IND 251/4
20:17 hrs IST
Solid Partnership
50-run partnership between Rahane/Vihari
The 3rd consecutive 50+ partnership by the Indian 5th-wkt pair against an opposition in tests
The 4th consecutive 50+ partnership by an Indian 5th-wkt pair against WI in tests
This is the duo's 2nd fifty partnership in test matches (3 inns batted together as pair)
20:08 hrs IST
IND in control
This is turning out to be a tiresome session for West Indies. They started well with the wicket of Virat Kohli but it has been all India since then and with the lead being 313 runs, this is truly India's match to lose. IND 238/4
19:54 hrs IST
Lead crosses 300
This is just calm and composed batting from Hanuma Vihari and Ajinkya Rahane as India's lead crosses 300. With 6 wickets remaining, India can aim for a much bigger total and this is not looking good for West Indies at all. IND 232/4
19:45 hrs IST
One boundary every over
The last three overs has produced at least one boundary every over and that is not good news for West Indies. The runs are coming at a healthy rate for India and unless they can take quick wickets, this is not looking good for the hosts. IND 227/4
19:37 hrs IST
New Ball taken
Second new ball taken by West Indies and it is handed straight to Shannon Gabriel. The hosts have bowled well today and a couple of wickets at this juncture can do wonders for their confidence. IND 213/4
19:27 hrs IST
Vihari joins Rahane
Hanuma Vihari is looking quite composed and he can be the perfect partner for Ajinkya Rahane in this scenario. Rahane is the set batsman here and a lot will depend on him in this match. IND 208/4
19:20 hrs IST
Stat Attack: Kohli
Kohli dismissed by Chase for 51 (113)
2nd time dismissed by Chase in tests
Rahane and Kohli now have 8 century partnerships in test matches, the most century p'ship by a 4th wicket Indian pair
Also, their 18 50+ p'ships is now the joint most by a 4th-wkt Indian pair
19:12 hrs IST
Virat out
Virat Kohli departs for 51 as Roston Chase strikes for West Indies, India 188/4. This is a good start for West Indies as they will looking to restrict the visitors to a total under 300.
18:39 hrs IST
Holder hits out at batsmen
After getting bowled out for 222 in the first innings against India on Day three of the first Test match, West Indies skipper Jason Holder expressed disappointment with the top-order, saying the batsmen failed to step up.
Read more about it here.
18:17 hrs IST
KL Rahul on technique
Technique is "overrated" for K L Rahul but the India opener has admitted he needs to show some patience to enure the runs flow again from the willow that promised much. Apart from a half-century in the one-off Test against Afghanistan and the 149 in England last year, Rahul has not quite set the stage ablaze in the longest format since the start of 2018.
Read more about it here.
18:01 hrs IST
Kohli-Rahane stand
India captain Virat Kohli and vice captain Ajinkya Rahane put their side in a commanding position on Day 3 of the first Test match against West Indies at Antigua. Kohli and Rahane stitched together an unbeaten 104-run stand as India stretched their lead to 260 with 7 wickets in hand, two days of cricket of to be played. The duo also entered the record books with their century stand.
Read more about it here.
17:35 hrs IST
India on top
Virat Kohli and Ajinkya Rahane found form as India stretched their lead to 260 runs at the end of day 4 and are now bossing proceedings at Antigua. Jason Holder and crew need to find their best balls and knock over the rest of the Indian batting order for as little at possible.
Hello and welcome to live coverage of the fourth Test match between India and West Indies from Antigua.
Close