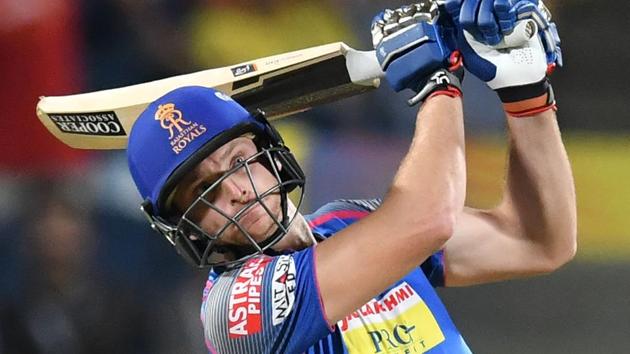 Nothing wrong in choosing limited-overs cricket over Tests: Jos Buttler
Jos Buttler, Rajasthan Royals and England wicket-keeper batsman, says it is tough to play all three forms of cricket and there is nothing wrong in specialising.
UPDATED ON MAY 02, 2018 09:02 AM IST
Jos Buttler has been in the forefront of England's resurgence in ODIs since the 2015 World Cup disaster. The England wicketkeeper has three of the fastest ODI centuries for England and he has also been one of the key performers in the Big Bash League, Bangladesh Premier League and the Indian Premier League. In an exclusive chat, the 27-year-old England batsman opened up on how England's perspective towards the IPL changed, the club versus country debate, shunning snobbery of wanting to play in all three formats and learning to play the piano during his off days.
Excerpts:
How do you cope with the pressure of Rajasthan Royals not performing as per expectations?
The pressure is always there in professional sport. It is a result-oriented business. We know the IPL is not won in the group stages. We need to start playing better cricket to allow ourselves the opportunity to enter the knockout stages.
Following England's poor World Cup 2015 campaign, what led to the team's current ODI resurgence?
We decided that we could not play any worse or do anything worse. We wanted to push the boundaries of what we are capable off. In England, ODI cricket was always seen as a poor relation to Test cricket, which was always deemed important. Andrew Strauss (England's Director of cricket) sort of arrested that balance and made a more conscious effort in making a successful white ball team.
READ | IPL 2018: Kings XI Punjab's Karun Nair not worried about batting position
You hold the three fastest hundreds for England in ODIs...
My style has always been to score as many runs you can and as quickly as you can. That is the basic template. Ball-striking is going from strength to strength in this era. Guys practice these things more than they used to. No wonder the consistency has improved. That is the crucial factor.
From initial resistance to the IPL, what has changed for England which has seen so many players in this edition?
The changing opinions and attitudes towards white-ball cricket are key. The IPL clashes with our county season. We are taking white ball cricket as seriously as red ball cricket. There are not many players who play all formats. So, the burnout issue is not prevalent anymore. Trevor Bayliss, in particular, who had success with Kolkata Knight Riders as the head coach, knows how important it is for the success of players.
Kevin Pietersen was caught up in club versus country debate? What is your take on the issue?
Country, hopefully, always comes first. The climate of cricket has changed a lot with the IPL and the money the tournament offers. At the end of the day, we are professional athletes and we have a short career. To a big extent, earning as much money in that time is hugely important.
READ | How a less intense Virat Kohli is turning things around for RCB in IPL 2018
Alex Hales and Adil Rashid decided to focus only on white ball cricket...
I think there is nothing wrong in people wanting to specialise in the sport. It is becoming increasingly tough to play in all three formats. I don't think we should have that snobbery that if you play cricket, you need to play all formats.
Tell us something about Jos Buttler which the world does not know about?
In this IPL, for a few months, I have been keen to learn the piano. I play the keyboard. Romi, the Rajasthan Royals media manager, has managed to find me a keyboard. In my idle hours, when we are not practicing or playing, I have been teaching myself to play the keyboard.
Close