How a less intense Virat Kohli is turning it around for Royal Challengers Bangalore in IPL 2018
There have been questions raised over Virat Kohli's captaincy, especially over the players picked in the 2018 Indian Premier league this season (IPL 2018). But in the last two games, including the win vs Mumbai Indians, he has appeared less intense.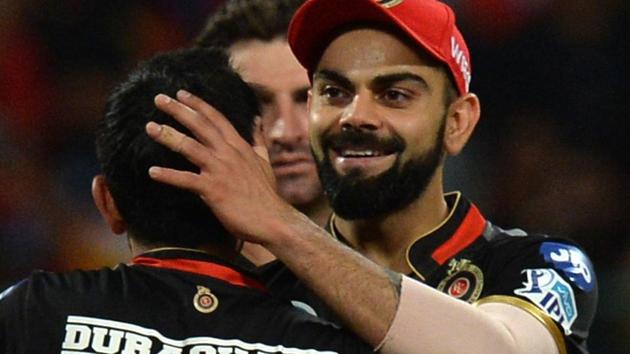 Updated on May 02, 2018 01:47 PM IST
Royals Challengers Bangalore (RCB) skipper Virat Kohli admitted that him communicating with bowlers in the death overs may lead to confusion, and so on Tuesday against Mumbai Indians (MI), he allowed bowlers to back their instincts and take responsibility for their decisions. (RCB vs MI highlights)
"I realised that there is no point talking too much to the bowlers, create confusion. I just told the bowlers to back their gut. Take ownership of your field, your own plans, and own them," he said right after the match that RCB won to get two important points and stay alive in the Indian Premier League (IPL 2018). (RCB vs MI scorecard)
There have been questions raised over his captaincy, especially over the players picked this season. During this IPL stint, or at least in the last two games, Kohli has appeared less intense than he usually is on the field, talking much less to bowlers than he generally would. (IPL 2018 points table)
READ MORE | Hardik Pandya's half-century for Mumbai Indians goes in vain vs RCB
In both these games, the field set allowed KKR opener Chris Lynn on Sunday and Mumbai Indians all-rounder Hardik Pandya on Tuesday to take easy singles and get off strike against RCB's ace spinner Yuzvendra Chahal. In fact, Pandya on Tuesday was all at sea against Chahal. Instead of keeping the field tight, RCB allowed him easy singles, get off strike and target other bowlers. Pandya managed a half-century and brought his team close.
Towards the end of the game, Brendon McCullum did most of talking to bowlers, helping them arrange the field.
Asked about McCullum's involvement towards the end stages, New Zealand paceman Tim Southee, who won man of the match for his 2/25 said, "I think we've got a lot of knowledge in the group. We've got some guys who have played a lot of cricket. It is nice to have those leaders.
READ MORE | Delhi Daredevils face Rajasthan Royals in must-win encounter
"Obviously, he (McCullum) has captained New Zealand for a long time as well," added Southee. "He has got a nice cricketing brain. It is nice to have different voices out there helping Virat out. It's nice to share the knowledge, passing on. He had batted for a while and was passing on his knowledge to the bowlers."
Southee was questioned about Kohli's strategy of letting the bowlers decide the field.
"It got a bit close towards the end and Virat got the belief in the guys, telling them to go out and back their strongest skill sets and we saw that with the way Siraj closed out his last over. We knew we had to keep taking wickets, so it becomes hard for these guys to come out and restart."
Kohli has also found it tough to set a template for batting this season. After batting at No. 3 in the last game, he demoted himself to No. 4 this time, probably to lend some depth to batting.
READ MORE | Why MS Dhoni is unstoppable, Chennai Super Kings teammate Faf du Plessis explains
His bowlers have been below par and his trump card Yuzvendra Chahal has been struggling to pick wickets because the batsmen have found it easy to rotate strike and see him off without taking risks.
On Tuesday too, the match looked like going away from them before Tim Southee and Mohammed Siraj held their nerve and used cross-seam and variations to confuse the batsmen.
"We tried to back our strongest skill-sets (early on). There was some assistance there with the swing and we were able to get some wickets and once there was no swing then we adapted a bit and bowled cross seam deliveries which were holding off at the surface and then moving off the surface as well," said Southee. "We bowled well upfront, we took wickets and made it tough for them to gain momentum."
Close Story
Personalise your news feed. Follow trending topics