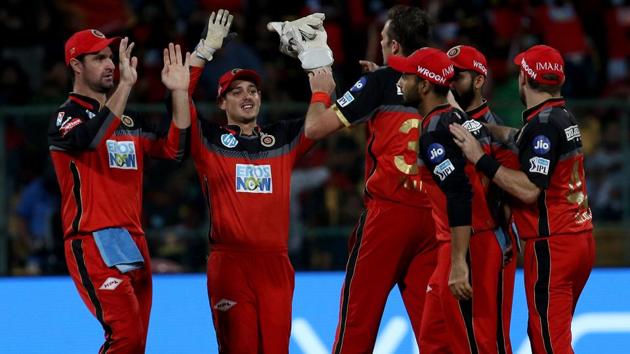 Royal Challengers Bangalore vs Mumbai Indians, IPL 2018, highlights: RCB beat MI by 14 runs
Get highlights of Mumbai Indians (MI) vs Royal Challengers Bangalore (RCB), IPL 2018 game, here. RCB defeated MI by 14 runs.
Hindustan Times | By Shayne Dias
UPDATED ON MAY 01, 2018 11:57 PM IST
Mumbai Indians (MI) and Royal Challengers Bangalore (RCB) fought for survival when they locked horns in an Indian Premier League (IPL) 2018 encounter in Bangalore on Tuesday. It was the home side who emerged on top in what was a hard-fought encounter. Mumbai restricted Bangalore to 167/7 in the first innings. However, a regular loss of wickets in the second innings and some brilliant death bowling from RCB consigned Rohit Sharma's men to another loss. They are now in a tough situation as far as making the play-offs are concerned, whereas RCB are in a better position. Get highlights of Mumbai Indians vs Royal Challengers Bangalore, IPL 2018 game, here. (LIVE STREAMING INFO) (FULL SCORECARD)
11:55 PM IST: That's it from our side, thank you so much for joining us! Do join us tomorrow for more IPL 2018 live coverage.
11:53 PM IST: Virat Kohli - "We needed that win. Very important win. Tonight was an occasion we need that two points. We might have spoken about too many things. Take your fields. To confuse them, doesn't help too much. Everyone bowled really well. Umesh over. Colin's over with the bat. Manan took the game away from them. We needed impact performance. We had good intent, results are around the corner. We should take this confidence forward. My wife is here and it's her birthday. It's very important to achieve this two points in front of her."
11:48 PM IST: Brendon McCullum - "We were close in the last few games and didn't cross the line. Sometimes losing is a habit just as winning can be. but nice to give back something to the crowd who have been outstanding and have backed us."
11:45 PM IST: Rohit Sharma - "It is disappointing to be on the losing side. We got ourselves to blame though. Didn't play smart cricket, losing wickets in the powerplay didn't help. We wanted to keep ticking with the scoreboard. Credit to RCB, they bowled really well, it was a tough wicket and they kept us guessing."
11:40 PM IST: And so it is Mumbai who find themselves in an enviable situation of having to win practically ever remaining game of theirs to have any hopes of reaching the play-offs.
11:36 PM IST: And that's it! RCB win by 14 runs. It doesn't matter that Ben Cutting hit the last ball for six. A much-needed win for RCB, this.
11:32 PM IST: OUT! Hardik departs! RCB are cruising towards a win at this point.
11:28 PM IST: OUT! Krunal Pandya departs and this is a major blow for MI. All depends on Hardik now.
11:25 PM IST: That's a top over from Southee. Only 5 runs from it. MI are 138/5 in 18 overs.
11:19 PM IST: Siraj had given 6 runs off the first five balls but a boundary off the final ball makes this a poor over, again. MI 133/5 in 17 overs.
11:14 PM IST: Death overs has been RCB's issue this season and so it proves again. De Grandhomme goes for 17 runs in this over. MI 123/5 in 16 overs.
11:10 PM IST: Umesh's final over goes for 6 runs. MI are 106/5 in 15 overs.
11:04 PM IST: De Grandhomme's second over goes for a few runs, which isn't what RCB would have wanted at this stage. Time-out has been taken. MI 100/5 in 14 overs.
10:58 PM IST: Chahal's final over goes for 8 runs. MI are 92/5 in 13 overs.
10:53 PM IST: OUT! Duminy is run-out on the last ball of the over and Mumbai have lost half their side now! This isn't looking good. MI are 84/5 after 12 overs.
10:48 PM IST: Chahal continues to be economical. MI are 80/4 in 11 overs.
10:44 PM IST: Some hard hitting from Hardik Pandya sees Washington Sundar's first over go for 15 runs! MI are 77/4 after 10 overs.
10:40 PM IST: Chahal is getting turn and bounce but does manage to concede one boundary. MI 62/4 after 9 overs.
10:36 PM IST: Duminy ends what was a good over with a boundary. MI are 55/4 after 8 overs.
10:32 PM IST: OUT! Siraj removes the dangerous Pollard and things are looking bleaker for Mumbai at this point.
10:30 PM IST: Chahal's first over is a decent one, but it could have been better if not for a 5 wides given away at the beginning. MI 47/3 after 7 overs.
10:25 PM IST: Umesh's third over goes for 11 runs, including a boundary from Keiron Pollard and some bonus runs on the final ball. Timeout has been taken. MI are 40/3 after 6 overs.
10:21 PM IST: Mohammed Siraj's first over is a good one. MI are 29/3 after 5 overs.
10:14 PM IST: What an over that was from Umesh Yadav. Just the three runs conceded and two wickets taken, including that of Rohit Sharma. MI are 24/3 after 4 overs.
10:09 PM IST: OUT AGAIN! Once again a review does the trick. Quinton de Kock is convinced Rohit Sharma had nicked it, but umpire says no. Review taken and UltraEdge confirms a nick. Rohit goes for a golden duck!
10:07 PM IST: OUT! Umesh struggled a bit in his first over but snares the wicket of Suryakumar Yadav in the second. He's given out LBW but reviews. Impact is umpire's touch, meaning he's a goner. MI are 21/2 after 3.1 overs.
10:04 PM IST: Duminy looks in good touch but Southee's on his game too. MI 21/1 after 3 overs.
10:00 PM IST: Umesh Yadav struggled to find his lengths and was punished, with Suryakumar and Duminy taking 11 runs off him. MI are 16/1 after 2 overs.
9:54 PM IST: OUT! Southee gets Kishan. MI 5/1 after first over.
9:51 PM IST: Suryakumar Yadav to take strike. Tim Southee to bowl the first over.
9:34 PM IST: Three sixes in the last over from de Grandhomme. RCB finish on 167/7. We'll be back in a few minutes time.
9:24 PM IST: Three wickets in the over for Pandya, gets rid of Mandeep, Kohli and Sundar. RCB are 141/6 after 18 overs.
9:18 PM IST: Ten runs off Bumrah's over. RCB are 139/3 after 17 overs.
9:12 PM IST: Tidy over from Pandya, just six runs off it. RCB are 129/3 after 16 overs.
9:07 PM IST: OUT! McCullum departs. Direct hit from the fielder at mid-off (Hardik Pandya). RCB are 123/3 after 15 overs.
9:02 PM IST: Jasprit Bumrah's second over stems the flow of boundaries... for now. RCB are 119/2 after 14 overs.
8:58 PM IST: Kohli takes 8 runs off Krunal Pandya's over. RCB are 112/2 after 13 overs.
8:55 PM IST: Three fours off Markande's over! Kohli doesn't spare the youngster and is looking in good touch today. RCB are 104/2 after 12 overs.
8:52 PM IST: Kohli seems to be finding his groove as well. Not a good sign for MI. RCB are 91/2 after 11 overs.
8:48 PM IST: Some poor bowling from Hardik Pandya and some ridiculously cheeky batting from Brendon McCullum sees the 10th over go for 20 runs! RCB are 82/2 with half the innings played.
8:41 PM IST: OUT! Manan Vohra, who was looking dangerous, is given out LBW. He reviews but it's umpires call, meaning the decision isn't reversed. Kohli and McCullum see out the remaining two balls in the over. RCB are 62/2 after 9 overs.
8:34 PM IST: Krunal Pandya continues to be economical thus far. Timeout has been taken now. RCB are 53/1 after 8 overs.
8:30 PM IST: As per tradition, Mayank Markande bowls the first over after the powerplay. He concedes seven runs, including one four from new batsman Brendon McCullum. RCB are 50/1 after 7 overs.
8:26 PM IST: Krunal Pandya finishes off the final over of the powerplay, giving away just five runs. RCB are 43/1 after 6 overs.
8:22 PM IST: WICKET! De Kock struggled all over against McClenaghan - despite hitting him for a boundary - and is finally caught by Rohit at mid-wicket. De Kock goes for 7, RCB are 38/1 after 5 overs.
8:16 PM IST: FOUR, SIX, FOUR, SIX! Manan Vohra finally gets going and how. A total of 22 runs came off that over. RCB are 33/0 after 4 overs.
8:11 PM IST: Jasprit Bumrah bowls the third over and this pitch does not look an easy one to bat on at all. RCB's batsmen are certainly not finding it easy to play big shots. RCB are 11/0 after 3 overs.
8:07 PM IST: Mitchell McClenaghan shares the new ball and his first over is a good one, conceding just two runs. RCB are 8/0 after 2 overs.
8:03 PM IST: Interesting first over, that. Vohra hit a six off the second ball but every other ball was a dot. RCB are 6/0 after 1 over.
8:00 PM IST: Quinton de Kock and Manan Vohra to open for RCB. JP Duminy to open for MI. The game is underway at Bangalore!
7:50 PM IST: 10 minutes to go till the game begins. One can't help but think this was a good toss for MI to win. RCB need to bat out of their skins today.
7:40 PM IST: Interesting that RCB dropped Murugan Ashwin after just one game. Perhaps his poor fielding in the KKR game had something to do with it.
7:34 PM IST: Rohit Sharma has won the toss and chose to field. One team change for RCB: Murugan Ashwin is replaced by Washington Sundar. No AB de Villiers again. MI have one team change: Evin Lewis misses out with a wrist injury. Keiron Pollard comes in.
7:20 PM IST: Virat Kohli has already posted a heartfelt wish for wife Anushka Sharma on her birthday. Will he score a century for her too? We'll get to know soon enough. Toss is in 10 minutes.
7:10 PM IST: The game is a must-win encounter for both sides. Whoever emerges on the losing end today will have to win virtually every remaining game to have any chance of making the IPL 2018 play-offs.
7:00 PM IST: Hello and welcome to HT's live coverage of the IPL 2018 match between Royal Challengers Bangalore and Mumbai Indians!
Mumbai would like to take a cue from their last encounter against RCB, which they had won by 46 runs at the Wankhede Sadium with Rohit Sharma and Evin Lewis hitting 94 and 65 respectively.
Barring Suryakumar Yadav, who has 274 runs under his belt in seven matches as an opener, most of the Mumbai batsmen have been inconsistent.
On the other hand, RCB are struggling at seventh position after two wins and five defeats. Kohli would be keen to produce another special knock in this crunch situation, especially after getting two unbeaten knocks of 92 and 68 against Mumbai and KKR, respectively.
Close