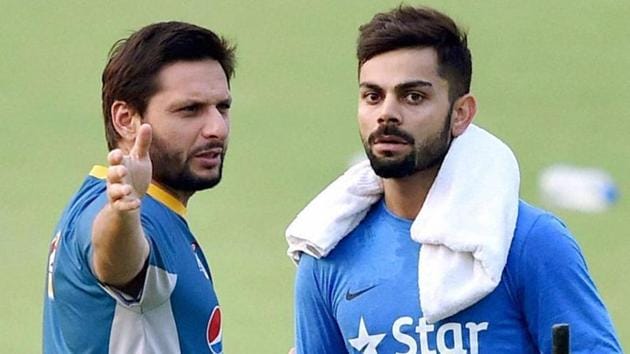 Virat Kohli slams Shahid Afridi's comments on Kashmir; Kapil says 'Who is he?'
Virat Kohli, Indian cricket team captain, said he would never support any statement that opposes India. Former Pakistan captain Shahid Afridi had earlier tweeted a controversial statement on Kashmir issue
UPDATED ON APR 04, 2018 09:54 PM IST
Virat Kohli, Indian cricket team captain, on Wednesday said he did not support what former Pakistan captain Shahid Afridi had to say on Kashmir.
"As an Indian you want to express what is best for your nation and my interests are always for the benefit of our nation. If anything opposes it, I would never support it for sure," Kohli told reporters.
"But having said that, it's a very personal choice for someone to comment about certain issues. Unless I have total knowledge of the issues and the intricacies of it I don't engage in it but definitely, your priority stays with your nation," he added.
Afridi, who had earlier made a controversial remark that "a lot of people are here from Kashmir" during the 2016 World T20 in India, tweeted: "Appalling and worrisome situation ongoing in the Indian Occupied Kashmir. Innocents being shot down by oppressive regime to clamp voice of self determination & independence. Wonder where is the @UN & other int bodies & why aren't they making efforts to stop this bloodshed?"
'Who is he?'
India's first World Cup winning skipper Kapil Dev also took a dig at Afridi, saying: "Who is he? Why are we giving importance to him? We should not be giving importance to certain people."
Suresh Raina and Mohammed Kaif also joined the chorus in Afridi's view on Kashmir issue.
Following the tweet, seasoned India opener Gautam Gambhir had also lashed out at the Pakistan crickeyter saying: "Afridi is only looking for UN which in his retarded dictionary means "UNDER NINTEEN" his age bracket."
(With inputs from IANS)
Close