To protect the endangered 'mahaseer' fish, Uttarakhand set to rope in fishermen
The greatest threat faced by the fish species is indiscriminate use of dynamites, electricity and poison, which adversely affects the marine ecosystem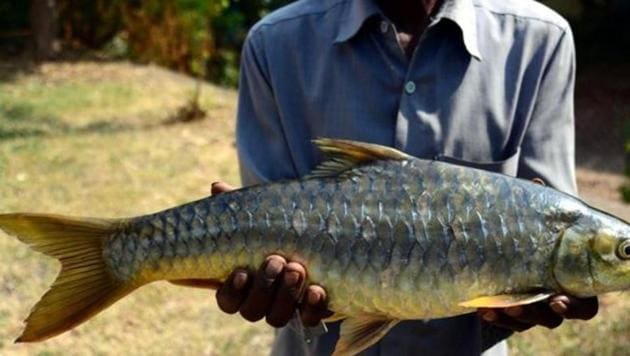 Updated on Dec 01, 2017 09:08 PM IST
In an initiative to conserve the near threatened Mahaseer fish in Kosi and Ramganga river of Ramnagar, the forest department will enrol fishermen to ensure the safety of the species. Titled 'Mahaseer Watch', the project aims at roping in locals for conservation of the fish.
The greatest threat faced by the species is indiscriminate use of dynamites, electricity and poison, which adversely affects the marine ecosystem. In 2013, two people died while trying to electrocute the fish in Ramnagar.
"We are working on a proposal to safeguard the species," said Neha Verma, divisional forest officer (DFO) Ramnagar.
In July, five people were booked under The Wildlife Protection Act, 1972, for catching a 125 kg catfish in Almora.
Anup Sah, former member of State Wildlife Board said that over 100 rivers and tributaries are under the same threat. The depletion of fish population is starting to wreak havoc on the biotic system, whose effects are visible up the food chain. Angling was once an integral pastime inside the Corbett Tiger Reserve, but owing to irregularities, National Tiger Conservation Authority (NTCA) stopped the services in 2013. The indiscriminate hunting, thereafter, continues outside the reserve.
In the last board meeting in September 2016, the then chief minister Harish Rawat constituted a team to conduct a study on the species. The purpose was to create a baseline data, on the basis of which the situation could be analysed to achieve a healthy fish population and also to mitigate threats.
No action has been taken against the several cases of locals killing fish that were reported. "We have been trying to exhort people on the financial gain involved if they give up on fish hunting, but the result hasn't been a positive one," said head of forest force, Rajinder Kumar Mahajan.
Close Story
Personalise your news feed. Follow trending topics