2005 Delhi serial blasts: Tariq Dar released from Tihar, will go home on Friday
Feb 24, 2017 08:29 AM IST
Tariq Ahmad Dar is the sole convict in the serial blasts at Paharganj, Govindpuri and Sarojini Nagar Market in 2005. A Delhi court had granted him bail in a money laundering case. Dar says he will go to his home in Srinagar on Friday and meet his two daughters.
Tariq Ahmad Dar, the sole convict in the 2005 Delhi serial bomb blasts case, was released from Tihar Jail No 3 on Wednesday night.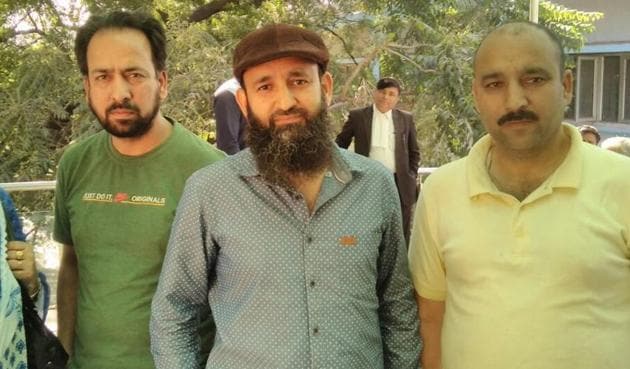 Dar was granted bail on Monday in a case of money laundering but was not released immediately. The court had asked the jail authorities to explain the delay in the release from jail on Wednesday. A Tihar Jail official explained the delay, saying it was because of a case pending against Dar in Bangalore.
"After Dar was granted bail in Delhi, we were waiting for clearance from Bangalore jail authorities. But we got no response from their side. So we consulted our legal team and released Dar on Wednesday after intimating the Bangalore jail authorities," the official said.
Read: Who is 2005 Delhi serial blasts mastermind Tariq Ahmad Dar?
Dar, who is over 40 years old, will go back to Kashmir on Friday. He will return to Delhi for his next court hearing on March 10.
His family said that he may plan to appeal against his conviction in Sections 38 and 39 of the Unlawful Activities (Prevention) Act (UAPA) in Delhi High Court.
After getting released from jail around 10pm on Wednesday, Dar went to a friend's house where he couldn't sleep the whole night.
"The first thing I want to do is meet my daughters Rehmat, 13, and Fatima,11. Fatima was born when I was in prison. Then I will visit my father-in-law's grave. He supported me when I was in jail," said Dar.
Dar, who was working for a pharmaceutical firm when he was arrested, spent most of his time in the jail by reading autobiographies and religious books. Also, he taught other jail inmates who were preparing for their exams. Dar, an MBA graduate, began pursuing MA (English) while being in jail.
"I often taught other jail inmates whom I shared the ward with. I told them instead of wasting time why not read books and utilise the time we have," Dar said.
Read: 2005 Delhi serial blasts: Court awards 10-year jail term to mastermind, 2 acquitted
He was shifted from one jail to another inside Tihar every three months. Jail no 3 was the place where he spent the first and the last three months of his 12-year term at Tihar.
His family, especially his wife Ruqiya, came to meet him once in every six months. Dar was at a loss as to how the family was bearing the huge travelling and accommodation expenses. When he asked them, all he got was assurances that he needn't worry about it and that he will come out of the jail soon.
He never allowed his daughters to travel till Delhi to meet him. He didn't want them to see him in prison.
"My family has suffered a lot. People would look at my daughters and shout "Hai! Iska baap jail main hai (Look, their father is in jail)". My wife handled everything. But they never told me about their problems," said Dar.
Dar recollected that he was returning from work on November 10, 2005 when he was picked up by police. He was going to Srinagar when his Alto car was stopped at Pampore.
He claimed he was tortured for 55 days before being sent to Tihar Jail.
Read: 2005 Delhi serial blasts: What happened that day
"Rats were put in my trouser. I was made to drink urine. My legs were stretched. They made sure that I wouldn't get sleep," Dar claimed.
He says that the future is uncertain for him now. What troubles him, above all else, is that the real culprits are still at large.
"Exciting news! Hindustan Times is now on WhatsApp Channels
Subscribe today by clicking the link and stay updated with the latest news!"
Click here!