2005 Delhi serial blasts: Court awards 10-year jail term to mastermind, 2 acquitted
The serial blasts rocked the busy markets of Sarojini Nagar and Paharganj and Govindpuri. The Patiala House Court convicted the alleged mastermind Tariq Ahmed Dar under the UAPA Act but acquitted the two other accused Mohammed Rafiq Shah and Mohammed Hussain Fazili of all charges.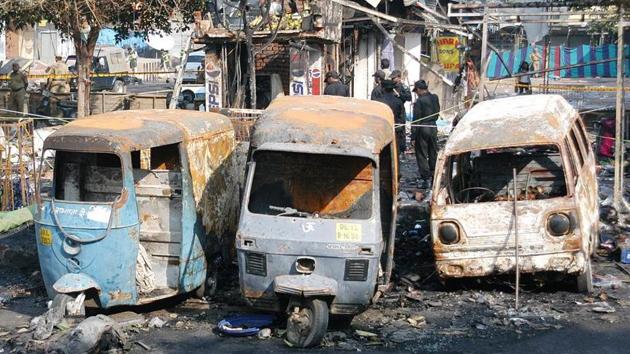 Updated on Feb 17, 2017 12:13 PM IST
A court sentenced a man to 10 years in jail on Thursday for Delhi's worst terrorist attack and freed two others, triggering allegations that police botched up investigation into the serial blasts that killed 67 people and injured 200.
Three separate explosions ripped through crowded spots in the heart of the Capital on October 29, 2005, when thousands of people were out shopping before Diwali, leaving a trail of mangled bodies and metal strewn across markets.
Police charged the three with murder, conspiracy, collecting arms and waging war against the state – which carried a maximum sentence of death. But the court observed Delhi Police "miserably failed" to prove the charges.
Tariq Ahmad Dar was convicted on minor charges. Mohammed Rafiq Shah and Mohammed Hussain Fazili were acquitted. Dar has already served 11 years in jail – more than his sentence -- but won't walk out free because of he hasn't got bail in a related money-laundering case.
"In the absence of any evidence regarding Dar being involved in the conspiracy behind these blasts, none of the charges framed against him are made out," the court said. It, however, convicted him on charges not initially framed by police.
The verdict enraged families of the victims' who said they would appeal the decision and that justice was "both delayed and denied".
"Either the police picked the wrong men or they failed to gather the necessary evidence," said Kuldeep Singh, a bus driver who lost his sight while saving scores of lives by evacuating passengers when he found a bomb.
Others were angry that Shah and Fazili were acquitted.
"I never got my son's body. My daughter-in-law and grandson were cut into two. I won't let the guilty go unpunished," said 68-year-old Saleena Das. She said her family would approach the Delhi high court.
In court, police suffered several setbacks as key pieces of evidence turned out to be duds or were rejected.
For instance, Shah was found to have been writing his MA examinations at Kashmir University on the day of the blasts. A mobile phone recovered from Fazili – which was touted as a key piece of evidence -- was found to have been used only twice, that also for recharge. An intercept of a purported phone conversation didn't mention the blast sites clearly as claimed by police, said Bhavook Chauhan, counsel for the accused.
Dar was working as a sales representative of a multinational firm when he was arrested by Delhi Police's special cell from Srinagar on November 10, 2005. A father of two girls, Dar was returning from work to his pregnant wife when four men in civilian clothes stopped him and whisked him away before formally arresting him.
Delhi Police accused the BSc graduate of serving as the spokesperson, finance manager and conspirator of the Lashkar-e-Taiba. Shah – an MA student at Kashmir University – was also arrested from Srinagar on November 22.
Though the court didn't convict Dar on charges framed by police but said he was found guilty for other offences --- being a part of a terrorist organisation and providing support to such an outfit – under the Unlawful Activities (Prevention) Act. These charges weren't originally framed by police.
The first blast took place at Paharganj, near the New Delhi railway station at around 5.38 pm on October 29, 2005. Police later said the bomb was planted on a two-wheeler parked outside a chemist's shop.
Teeming with usual evening crowd of shoppers and bag-packers, the blast left the area littered with blood, glass shards and twisted metal of destroyed bicycles and two-wheelers.
The second explosion blew up a bus in south Delhi's Govindpuri area, injuring several passengers. The passengers travelling in the bus later recalled a man boarding the bus carrying a bag and refusing to buy a ticket. He then got off quickly, leaving behind the bag.
The alert driver and conductor asked the passengers to disembark. The conductor took hold of the bag and threw it out when the bomb in it exploded. The driver and conductor were among the few people injured.
The third explosion at 6.05pm tore through the rush-hour evening crowd at south Delhi's Sarojini Nagar market and caused maximum casualties. Police said the explosive device was placed in a in a Maruti van near a vendor using a gas cylinder, which also exploded. At least 45 people were killed.
Close Story
Personalise your news feed. Follow trending topics