Who is 2005 Delhi serial blasts mastermind Tariq Ahmad Dar?
Hindustan Times |
Shiv Sunny
Feb 17, 2017 12:13 PM IST
Delhi Police had accused Tariq Ahmad Dar of serving as the spokesperson, finance manager and conspirator of Lashkar-e-Taiba. Police said he was the mastermind of 2005 Delhi serial blasts.
A Delhi court on Thursday pronounced Tariq Ahmad Dar guilty of funding serial blasts in the Capital on October 29, 2005 that killed at least 60 people and left over 90 others injured.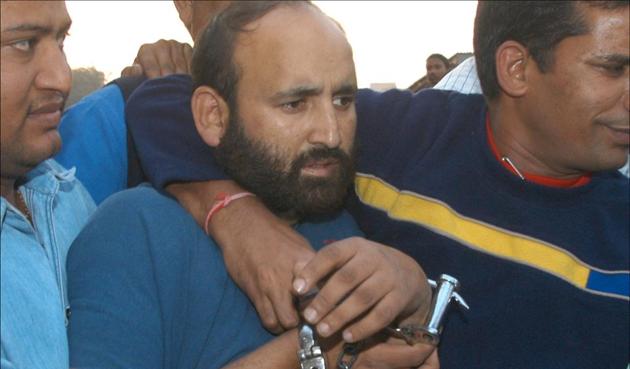 Delhi Police had accused Dar of serving as the spokesperson, finance manager and conspirator of Lashkar-e-Taiba. Police said he was the mastermind of the blasts and the man who had called up the office of Kashmir News Agency to deny that LeT had any role in the attack.
Dar had pleaded innocence and accused the prosecution of implication and torture. Though the court has awarded him 10 years imprisonment, Dar now walks free as he has already served 12 years in jail.
Dar had joined a multinational pharmaceutical company in 1997 and was working as its sales representative when he was arrested by Delhi Police's special cell from Kashmir on November 10, 2005.
A father of two girls, Dar lived in Solina in Srinagar and was returning from work in his Maruti 800 when he was stopped by a few men in plain clothes. They told him his car's tyre was about to come off. He was then taken away and formally arrested for involvement in Delhi serial blasts.
His family and relatives later staged a demonstration accusing Delhi Police of kidnapping Dar and implicating him in the triple blasts case.
As per the prosecution Tariq Dar was part of the conspiracy which led to the blasts. The prosecution also claimed that Dar was actively involved in receiving and distributing money for terrorist activities. The bedrock of the case against Dar were intercepted conversations on November 1, 2005 and November 4, 2005 as well as records of his financial transactions which as per the prosecution revealed that he has considerable unexplained inflow of funds including foreign remittances while his income from his job as a medical representative was minuscule.
The court acquitted two others charged with involvement in the blasts that rocked Paharganj, Sarojini Nagar and Govindpuri 12 years ago.
Then a postgraduation student at Kashmir University, Mohammad Rafique Shah was arrested from Srinagar on November 22. He had claimed that he was in Srinagar and attending classes on the day of the Delhi serial blasts.
But Delhi Police accused him of planting explosives in a DTC bus in South Delhi's Govindpuri. An eyewitness identified him as the one who left the bag containing explosives in the bus. A narco-analysis on him confirmed that he knew co-accused Tariq Ahmad Dar from before the blasts. However, the police could not prove the charges in the court.
The police also accused Mohammed Husain Fazili, a shawl vendor in Srinagar, of being an operative of Lashkar-e-Taiba and a link between Dar and Shah. He too has been acquitted by the court.