2005 Delhi serial blasts: What happened that day
Updated on Feb 17, 2017 12:13 PM IST
Three blasts ripped through the national capital just two days before Diwali on October 29, 2005, killing 67 people and injuring over 200. The terrorists had planted bombs in bags at the busy markets of Sarojini Nagar and Paharganj and a DTC bus.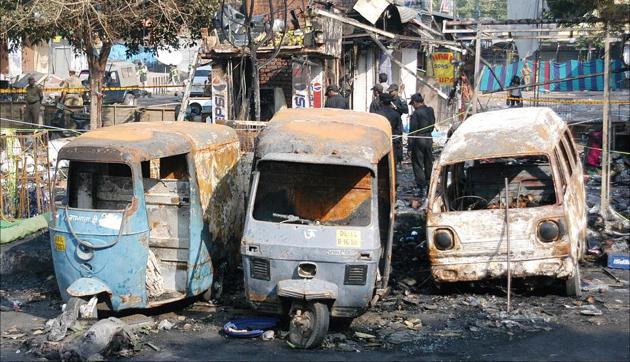 Hindustan Times, New Delhi |
Yasir Ali
October 29, 2005. With Diwali just two days away, Delhi's markets were choc-a-bloc with shoppers. The festive spirit was in the air till 5.30 when terrorists triggered a series of blasts, leaving a trail of destruction, death, blood, limbs and fear.
The first blast took place at 5.38pm in front of the Chhah Tooti Chowk in Paharganj's Nehru Market. The market was full of Diwali shoppers when the bomb went off near a jewellery shop. Police said those who were near the bomb were blown to pieces. Windows were shattered, doors and pillars collapsed. Raghunath Sikka, who ran a cosmetic shop, just across the blast site had a heart attack. Several people charred in the flames that erupted after the blast.
Fourteen minutes later, at 5.52pm, Budh Prakash the conductor of a Bahri Mudrika (DTC buses than run on the Outer Ring Road route noticed a suspicious bag lying under a seat near Okhla Phase I, Govindpuri. There were nearly 50 passengers with him in the bus. He immediately alerted driver Kuldeep Singh and asked him to stop the bus. Showing exemplary courage, Singh picked up the bag and it went off as he was throwing it away. Singh suffered severe burns and lost his eyesight.
Though Singh was able to save several lives in Okhla, the deadliest of the bombs went off four minutes later at 5.56pm at Sarojini Nagar – one of the favourite shopping destinations in Delhi. It was here that the maximum casualties, 37, were reported. Police said the bomb was hidden inside a bag left near a juice-cum-chaat stall. A boy noticed the bag and picked it up and was asking around whose bag it was. The bomb went off, blowing up the boy. The intensity of the blast was such that some buildings around the blast spot developed cracks. It also triggered a fire, leading to a cylinder going off which further aggravated the fire. Local shopkeepers said it was like people were walking in flames.
Most of the burns patients were rushed to Ram Manohar Lohia Hospital in central Delhi. There was so much chaos at the hospital that the police had to close the gate to keep the onlookers out. Inside the hospital compound, PCR vans and ambulances were rushing in one after another. Sixty-eight persons injured in the Sarojini Nagar and Govindpuri blasts were rushed to Safdarjung, while 29 were taken to AIIMS.
A total of 67 people were killed and more than 200 others were injured in the three blasts.
The same year in May, twin blasts had rocked the Liberty and Satyam Cinema halls.
Close Story
Personalise your news feed. Follow trending topics