Arbaaz Khan asks dad Salim if it bothered him how he and Sohail aren't as successful as brother Salman Khan
Feb 03, 2023 04:40 PM IST
Arbaaz Khan interviewed his father Salim Khan for a new show, and asked him a few difficult questions as well.
Actor Arbaaz Khan has launched a new chat show and began with none other than his own father, writer Salim Khan. On the first episode, he asked Salim some questions about his work, his personal life and also about his children. Towards the end, Arbaaz even asked a rather tough question about whether Salim compared the successes of his kids.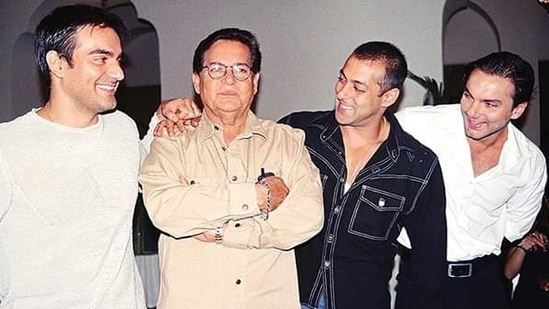 During the show, titled The Invincibles, Arbaaz asks Salim, "Salman is an achiever and a big star in the eyes of the world. On comparison, the rest of your kids, including me, we are not successful. Somewhere, are you disappointed by it?" Salman is the oldest of his siblings, which includes Arbaaz, Sohail, Alvira and Arpita Khan.
Salim replied, "When I look at their effort, I see that they are also trying. They are also working hard. So I feel something or the other will happen. I am also a very optimistic person as well. What's important is that they are not wasting their time."
Arbaaz also asked his father's advice on how to handle failure and success. "It's easy to handle failure. One keeps thinking how to get out of it. But it's success that gets to your head. A popular Hollywood director has said that success has destroyed more people than failure," he says. The antidote to it, as per Salim, is 'humility'. "Remember your origins and know what to say no to," he said.
Salim Khan has penned a string of cult classics in collaboration with Javed Akhtar. Famously called as Salim-Javed, the duo has scripted many commercially and critically accepted films like Yaadon Ki Baaraat, Zanjeer, Deewaar, Trishul, Kaala Patthar, Dostana, Seeta Aur Geeta, Sholay, Mr India, Don, and many more.
Meanwhile, Arbaaz Khan was recently seen in the series Tanaav alongside Manav Vij which streamed exclusively on Sony Liv. Set against the idyllic backdrop of Kashmir in the year 2017, Tanaav was a fictional thriller revolving around a Special Unit, their bravery, and courage. Delving into the human drama behind the ideologies, dealing with complex emotions and flawed characters, all of whom share the same feelings of love, loss, betrayal and revenge, the show is a socio-political action drama with family at its core.