Sadhguru: Human ambition isn't the only cause accelerating environment degradation
Spiritual leader Sadhguru says whatever a human decides as an ambition for himself, should be extended to everything on this planet.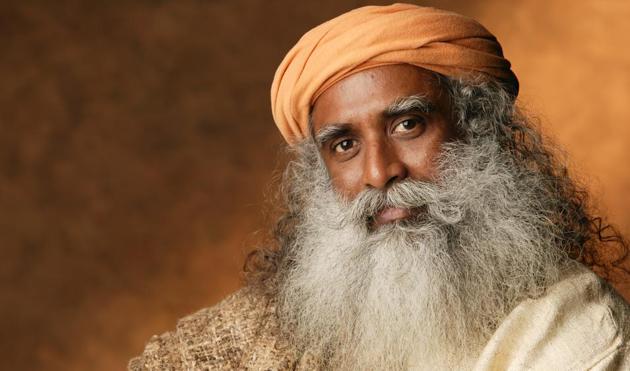 Updated on Jun 05, 2018 05:15 PM IST
Sadhguru needs no introduction. The yogi, mystic, author and founder of Isha Foundation has been working relentlessly to preserve the environment. His vision to save the environment gave birth to the campaign Rally for Rivers, which has been making a huge impact. In the Capital today, Sadguru — along with Erik Solheim, executive director, United Nations Environment, and actor Dia Mirza, UN Environment Goodwill Ambassador for India — celebrated World Environment Day (5 June). He stressed on the importance of conscious living, and launched a campaign to ban single-use plastics.
The impending water crisis has started to look real. What are some of the tools we can give people to conserve water and make judicious use of the same?
People need to realize that our bodies are 70% water – we are nothing but tall water bottles! I don't want to tell anyone how much water they should use or shouldn't use. But whatever you do – make it as conscious as possible. If you become conscious, you will only use as much as you need to. This will make a world of difference.
Right now, we are behaving as if we're the last generation on the planet. We need to remind ourselves that we are just baton carriers, and we owe it to the next generation to hand over this planet at least as it was handed over to us, not in a destroyed, depleted condition.
Rally for Rivers received a deluge of 16.05 crore participation. How has that translated into the actual work by people who participated in the campaign?
Six states have signed MoUs with us to improve tree cover along rivers. Things are moving fastest in Maharashtra, where two pilot projects along tributaries have already begun on the ground. A pilot project will also begin soon in Karnataka. On a policy level, many of our recommendations are already being implemented, such as removing the tax on FPOs and adopting a unified approach to enhance farmers' incomes, micro-irrigation being a key component as 84% of water usage in India is for agriculture. Major schemes to implement micro-irrigation with needed budget has been taken. The government has been very proactive in examining and taking action on the draft policy recommendations we have given.
Globally also there is a lot of interest. UN Environment is studying Rally for Rivers because this is applicable in most tropical and sub-tropical regions around the world. United Nations has launched a Decade of Action for Water Resource Revitalization of which I've been a part of.
There has also been wonderful response from the youth. We received 6500 applications to volunteer in Rally for Rivers. The training and orientation for some of these volunteers is underway right now.
'The solution is conscious living', you have rightly said. What are the three habits that we could inculcate that will have long lasting impact?
If you live consciously, all habits will drop. Habits are relevant only as instruments of survival. Once you are seeking to live consciously, you should not have any habit, good or bad, because a habit means you are learning to conduct your life unconsciously. A habit is a small manifestation of the karmic pattern. You take in a certain input and make a pattern out of it. That becomes your habit. It is an unconscious way of doing things. Conducting your life unconsciously is not an intelligent way to live. If you are seeking evolution, if you are seeking to move from compulsiveness to consciousness, you have to break all your patterns – not good, not bad, but all. When you live consciously, your response to situation that arise will be agile and appropriate.
We live in a utilitarian society and a social system driven by economy. Therefore, people end up making choices which are unhealthy for nature and environment. For instance, they would choose a polybag which is cheap instead of buying a jute bag which might cost more, totally disregarding he fact that the cost is way higher since it impacts the environment. What are two practical ways to make people change their choices?
Responsibility is a key word for the future. Because of technology, we are heading to a time when everything will be available in abundance. If abundance should not turn against us, responsible usage becomes key – which is what we are trying to work towards. On June 5th, we are launching a worldwide campaign to ban single-use plastics. Plastic is one of the most phenomenal materials we have created. It can be recycled thousands of times. Unfortunately, it has become a scourge because of irresponsible usage.
The entire movement that I have set forth in the world is a movement from religion to responsibility. From looking up for solutions to looking inward for solutions – both for individual solutions and solutions for the world. It is time we looked at ourselves as more responsible creatures.
One of the many reasons that humans have harmed the environment is because they've become more of an indoor species. We've found almost every way that helps us get things done while indoors, and the outdoors have just become in-a-larger-sense a factory that produces raw materials for all we need. Do you think we need to be reintroduced to the environment in a way that would make us respect it more?
The whole focus of modern education and cultures is on how to exploit our physical environment – every creature and substance. But though we have learnt to use everything around us, wellbeing has not happened. There was a time when there used to be one doctor for the whole town and it was enough. Today, every street has five doctors and it is not enough. This shows how we are living.
The preservation and nurturing of this planet is not different from aspiring for a good life for ourselves. This body is just a piece of earth, so there is no good life without a good planet.
One simple thing everyone can do is, on a daily basis, create ways for yourself to be in touch with the planet. If your bare hands and feet – particularly the palms and soles – come in touch with the earth on a daily basis, it can enhance your experience of life tremendously. This will remind the body, not just intellectually, but in a very fundamental way, that it is just an extract from the planet.
You once said "Human ambition is accelerating environmental degradation", but is their really a way to find a balance where no ambition is dimmed, and at the same time, the environment is helped, too. You have often also talked about how sustainability is the first step to saving the environment. Is that where humankind will be able to find a balance?
It is not that ambition is accelerating environmental degradation. The problem is not ambition per se, it is just that our ambition is too limited. All human beings are working for human well-being. It is just that the scale is different from person to person. For one person, human well-being may just mean one's own well-being. For another person, it may mean one's family. For another, it may mean one's community or nation or it can mean well-being of all life. There is no one on this planet who is not concerned about human well-being. It is only a difference in scale.
All I am asking is, why are you stingy about your desires? Why don't you be infinite in your desires? It should not just be about "I want to be well." "I want all life to be well." Whatever is your ambition for yourself, extend that to all life on this planet. So there is no need to scale down your ambition. I am telling you, up it! If you scale it up to its ultimate level, ambition is a process of liberation.
Close Story