Tiger population swells but tigers still under attack
Published on Jul 29, 2017 02:45 PM IST
India's tiger population has risen steadily in the past decade after it dipped to 1411 in 2007 and is now estimated to range between 2500 and 3000, according to official data.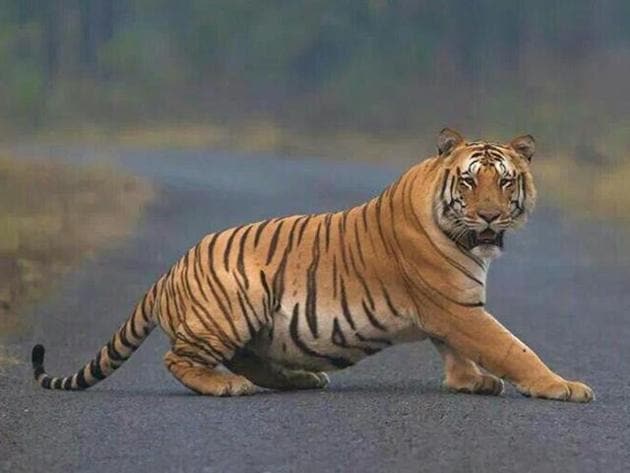 Malavika Vyawahare and Badri Chatterjee
India today has almost twice the number of tigers than it did a decade ago, however, the threats to India's big cats remain as potent as ever. India's reported tiger deaths related to poaching peaked in 2016, according to World Wildlife Fund-India.
There were 50 poaching-related deaths in 2016, according to the Wildlife Protection Society of India, the highest in 15 years.
Speaking at the world tiger day celebrations on Saturday environment minister, Harsh Vardhan, chose to focus on the larger task at hand. "We used to have almost a lakh tigers in India about 100 years ago, and today we are congratulating ourselves for having a few thousand," he said.
India's tiger populations registered a steady rise from 1706 tigers in 2011 to 2226 in 2014. "We are expecting the tiger population to cross 2,500," Debabrata Swain, head of the National Tiger Conservation Authority, said of the ongoing All-India Tiger Estimation.
"There is no place for complacency. Tiger habitats—including prime reserves and corridors--continue to be under threat," Prerna Singh Bindra, a veteran wildlife conservationist and author of "The Vanishing," warned.
Though India launched Project Tiger in 1973, the National Tiger Conservation Authority (NTCA), a statutory authority, was set up only in 2006. It came as a response to the drastic fall in tiger numbers as highlighted by the local extinction of tigers in Sariska and Panna Tiger reserves.
In the decade since, population in the reserves has rebounded, however, the threats to tiger habitats persisted in different forms. The Ken Betwa river linking project that was cleared by the Environment ministry this year threatens to submerge about 30% of the Panna, a proposed national highway will sear through the core area of Corbett tiger reserve in Uttarakhand, and a stretch of the National Highway 7 dissecting the vital Kanha-Pench corridor is coming up with inadequate measures to accommodate wildlife movement.
"Tiger is a conservation dependent species, there are issues of poaching, conflict, habitat degradation," Tito Joseph, at the Wildlife Protection Society of India, said.
In 2017, already 22 cases of poaching-related deaths have come to light. Data from the NTCA revealed that Maharashtra recorded 16 tiger deaths in 2017 so far - 12 natural deaths and four cases of body parts seizures. As compared, Madhya Pradesh with 308 tigers, recorded 14 tiger deaths in 2017 so far - 13 owing natural causes and one case of body part seizure.
Tigers as protectors
India's national animal the carnivorous big cat serves to protect other vulnerable species as well. In the name of protecting the majestic big cats, the country has managed to hold onto wildlife habitats that would otherwise be lost to human intrusions in an extremely land-scarce country.
When the Centre for Ecological Services Management (CESM), Indian Institute of Forest Management, Bhopal carried out an economic evaluation of 6 tiger reserves in 2015 they took into account the ecosystem services provided by the reserves and concluded that they were worth almost R 1.5 lakh crore.
The number of tiger reserves has risen from 9 in 1973 when Project Tiger was launched to 50 today and at least 4 more are under consideration. "Having more areas also means more work and more challenges. These new reserves face the same challenges as old ones," an NTCA official, who spoke on the condition of anonymity, said.
"If we do not designate them as tiger reserves, these critical forests and habitats will be lost," Swain explained.
The protection offered to big cats needs to move beyond tiger reserves, according to activists, which would help boost populations further.
Countries that host tigers have set a target of doubling wild tiger populations by 2022, from their 2010 numbers, under the TX2 campaign The minister also described the target of doubling global wild tiger populations by 2022 a 'modest one.'
"The need of the hour is to secure their habitats and corridors, to enhance protective cover of those outside of Protected Areas," Bindra said."Tigers are big cats, if they are protected, they will bounce back especially in areas where tiger population is below optimum."
Tiger Deaths in India 2017: NTCA
76 tiger deaths
Natural causes : 62
Body parts seized: 14
(Source: NTCA)
Tiger Deaths in India 2017: WPSI
Total: 73
Poaching and seizures: 22
Found dead: 19
Killed in road or rail accidents: 1
Died during rescue or treatment: 7
Infighting: 20
Fight with other animals: 4
(Source: Wildlife Protection Society of India)
Personalise your news feed. Follow trending topics