Gurugram fathers pledge to be role models this Father's Day
Road Safety Officers along with Gurugram Traffic Police will be undertaking a drive where fathers and their children will take a pledge for road safety.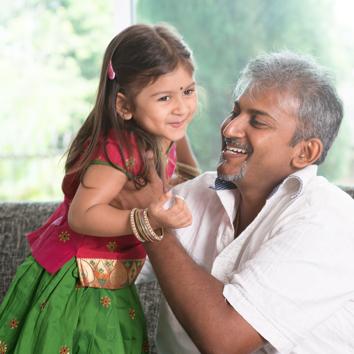 Updated on Jun 17, 2018 03:06 PM IST
Footballer Wayne Rooney rightly said: "Becoming a dad means you have to be a role model for your son and be someone he can look up to." And this Father's Day (17 June), the doting dads are doing all that they can to be a role model for their kids. While some want to leave behind a better world for the future generations, some are pledging road safety and environment conservation among others causes.
Saying no to underage driving
Gurugram Police along with Road Safety Officers (RSO), who are citizen volunteers, will conduct a drive where father and kids will taking a pledge of safety. Raj Kumar, an RSO, says, "Underage driving is a rampant issue in Gurugram. To give Father's Day a special touch, we plan to remind the proud dads that their kids' safety on the road is also their own responsibility. Through the campaign, we are trying to give the message that sometimes being a tough dad also helps. Fathers will take a pledge to follow all traffic rules, and not give their vehicles to kids until they turn 18, whereas the kids instead of giving a material gift will pledge not to partake in underage driving." , Kumar informs that the drive will be conducted on June 17, from 10am onwards, at Huda City Metro Station, MG Road Metro Station, Sector 4-5.
READ | Father's Day: Meet the super dads of Delhi who are no less than superheroes
Segregate waste
Corporate professional, Kanwal Pal Singh, a Gurugram resident, wants to leave a cleaner greener earth for his children. He is inspired by an anecdote. "Once during an activity by a school at our society, my daughter was asked to make something for Mother Earth. Everybody painted trees, flowers, etc. The best moment was when my kid created a value tree, wherein the food waste was going in the compost. I want to take a pledge of passing this message of segregating waste to other residents, and the next generation," says Singh.
Beat gender stereotypes
Another Gurugram resident, Manas Fuloria, a father of two kids, it's important to sensitise kids towards gender equality. "I am taking a pledge for gender equality and sensitisation. I want them to respect every gender and not internalise the gender stereotypes associated with tasks and chores," he says.
Work for environment sustainability
Rahul Khera, a corporate professional who started a community fridge in Sector 54, says, "This Father's Day I pledge to doing my bit for a healthy and sustainable environment for my kid, and generations to follow."
He'd like to lead by example: "Simple things like not using plastic bags, plastic straws, refusing credit card transaction customer copy and segregating waste can make a lot of difference."
READ | Happy Father's Day: Best quotes, photos to share on WhatsApp and Facebook
Riding with the kids and showing the way
"Avira, my daughter has made a resolution of doing a 40 kilometre ride before she turns nine years old, which means the ride needs to complete before Sept 1," says Amit Bhatt, a Gurugram resident.
Bhatt adds, "I have committed to help her achieve this goal. Last Sunday, both of us did a 25 km ride, and this Sunday we will be riding again. During the ride, we saw many people jumping traffic signals, and it created a big safety issue for us. That's when I pledged that I will never jump traffic light whenever I'm driving a car and will make sure that my cab driver also does that same... Kids learn from parents." .
Interact with the Twitter at/@Nainaarora8
Close Story