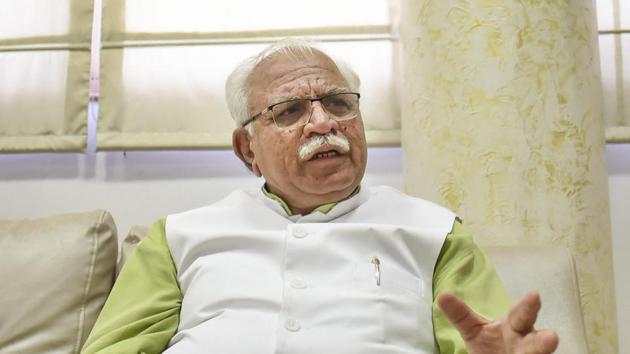 Exclusive: Gurugram will be super smart, says Haryana chief minister Manohar Lal Khattar
Haryana chief minister Manohar Lal Khattar shares his government's plans for one of India's fastest-growing urban sprawls that has its share of problems but the promise of an even brighter tomorrow.
UPDATED ON JUN 01, 2018 09:20 AM IST
Mission for millennium city Expressways and underpasses, CNG buses, more Metro routes, and a new metropolitan authority — Haryana chief minister Manohar Lal Khattar shares his government's plans for one of India's fastest-growning urban sprawls that has its share of problems but the promise of an even brighter tomorrow.
Excerpts:
The growth in Gurugram has been dramatic over the last two decades. But has the city suffered from a lack of planning?
Planning is more effective when it is done at the concept stage. I think there may have been some shortcomings in planning at that time. But despite those shortcomings, the city expanded and it expanded in a way that the planners might not have expected. But today, because of its proximity to Delhi and the international airport and with increase in the scope of development in India, people have started coming to Gurugram.
Offices of more than 200 of the Fortune 500 companies are located in Gurugram. I don't think any other city in India can boast of this.
When so much development happened, shortcomings started becoming visible. We have started working on it at full speed. For instance, underpasses at National Highway 8 were proposed, planned and started. Consequently, the traffic situation at Rajiv Gandhi Chowk and Signature Tower has improved.
I have recently inaugurated the Hero Honda flyover and the flyover at Manesar. The work at IFFCO Chowk is almost complete. Some of it is held up because a petrol pump located there can't be removed due to a stay from the court. That's why one of its carriageways is not complete. I have also recently laid the foundation stone at Atul Kataria Chowk. So all the traffic bottlenecks have been taken care of.
But there's still work to be done. We want to expand the Metro further, especially to Old Gurugram. The planning is on and mapping is being done. We want to connect Dwarka Sector 21 with the Metro so that west Delhi gets integrated with Gurugram.
Similarly, Dwarka Expressway is a big project costing ₹7,000 crore. The land near a colony in Palam Vihar had to be acquired. There were 60-65 flats and 35-40 of them are left to be acquired. The rest have got a stay from the court. But I hope the stay will be lifted and we will give them alternative plots. When Dwarka Expressway is ready and Metro is connected, Gurugram's traffic problems will be solved.
RERA (Real Estate Regulation Authority) has started functioning for real estate problems. It has two units. One is for Gurugram and another for Haryana, which is based in Panchkula.
A new development will be a global city project spread over 1,200 acres. The KMP (Kundli-Manesar-Palwal expressway) should start in two months, paving the way for an economic corridor. Many of our plans have been successful and the rest are being taken gradually.
The biggest achievement was starting Gurugram Metropolitan Development Authority (GMDA). Earlier, Gurugram was managed from Chandigarh. Now, all problems of Gurugram will be solved in the city itself.
What has been the experience of GMDA since it started work five months ago?
It has been good. It's said that Gurugram has not been able to become a Smart City. I say that Gurugram will become a Super Smart City. Currently, Faridabad and Karnal are our Smart Cities but corresponding work as per the given parameters has not even started there. But many things have started in Gurugram because of GMDA. The tender for an Integrated Control System has been floated in the city. The report on the CCTV system will also be ready by June 15. Gurugram is progressing faster than all those Smart Cities.
Will the concentration of people and offices in sectors near Delhi further spread out when the global city is ready?
It will go up to Manesar. And after the KMP and Dwarka Expressway is ready, traffic from there won't have to pass through Gurugram.
When will the Dwarka and KMP expressways be ready for use?
We have requested the Prime Minister to lay the foundation stone for the Dwarka Expressway. It can be done even remotely. If that happens soon, the road can be ready in six to eight months.
KMP will not take more than three months. I recently did an aerial survey of KMP starting from Kundli. There are six or seven patches or cross-sections which have to be completed. There is no problem of acquisition there.
What was your first experience of Gurugram? Did you ever think it would become a developed city like it has?
Gurugram was witnessing a hotchpotch type of development. It used to bother me. So I took up one issue after another. We spoke to DLF about their problems. We also spoke to the Metro corporation. We convened a meeting of the power sector. Many problems of the power sector still exist, especially those related to the builders. They have installed gensets but they don't pay the charges to the power department. So we are roping in Resident Welfare Associations (RWAs) to put pressure on the builders. Similarly, we are seeking the help of RWAs to sort out power-related problems in colonies.
For how long have you been coming to Gurugram?
Since long before forming the government in the state. We used to be surprised to see NH8 coming up because the city used to be very small at that time. We wondered why the government was spending so much money on building such a big road and for what? This was as early as 1980. During that time, people used only the Old Delhi road. But we realised its need when we found out more about the expansion plan.
While Gurugram became the source of revenue for the government and an attraction for people, the political authorities also found scope to bungle, which is why many people are embroiled in inquiries and court cases today. Many wrongdoings had happened here. But we said we won't let them happen anymore.
We have heard the problems of real estate companies too. Within the parameters of law, we have helped them make things right. Some were allowed to pay in instalments, policy was framed to ensure their work is not stalled. Others were given an extension of two years beyond the licence period of five years, otherwise they would have been ruined. We have also increased the Floor Area Ratio (FAR) from 150 to 300. It's even higher in Noida. We have transit-oriented development (TOD) policy, which allows higher FAR along the metro track to facilitate higher concentration of people. Traffic problems can be avoided then.
Some people say that the best and the worst thing about Gurugram is real estate. Do you agree that there are a lot of problems in this sector?
It's right. The thing is that some real estate companies found ways to expand more than their capacity. But it was wrong and many even failed. The government has nothing to do with what happens with a private company. Whatever is going on between them and the company should be fair. That is our only concern. For that, we have created RERA. If the companies still fail, we will act according to the legal system in place.
Noida started developing much before Gurugram. How did Gurugram manage to win the race?
Gurugram has an advantage of location over Noida. It's nearer to the airport than to Delhi. That is a reason why Gurugram could figure on the international scene. People had once started moving away from Gurugram but their confidence was restored.
We took a number of steps to sort out their problems such as creating a one-roof system for all clearances.
Do you mean the labour problems that had escalated in Gurugram?
There was a problem with Maruti, then Hero. That problem is not there. There is an understanding between the two sides. Court was involved, companies pulled away, labour also realised that they were at a loss. But we will not allow exploitation of labour. We have brought changes in labour laws. We brought four amendments in labour laws due to which companies expressed their protest.
We explained to them it was not right to let unrest persist among the labour. They are also human beings. They should get the facilities on humanitarian ground.
If we have to compete in the world, we should not do it by exploiting labour.
The monsoon is on its way. People still remember the 'Gurujam'…
It won't happen again. Now the Hero Honda Chowk has an underpass. The 10-metre road has been widened to acquire 10 metres more. There were about 70 three-storey houses that were pulled down. People were given alternative plots and money for construction. We did it on priority.
Zoning is a problem in Gurugram. Initially, real estate development happened quite randomly. Is sector-wise planning happening now?
The development plan has to be followed and it's beneficial to not tweak it unless an unforeseen problem arises. Zoning is done with public consultation and projections are made. In Gurugram, sectors 1 to 55 are old sectors and 55 to 115 are new. The new ones were opened without infrastructure development. So we have made four zones there. Problems in the first zone, be it companies, home-dwellers, utilities, will be fixed first. Then, move on to the next zone.
Developers will have to construct according to our zones and not randomly by developing in a vacant zone. Roads, sewage lines, power infrastructure have to be constructed for an entire sector even if there are just 10 houses there.
That proves to be very costly. So, we are doing it as per zones. That way, revenue is collected from a zone, development is done and people face no problems.
Gurugram has been known to be a place without religious tensions. Over the last one month, this has got spoilt over the namaz issue. What are your thoughts on that?
Maintaining social harmony is our responsibility. There is an influx of people from outside the state, outside the district. People say many Bangladeshi Muslims have also come, though there is no survey on it.
The central government has to do a survey on it. With numbers increasing, places of worship have to be increased. Such things will happen if the places of worship are not increased. So we said that everyone should offer namaz in mosques and idgahs. Others can offer it at private places. It should not be offered in public places. It's alright till no one objects. But if someone does, we will have to check it. Because law and order situation has to be maintained.
Offering namaz on roads is not appropriate. I have given this statement and also received a good response. People in the society have said that is right. We have stopped it at some places where it used to happen and people have found it convenient. Administration has earmarked 37 places after speaking with all groups. Right now, no one has a problem with namaz being offered at these 37 public places.
If tomorrow there is a problem at any place, including these 37, we will again see what needs to be done.
We have said, build mosques and idgahs. Otherwise, namaz can be done at home. Praying is not a matter of collective exhibition. People pray in a temple and at home also. This is a personal matter of faith – a show of strength is not necessary. This goes for everyone, be it Hindus or Muslims.
If a casual programme has to be organised, it should be done with after taking permission. They say, why do jagrans happen. They happen with permission. Or they should happen after taking permission. Processions happen. They will happen in society. There is Ram Navami procession, Muharram procession. They shouldn't be stopped but carried out after taking permission. Everyone will have to fulfill this social responsibility.
Air pollution is a big problem in Gurugram. The effect of stubble burning in Haryana and Punjab is seen till Delhi. What is being done to prevent it?
It's a wrong perception that stubble burning causes pollution in Delhi to rise. Stubble burning should not happen. Even NGT (National Green Tribunal) has said that this is not the case. There are so many other reasons such as building construction work, industrial smoke, vehicular emissions. At the inauguration of the Eastern Peripheral Expressway by the Prime Minister, (Union minister) Mr (Nitin) Gadkari said in his speech that pollution in Delhi will be reduced by 27% due to that road. Traffic from north India crosses Delhi to go to west or south India.
Its impact is felt more at night. Trucks go blaring horns with no norms in place. The permanent solution to it is the eastern and western peripheral highway, which is also called KMP. Once ready, major traffic will be diverted.
Can the government reassure people of Gurugram that enough is being done in terms of monitoring and interstate coordination to fight air pollution?
KMP and KGP (Kundli-Ghaziabad-Palwal) road will benefit Gurugram, Faridabad and Delhi. Our CNG-based city bus service will start soon. That will cut vehicular pollution.
There will be 500 buses, and 200 of them will be rolled out in the first phase. Later, they will be air-conditioned. When the full fleet of buses are on Gurugram roads, local traffic will come down. Today most people drive their own cars and scooters. Vehicles will become fewer once the Metro is expanded.
Commuters from west Delhi, who come via Dhaula Kuan, will be able to come from Dwarka Sector 21. Once the Dwarka Expressway is in use, concentration of vehicles will spread out. Pollution happens when the vehicles are not moving.
Is there a time frame for procuring 500 buses and expansion of metro?
Like I said, 200 buses will start from August 15. The rest will come in phases. Planning on Metro is on. Once it is done, construction takes up to two years.
Close