Different is good: Angelina Jolie's empowering message to children
Mar 30, 2015 06:17 PM IST
Jolie told children at the Kid's Choice Awards, 'When someone tells you that you are different, smile and hold your head up and be proud.' She added with a wink, 'cause a little trouble. It's good for you.'
The traditional green slime flowed at the Kids' Choice Awards, but it was Angelina Jolie's message of empowerment for youngsters that stuck.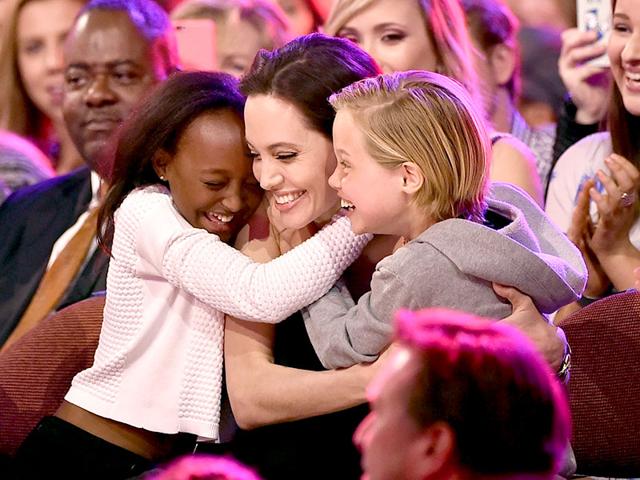 Jolie, who has sought to inspire women with public candour about her own health, said that "different is good" as she accepted the favorite villain award Saturday for her movie role as the title character in Maleficent.
When she was young, Jolie said, "I was told I was different. And I felt out of place: too loud, too full of fire, never good at sitting still, never good at fitting in."
"When someone tells you that you are different, smile and hold your head up and be proud," she said, then added with a wink, "cause a little trouble. It's good for you."
The actor and filmmaker, who disclosed earlier this week that she had undergone additional surgery aimed at preventing cancer, received excited hugs from daughters Shiloh and Zahara when her name was announced.
Other winners at the Nickelodeon channel's fan-voted awards included Emma Stone, who largely escaped its trademark slime when she accepted the best actress award for her role in The Amazing Spider-Man 2, and favourite family TV show Modern Family, whose stars including Jesse Tyler Ferguson didn't get away clean.
Nick Jonas hosted the ceremony, which also honoured the group Fifth Harmony as favourite new artist and Liam Hemsworth and Jennifer Lawrence of The Hunger Games: Mockingjay Part 1 as favourite action stars. The film was voted favorite movie.
Jonas won as favourite male singer but also ended up drenched in the ceremony's trademark green slime, as did Josh Gad (Frozen, Broadway's Book of Mormon), who got slimed by co-presenter Adam Sandler.
Performers included Iggy Azalea with Jennifer Hudson and 5 Seconds of Summer, which ended up taking a goo hit.
Jonas opened the ceremony by noting that One Direction was minus a group member with the exit of Zayn Malik.
"A tough week. ... Lot of girls in the house tonight still struggling after One Direction became Two Direction," he said, then asked, jokingly, "What's next? Fourth Harmony? 3 Seconds of Summer? No, no. The Jonas Brother?"
One Direction didn't appear to accept its trophy as favourite music group.
Others taking part in the ceremony included Jamie Foxx, Meghan Trainor, Chris Rock, Kaley Cuoco-Sweeting, Kevin James and Little League Baseball sensation Mo'ne Davis.
Jolie, writing in the New York Times on Tuesday, revealed that she had her ovaries and fallopian tubes removed in hopes of reducing her risk of cancer.
Two years ago, she disclosed that she carries a defective breast cancer gene that puts her at high risk of developing breast and ovarian cancer. Her mother died of ovarian cancer, and her maternal grandmother also had ovarian cancer - strong evidence of an inherited, genetic risk that led Jolie to have her healthy breasts removed to try to avoid the same fate.