I watched everything Anthony Hopkins did and copied it: Mads Mikkelsen
Danish actor Mads Mikkelsen talks about stepping into Sir Anthony Hopkins' shoes for portraying the psychiatrist-turned cannibal killer, Hannibal Lecter. You got to know him first through author Thomas Harris's classic novels, and then through film adaptations.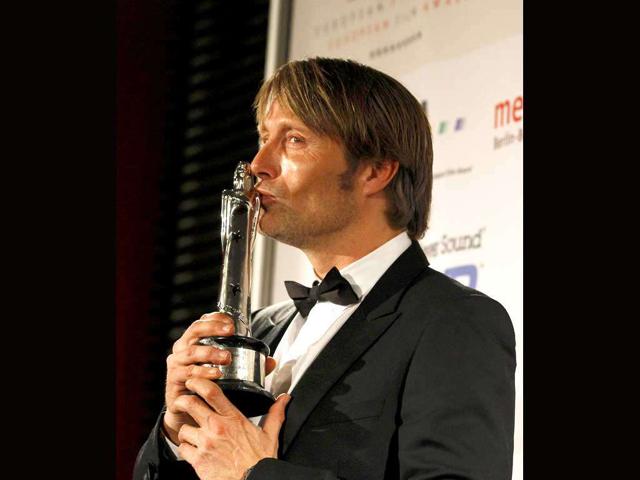 Updated on Apr 06, 2013 12:58 AM IST
You got to know him first through author Thomas Harris's classic novels, and then through film adaptations. The infamous psychiatrist-turned-cannibalistic serial killer now returns with the AXN show, Hannibal, a TV prequel to the entire Hannibal Lecter universe. Actor Mads Mikkelsen, known for playing the antagonist in the 2006 James Bond film, Casino Royale, takes the serial role and reveals the challenges.
Tell us about experience of playing Dr Hannibal Lecter.
Playing such an iconic character is like cheating because we pretty much know what's going to happen. But you will get surprised down the line because the writers will change their minds, they will take you somewhere else. And it's very different than making a film where you know what you're doing from A to Z. Here, we have to be open and it's fun, it's really fun. As Hannibal, it's finding that balance of you know, if I do hawk someone in a TV show everybody knows what I am doing and my challenge is to be honest about it. So this character I'm hawking feels the warmth. If I am detaching just a little fraction, this character would never buy it. So it's being as honest as we can with this character.
How did you prepare for the role?
I watched everything Anthony Hopkins did and I copied it. No, obviously it's not a secret that he made an iconic character that we can't try to copy it because he made it to perfection. We are luckily taking place before he's captured. That means that we can get away with or we have to get away with some other kind of scenes. My character needs to make friends with people and he's out there; he's practicing as a psychiatrist. So he has to be, to a degree, normal when the people are looking at him and a little abnormal when they're not.
Do you think it was an arduous task to break Sir Anthony Hopkins' image with your portrayal of Hannibal Lecter? Did it build any pressure on you?
Always a big pressure anytime we make anything and we will have to forget that once we start shooting. If you're carrying that around, it's certain death. Obviously this time it's a different conquest. We have a couple of iconic actors who have made this [to perfection] and of course I'm thinking about Anthony Hopkins specifically. So we can't copy that. That would be certain death as well. Having said that, a character is a character. Hannibal loves fine arts. He loves food. Everything banal, he hates. And he wears a three-piece suit. And for that reason we can't detach ourselves totally.
Hannibal is shown to be more suave now and a man with fine tastes. Do you personally think that justifies the character in contrast to how we know him best?
I didn't think about it until you mentioned it. But looking back, and if I'm allowed to say it as a man, yes, Anthony Hopkins was suave, enigmatic. The character is fascinating. It's the devil. The devil is doing something out of it; it's pure. It's not out of evilness, it's pure. So of course there is something sexy, something suave about that and we'll always be fascinated with that. We've been fascinated with what on earth is going on inside the head of Hitler and Stalin, Genghis Khan; what's happening? We're buying the books. We want to understand it. We don't want to be like them, but we want to understand what that is. Hannibal is not flamboyant but he loves the fine arts. He'd never wear anything that cost less than $500 and we're talking socks as well. It is his nature. For him why should he wear anything banal when he can wear something else?
Dr Hannibal Lecter and Will Graham share a brilliant partnership on the show. How well do you bond with Hugh Dancy in real life? Is it like Holmes and Watson?
Will is in many ways a strange character in the sense that he has this enormous ability of having empathy for other people. He has a hard time controlling that empathy and I mirror myself in that because I have an enormous amount of empathy and I know how to use it. So, that means I recognize myself in that. I see a little brother in there and he doesn't know how to use his tools, but I will hopefully teach him. So I'm very fascinated with him and I like him very much. I think this is as close as we can get to a bromance or a romance in his life, a friendly one of course. But there are more characters in here. There is also a young girl that becomes very important to both me and Will. So yes, Hannibal's life is changing but he's anticipating that. Every day is a new day.
The character of Dr Lecter originates from Thomas Harris's novels. Have you read any?
I never read them before. I'd seen the films before and I saw the films again after we were working on this a couple of months and I read the books just to get some inspiration and we're inspired by it, it's based on it, but we are doing something else, of course. And we found some things we could use and some things we couldn't.
Yours is a dark and bone-chilling character. Has it had any influence in your real life in terms of nightmares of affecting your psyche? Do you easily detach yourself from the character once at home?
The discussion about method acting or not is always going to be there and I've always found it quite pretentious in the sense that my job is to get inside the character really fast and leave him as fast as I can. If I was to bring home every character I've played, my family would be very confused. And I don't necessarily think that it will add anything. For me, to understand the character and present him and when I go home, I'm trying to be myself.
Have you heard of Bollywood, India's premier film industry?
Yes, I have heard about Bollywood.
Close Story
Personalise your news feed. Follow trending topics