Delhi's air 'severe', but Grap III curbs unlikely for now
Updated on Jan 23, 2023 05:56 AM IST
The Capital on Sunday recorded an AQI of 407 (severe) at 4pm as per Central Pollution Control Board's (CPCB) bulletin — the highest in 12 days, and a sharp departure from the recording of 294 (in the "poor" category) on Saturday.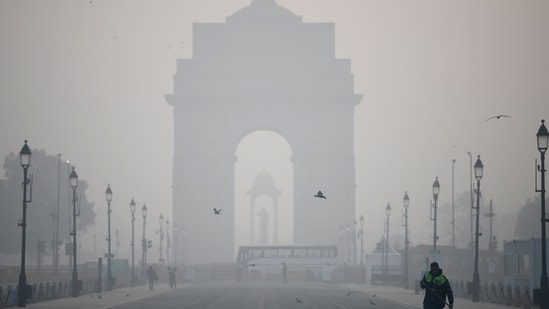 While Delhi residents woke up to another relatively warm day, a drop in wind speed caused a sharp rise in pollution levels on Sunday, engulfing the city in a smoky haze that left people gasping for air and pushed the city's air quality index (AQI) to the "severe" category.
The Capital on Sunday recorded an AQI of 407 (severe) at 4pm as per Central Pollution Control Board's (CPCB) bulletin — the highest in 12 days, and a sharp departure from the recording of 294 (in the "poor" category) on Saturday.
Meanwhile, the city recorded a maximum temperature of 24 degrees Celsius on Sunday, three degrees above what is considered normal for this time of the year, while the minimum temperature settled at 8.2°C, one notch above the normal.
Despite the spike in pollution, the Commission for Air Quality Management (CAQM) in NCR and Adjoining Areas, after calling an emergency meeting early in the day, said it has decided not to invoke measures under Stage-III of the Graded Response Action Plan (Grap) as it said Sunday's conditions were an "aberration" and that forecasts have shown that air quality is likely to improve again from Monday. Forecast of light rain in the city between Tuesday and Thursday thanks to a western disturbance may further bring down pollution levels, experts have said.
Also read: Man, who posed as UAE royal family staff and duped Delhi hotel of 23 lakh, held
"During the meeting it was noted that this sudden and steep dip in air quality parameters ... which led to the overall AQI of Delhi to move into the 'severe' category is an aberration as the forecasts predict immediate improvement with the overall AQI to move into 'very poor' category from Sunday night itself," CAQM said in a statement on Sunday. It added that according to the dynamic model and weather and meteorological forecasts provided by the India Meteorological Department (IMD) and the Indian Institute of Tropical Meteorology (IITM), there was a strong indication that the overall air quality of Delhi will start improving and largely fluctuate between "poor" to "very poor" categories in the coming days.
"Considering the above position, and after comprehensively reviewing the air quality scenario and other relevant aspects, the sub-committee has decided that ongoing actions implemented under Stage-II of Grap along with Stage-I shall continue and it is not considered necessary to invoke Stage-III at this moment," it added.
According to the categories defined under the new Grap, Stage-III should be invoked when the AQI is forecast to cross 400 or has already crossed that threshold. However, the final decision regarding the rollout generally taken by the CAQM sub-committee on Grap.
Under Grap's Stage-III, private construction activities across Delhi-NCR are put on hold, while brick kilns and hot mix plants not operating on clean fuels are also shut down. Further, all stone crushers and mining or its related activities are stopped, if Stage-III is invoked. The Delhi government also has the option to ban BS-III petrol and BS-IV diesel vehicles from plying within the city.
CPCB classifies an AQI reading between 0-50 as "good", between 51 and 100 as "satisfactory", between 101 and 200 as "moderate", between 201 and 300 as "poor", between 301 and 400 as "very poor" and over 400 as "severe".
This is the third severe air day in the Capital this month — AQI had soared to 434 and 407 on January 9 and 10, respectively. Delhi recorded three such days in November last year and two in December, while no severe air day was recorded in October.
NCR had Stage-III restrictions in place between January 6 and 15, with CAQM imposing it on January 6, when the AQI touched 400 briefly. The measures, however, were lifted on January 15, as Delhi's AQI dropped below 300.
The spike in pollution, however, ended up playing spoilsport for Delhi residents who would have hoped to otherwise enjoy outdoors on a relatively warm day after a chilly start to the year.
This respite from the biting cold is likely to continue for a few more days at least under the influence of the second western disturbance, which is likely to bring rain from Tuesday onwards, IMD officials said.
While rains were initially expected from Monday onwards, IMD now forecasts drizzle or very light rain over Delhi from January 24 till 26, with no cold wave conditions expected at least till January 28. The minimum temperature in the city is likely to hover between 9°C and 10°C till at least January 28, while the maximum will oscillate between 22°C and 24°C.
Also read: Fire breaks out at hotel in Delhi's Connaught Place, 6 fire tenders at spot
The mercury, however, is expected to start dropping again after January 28, IMD officials have indicated.
Delhi's year started off on a chilly note with two cold wave spells — the first between January 5 and 9 and the second between January 16 and 18. Cold wave conditions, however, abated from January 19.
"We are seeing two back-to-back western disturbances in the region and while the impact of the first western disturbance is over, this second western disturbance will impact the northern plains mostly between January 24 and 26, with a drizzle likely," said a Met official, stating the intensity of rain is also expected to be less as compared to previous forecasts.