Bharat Jodo gave 'alternate vision': Rahul Gandhi on likely political impact
Jan 29, 2023 09:38 PM IST
The Bharat Jodo Yatra concludes on Monday.
Hours after he unfurled a national flag at the Lal Chowk in Srinagar, Rahul Gandhi on Sunday evening held a press briefing where he stressed that the Yatra was received with "an overwhelming enthusiasm" all over. The foot march is set to conclude on Monday and will see participation of other political parties too. "This was one of the most intense experiences in my life," he told reporters. Bharat Jodo Yatra gave an "alternate vision", Rahul Gandhi said while answering a question about the likely impact of the Kanyakumari to Kashmir foot march on politics. "The Yatra is not the end... it's the start. This is the first step. The Congress's vision will continue to expand from here," he further highlighted.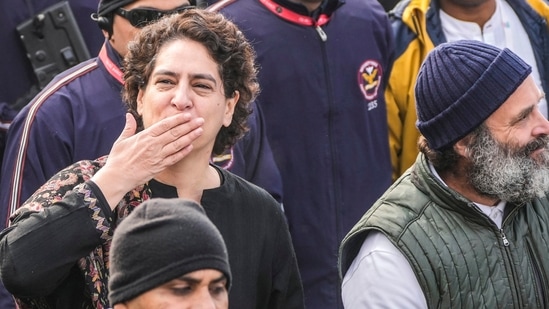 His comments bear significance at a time when nine states are gearing up to hold polls this year. The Congress has faced multiple poll setbacks since 2014 but with such mass contact programmes, it is aiming for a big revival. The grand old party is also preparing itself for the Lok Sabha elections due next year.
Gandhi was also questioned about the issues he observed during the foot march among the people of Jammu and Kashmir. "When I entered Jammu, I met people from all three parts of the region - Jammu, Kashmir and Ladakh - and nobody was happy. A lot of issues that they have are similar to the rest of the country. There is of course another issue - that of statehood - which is also very crucial," he stressed. This is the first time that Rahul Gandhi and the Congress held such a mega campaign in J&K following the scrapping of Article 370. The union territory is set to go polls soon but the dates are yet to be announced. "The Yatra went from north-to-south but the effect has been felt all over," he said.