Budget 2023-24: IITs to receive research grants for lab grown diamonds
Feb 01, 2023 07:41 PM IST
Lab-grown diamonds are made using technology that replicates the natural diamond growing process and the result is a man-made diamond that is chemically, physically, and optically the same as those found beneath the earth's surface
Ahmedabad: Union Finance Minister Nirmala Sitharaman in her Budget speech on Wednesday announced a five-year research grant for one of the Indian Institutes of Technology (IITs) to encourage the indigenous production of lab-grown diamonds. She also announced a reduction in customs duty on the seeds and machines used to produce the precious commodity.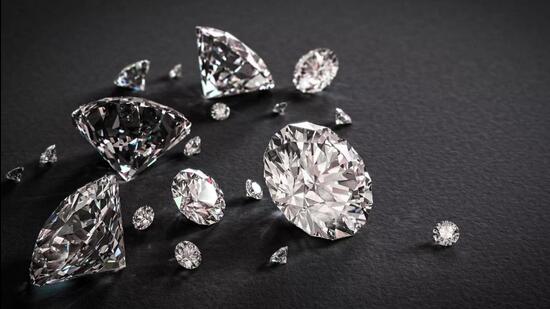 "Lab-grown diamonds is a technology-and innovation-driven emerging sector with high employment potential. These environment-friendly diamonds which have optically and chemically the same properties as natural diamonds," Sitharaman said.
Lab-grown diamonds are made using technology that replicates the natural diamond growing process and the result is a man-made diamond that is chemically, physically, and optically the same as those found beneath the earth's surface.
A disruption in the import of rough diamond pieces to be processed by Surat's diamond industry after Russia invaded Ukraine has led to renewed efforts to encourage the use of lab-grown diamonds.
Also Read: Silver to become expensive as govt increases basic customs duty to 10% to curb imports
Lab-grown diamonds can be created by two processes - High-Pressure High Temperature (HPHT), which is used in China, and Chemical Vapor Deposition (CVD), used in the US and India.
"India is a global leader in cutting and polishing of natural diamonds, contributing about three-fourths of the global turnover by value. With the depletion in deposits of natural diamonds, the industry is moving towards lab-grown diamonds and it holds huge promise. To seize this opportunity, I propose to reduce basic customs duty on seeds used in their manufacture," the minister said.
Surat is the hub for the diamond industry, where over 85-90% of the world's rough diamonds are processed. The industry employs close to 800,000 people and is a major contributor to India's gems and jewellery exports of $39 billion for 2021-22, according to data by India's Gems and Jewellery Export Promotion Council (GJEPC).
India's exports of polished lab-grown diamonds were $274 million, $473 million, $637 million and $1,293 million during 2018-19, 2019-20, 2020-21 and 2020-21, respectively. Annual growth during the same periods was 72%, 35% and 103%, according to GJEPC.
These diamonds are 70% cheaper than mined diamonds, said Dinesh Navadiya, GJEPC regional president and president of the Surat Diamond Association.
"The announcement made by the FM in her Budget is a positive step for the diamond industry. The lab-grown diamond exports have already doubled this year as compared to FY22," said Navadiya.
Also Read: Gem, jewellery industry disappointed with the Budget: Report
India exports polished lab-grown diamonds to the US, Hong Kong, the UAE, Israel, and Belgium. The US accounts for around 67% of India's exports, followed by Hong Kong, with a share of 14%.
"The grant provided to IIT for lab-grown diamonds is positive. The segment has seen a steep 54% growth in exports year-on-year and accounted for 5% of total diamond exports YTD23," capital market company, Crisil said in a tweet on Wednesday.
Dr Snehal Patel, CEO of Surat-based Dungrani Lab Grown Diamonds, one of the leading companies in India for producing such diamonds, said if the import duty on machinery is reduced, it will give a huge boost to the industry.
"Any step taken by the government for promoting lab-grown diamonds is welcome. Surat has the advantage over other cities for cutting and polishing diamonds. Instead of depending on imported roughs, the industry here will turn to processing lab-grown diamonds. Presently there are about 7-8 large companies in Surat and 20-25 small establishments for producing them," said Patel.