Decolonise mil-civil bureaucracy for 'Aatmanirbhar' Bharat to succeed
Jan 09, 2023 12:05 PM IST
While India's close partners US and France are willing to jointly design, develop, manufacture hardware systems with private and public sector, it is the military-civilian bureaucracy tribe that cannot make up its mind and is running round in circles
Prime Minister Narendra Modi has target of making India a developed nation by 2047. This ambition can only be achieved if India by the 100th year of independence has an independent military-industrial complex with a thriving manufacturing sector. It is precisely for this very reason that PM Modi launched his "Aatmanirbhar Bharat" initiative on May 12, 2020.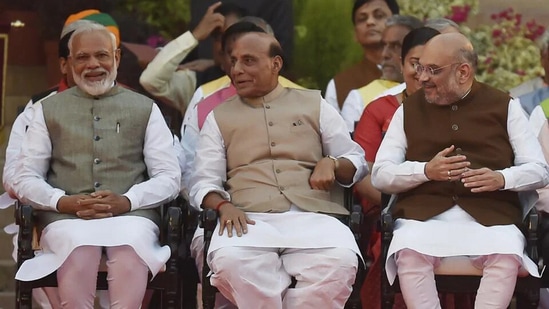 The reasoning behind this initiative was that no nation dependent on third countries for hardware and ammunition could aspire for the global high table. And the existing P-5 will not allow it.
PM Modi is pushing this envelope by ensuring that only critical hardware platforms are procured from outside while all the other military equipment is made in India through joint ventures between Indian private sector and foreign defence manufacturer. Defence majors in France and US are ready to jointly design, develop and manufacture high end platforms in India in collaboration with both private and public sector enterprises.
But the trillion Rupee question is: Is the Indian military-civilian bureaucracy, the last vestige of Imperial Raj, ready for it? The answer is a big no. Despite India having a decisive political leadership, it is saddled with insipid, indecisive tribe called bureaucracy with permanent address on Raisina Hill.
With a rising global power in the north and its servants encircling India, the security scenario on the land and sea borders is under threat from belligerent China, which is amassing land based intermediate range ballistic missiles, nuclear submarines and is perhaps matching US in outer space, cyber and information warfare. China is well into the age of hybrid warfare with algorithmic weapons and advanced cyber-attack capabilities to bring down a nation without even firing a weapon.
In spite of the bleak scenario, the bureaucracy and that includes the military leadership continues to play pass the parcel rather than taking decisive steps to lay the foundation of military-industrial complex in India. Consider this:
1) The last of Scorpene-Kalveri class submarines will be delivered to Indian Navy by end 2023 after which the submarine construction and hi-tech tooling facility at Mazagon Dockyards will be lying idle as the bureaucracy can't still decide on whether to build three more such submarines of the same class and then retrofit DRDO developed air independent propulsion (AIP) into the entire class or give into Indian Navy's dream plan to acquire six more submarines from abroad with AIP.
2) The Kalveri class submarines were decided by the Vajpayee government way back in 1999 and the Indigenous Aircraft Carrier or INS Vikrant was approved again by Vajpayee government in 2003. It is quite evident from this that if Modi does not get his bureaucracy moving soon, the MDL facility will go seed due to lack of orders and India will be back to square one. Same was the case of German HDW submarine line in the 1980s.
3) The request for information for medium multi-role combat aircraft (MMRCA) was floated way back in 2004. But 10 years of UPA regime could not finalize the project and callously dumped it. It was left to PM Modi to announce the decision to buy 36 Rafale jets in April 2015 on government-to-government basis from France to meet the most urgent requirements of Indian Air Force.
For the above two examples, it is quite evident that bureaucracy in India takes at least 10 to 15 years to take a strategic decision. And this will be the death knell for PM Modi's "Aatmanirbhar Bharat" as the country will be 100 years old when the next batch of aircraft or submarines are manufactured. Juxtapose this to China constructing six to 10 warships a year and this is a sure shot recipe for national security doomsday.
To avoid this strategic mistake and make PM's initiative succeed, it is most important that Indian private sector should be allowed to tie-up with foreign defence majors to manufacture hardware in India. This will not only upgrade the skill set of Indian workers but also create massive jobs in ancillary sectors. It is equally important that existing production lines with Defence PSUs should not be left idle but given more jobs to keep the design and production of a weapon system an ever-evolving affair.
If we leave this to the military leadership or the existing civilian bureaucracy, "Aatmanirbhar Bharat" will just remain a concept and India will end up buying more hardware from abroad and remain dependent on other powers. It is for PM Modi to decolonize his bureaucracy.