Doklam standoff was a wake-up call for India, China
Hindustan Times, New Delhi |
Alka Acharya
Apr 24, 2018 03:50 PM IST
With China not supporting India's Nuclear Suppliers Group membership, blocking UN designation of Azhar Masood and an aggressive Belt and Road Initiative, India too refused to backtrack and hostilities only deepened.
This could be a first of sorts — an informal meeting between Prime Minister Narendra Modi and the Chinese President Xi Jinping in Wuhan on April 27-28 — six weeks before the two leaders will meet yet again, formally, in a multilateral setting of the Shanghai Cooperation Organisation Summit Meeting in Qingdao. We are informed that it was external affairs minister Sushma Swaraj who had suggested such a meeting to the visiting Chinese foreign minister Wang Yi last December and senior functionaries on both sides prioritised its fruition.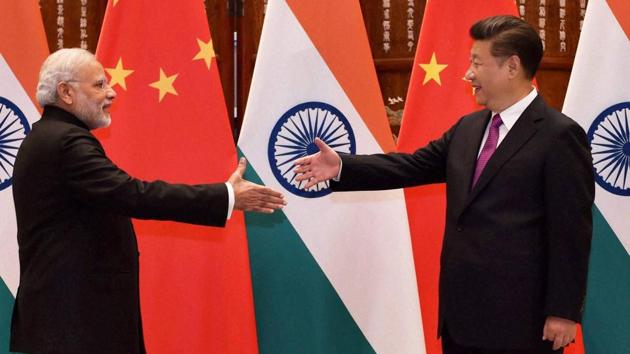 With the benefit of hindsight, it is obvious that the much discussed 'reset' in the ties was prompted by the nerve-racking two-and-a-half-month-long stand-off between the Chinese and Indian armies last summer. The Doklam episode was clearly the wake-up call on both sides to retrieve the relationship before it spiralled into yet another Himalayan blunder. If nothing else, it indicates that a sufficient number of alarm bells had begun to ring — maybe louder on the Indian side — and that both countries were seized of the greater perils that the collapse of this partnership would bring.
The promise of a strong and dynamic relationship, built on reinvigorated trade and investment that came with Modi's government in 2014 soon dissipated in debilitating and competitive power dynamics. Over the past few years, the gap between the official discourse on the one hand, (viz, civilisational ties, convergences on key global issues and India and China jointly undergirding the rise of Asia) and the actual policies being adopted by both, (viz not supporting India's Nuclear Suppliers Group membership, China's blocking of the UN designation of Azhar Masood, playing of the Tibet card and opposing the Belt and Road Initiative in toto by India) had gradually widened into a chasm.
One watched with near disbelief, as "differences" that could have been discussed and accommodated within a broader framework gradually morphed into "disputes"; inflammatory statements — especially during the Doklam episode served to inflame public opinion; regional dynamics appeared to focus more on hedging and containment (India and the 'Quad' and China in South Asia) — at any rate they appeared to be interpreted as such. The India-China world had shrunk to a handful of concerns; the diplomatic space had become constricted and "win-win" was just another couple of words. We witnessed a steady decline in bilateral ties as the two sides came to stand on opposite sides on a host of issues and the India-China relationship increasingly looked like a contradiction in terms.
It was obvious that the India-China relationship was only plummeting — and sooner or later somebody had to ask who precisely this was benefitting. This unraveling of ties also sat uneasily with the framework that Modi had outlined — and had been so welcomed — in his very first year in office: neighbourhood first and strong economic partnerships, which would further his domestic development and modernisation agenda.
This initiative does appear to have Modi's characteristic hands-on approach to the problem; it points to a realisation that a positive and consultative approach to the challenges would serve both better than to keep hurling accusations at each other. It also appears to be the outcome of a sober and more realistic appraisal of the new challenges on the global economy front; and above all, it is also about the importance of the bigger picture. The China-Pakistan relationship will not simply vanish overnight or miraculously transform to India's liking and in the meantime our neighbours seem to have made their choice in favour of getting on with their own developmental agendas – with China's help. Where does India want to be in this transformative process? We can join this march or sit on the sidelines and watch the transformation nevertheless.
Modi and Xi's decision to take the time out for this bilateral tete-a-tete may well prove a game-changer.