Nirav Modi denied bail in London court, to stay in jail till March 29
Apr 24, 2020 05:30 PM IST
Nirav Modi declared in court his intention to contest the extradition request and offered to pay 500,000 pounds for bail,but the offer was denied by the judge.
Fugitive diamantaire Nirav Modi was arrested and denied bail at the Westminster Magistrates Court on Wednesday, setting off another high-profile extradition trial involving large-scale financial irregularities in India, three months after that of businessman Vijay Mallya.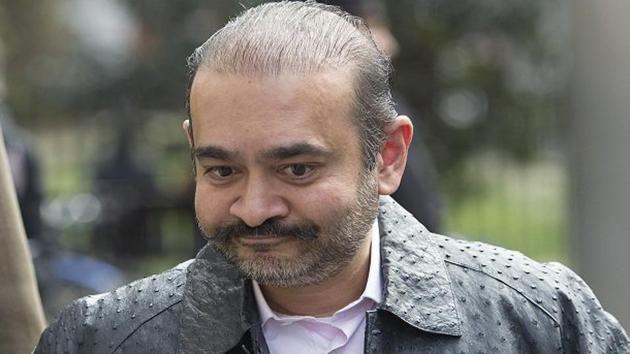 Modi, 48, was arrested by Scotland Yard in the central London area of Holborn on Tuesday on India's extradition request made in August 2018. He is wanted in India to face allegations of defrauding the Punjab National Bank (PNB) of over Rs 14,000 crore, among other charges.
Modi declared in court his intention to contest the extradition request and offered to pay 500,000 pounds as security deposit for bail. But this was denied due to what the judge called the "high value of amount involved in the allegations" and the likelihood of Modi escaping. He will remain in custody until the next hearing on March 29.
"I have substantial grounds to believe that you may not surrender", judge Marie Mallon told him.
The trial will be held in the magistrates court over several months, possibly extending more than a year, as it did in the case of Mallya. He was arrested and bailed on April 18, 2017 and the court pronounced its judgement, ordering his extradition, on December 10, 2018.
Read more| From Forbes to London jail, Nirav Modi's journey began with pair of earrings
Scotland Yard said in a statement before Modi was produced in court: "Nirav Deepak Modi, 48 (Date of Birth 24.02.71), was arrested on behalf of the Indian Authorities on Tuesday, 19 March, in Holborn".
Modi is reported to have sought asylum, but UK officials following a long-standing policy do not confirm or deny an individual's application. Legal experts say that his arrest suggests that the application, if made, would have been rejected, since granting asylum to a person facing fraud charges in India would be an abuse of process.
Both Modi and Mallya extradition cases relate to loans worth thousands of crores of rupees secured from Indian banks; from a consortium of banks that includes IDBI and SBI in the Mallya case, and the Mumbai branch of the PNB in Modi's case.
However, there are key differences in the nature of charges of financial impropriety. Mallya's main contention was that there is no prima facie case against him, since the inability of his Kingfisher Airlines to return loans, according to him, was due to a genuine business failure.
The case was described by the judge as 'a jigsaw puzzle', while Mark Summers, lawyer representing India, accused Mallya of 'three chapters of dishonesty': misrepresentations made to banks to secure loans, what was done with the loans secured, and what he and his companies did when banks recalled the loans.
Read more| 'Can run, can't hide': Minister on Nirav Modi's arrest, Priyanka has a counter
After over a year of hearings involving thousands of pages of documents and witnesses, chief judge Emma Arbuthnot in December 2018 upheld India's case that there is a prima facie case for him to answer in India, dismissing other grounds such as risk to human rights in jail and abuse of process.
In contrast, Modi's case may be decided over a shorter time-frame, given the different, seemingly clearer charges of impropriety and fraud against him, his family and others, including some PNB officials, as outlined in CBI's chargesheet filed in Indian courts.
Under the India-UK extradition treaty, the person requested needs to be charged with an offence that amounts to an offence in both countries (the principle of dual criminality). Modi's arrest implies that the court is satisfied that there are reasonable grounds to believe that the conduct described in India's request is an extradition offence, including the requirement for dual criminality.
As in the Mallya case, Modi's defence team is likely to raise issues in court to prevent his extradition, such as risk to his human rights in Indian jails, political persecution and alleged infirmities in the Indian judicial system that prevent delivery of justice.
India successfully countered such claims in the court with documentary and visual evidence in the Mallya case, including a sovereign assurance from the Union home ministry that there would be no risk to his human rights.
India's charges against Modi, as provided to Interpol, are: 'punishment of criminal conspiracy, criminal breach of trust by public servant, or by banker merchant or agent, cheating and dishonestly inducing delivery of property, prevention of corruption act, money laundering'.
Read more| ED to sell 173 paintings, 11 cars of Nirav Modi
As in the Mallya case, CBI and Enforcement Directorate officials are likely to travel from India to attend hearings in the Modi case. Officials closely associated with the Mallya case say it was a 'learning exercise' for ministries, CBI and others, when, for the first time, there was 'joined-up thinking' and attention to detail in New Delhi and London; a similar focus is likely in the Modi case.
While Modi's case begins the first legal stage in the magistrates court, Mallya's case has progressed from the magistrates court (ordering his extradition) to the home secretary (also ordering his extradition), and is now in the appeals court, where a judge will consider his application challenging the home secretary's order.
Until focus on the Mallya case prompted renewed attention to improve the quality of Indian evidence and paperwork, previous extradition cases used to be accompanied by bundles of poorly written FIRs and documents, many hand-written, resulting in a catalogue of failures since the India-UK extradition treaty of 1993.
Response to queries regarding the arrest of Nirav Modi, a ministry of external affairs spokesperson said: "We welcome the fact that Nirav Modi has been arrested by the United Kingdom authorities pursuant to the arrest warrant issued by the Westminster Magistrate Court.
Government of India continues to actively follow up this matter with the authorities concerned in the UK, with a view to have Nirav Modi extradited to India at the earliest."
Topics