Will never compromise Kannada's importance: Yediyurappa after Amit Shah's Hindi push
Updated on Sep 16, 2019 10:21 PM IST
Yediyurappa's tweet came after opposition leaders kept up their attacks on the BJP-led national coalition over Amit Shah's description of Hindi as a language that holds the potential to unify the country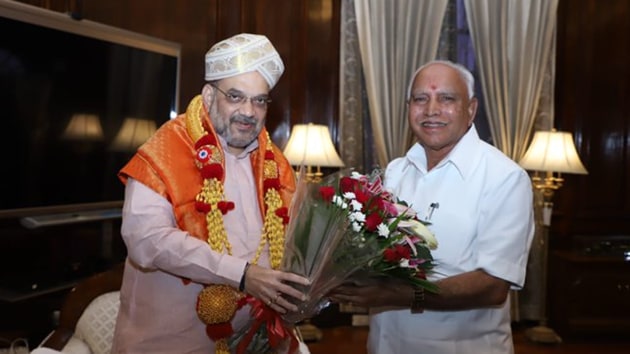 As the row over prominence to Hindi set off by Home Minister Amit Shah's comments on Hindi Diwas show no signs of abating, BJP leader and Karnataka Chief Minister BS Yediyurappa asserted that his government would never compromise with the importance of Kannada.
Yediyurappa's tweet came after opposition leaders kept up their attacks on the BJP-led national coalition over Amit Shah's description of Hindi as a language that holds the potential to unify the country. Leaders from some non-Hindi speaking states had interpreted Amit Shah's statement to be a precursor to the Centre imposing Hindi on them.
"All official languages in our country are equal…. We will never compromise its importance and are committed to promote Kannada and our state's culture," Yediyurappa tweeted.
In Karnataka, he asserted Kannada is the principal language and will remain so.
Watch: Facing fire, BJP leaders downplay Amit Shah's one nation, one language push
Yediyurappa is the latest leader from South India to join the chorus against a Hindi pitch by the Union Home minister. On Sunday, Kerala Chief Minister Pinarayi Vijayan derided the move, calling it "a new battlefield in the name of language."
"Union Home Minister Amit Shah's Hindi agenda push despite nationwide protest needs to be seen as Sangh Parivar's signs to launch a new battlefield in the name of language. The perception that only Hindi can unite the country is completely wrong. People in the south and the north-east don't speak Hindi," Vijayan wrote in a Facebook post.
Shah's tweet on 'Hindi Diwas' that a common language would become "the mark of India's identity globally" had sparked a firestorm of protest in the South with the ruling AIADMK and DMK in Tamil Nadu closing ranks. DMK chief M K Stalin said "This is India not Hindia" in response to Shah's tweet and warned that the imposition of Hindi as national language "will affect the unity of the country".
Former Karnataka chief minister HD Kumaraswamy also took a swipe at the Centre asking, "When will Narendra Modi celebrate Kannada language day, as it is also a Scheduled language as per the Constitution, alongside Hindi."
One of Independent India's foremost challenges was managing the question of language. The Constituent Assembly decided not to have any single national language.
India uses Hindi and English as official languages at the national level and 22 scheduled languages at the state level, but does not have any national language.
Personalise your news feed. Follow trending topics