'Crop insurance scheme benefitting firms, withdraw it'
Alleging that insurance companies are looting both farmers and government, an organisation of farmers on Monday demanded from the centre to withdraw the Pradhan Mantri Fasal Bima Yojana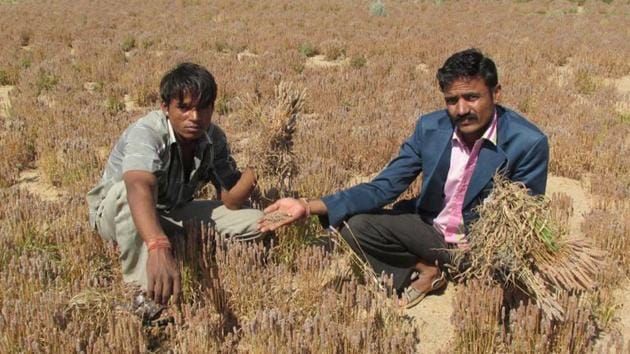 Updated on Jun 25, 2018 09:50 PM IST
Alleging that insurance companies are looting both farmers and government, Rashtriya Kisan Samanvay Samiti (RKSS), an organisation of farmers, on Monday demanded from the centre to withdraw the Pradhan Mantri Fasal Bima Yojana (PMFBY).
The centre should remove the insurance companies and pay the crop damages to farmers like it was doing earlier, but after removing corruption in the agriculture department, said Vivekanand Mathne, the RKSS convener.
He said as per the interim report of PMFBY Kharif 2017, total 3.27 crore farmers across India paid premium of ₹3,027 crore, while the centre's subsidy was ₹8,152 crore and state governments' subsidy was ₹8,202 crore totalling to ₹19,381 crore was paid to insurance companies. These insurance companies had approved claims of ₹8,724 crore to the farmers, but till June 18, 2018, only ₹4,276 crore has been paid. Reports of some states have not been received, but the amount might increase with insurance companies approving more claims, he added.
Similarly, in PMFBY Rabi 2017-18, the insurance companies collected ₹1,191 crore from 1.52 crore farmers of India, while the centre paid ₹2,047 crore and state governments paid ₹2,092 crore totalling to ₹5,329 crore, but payment of Rabi crop damages is still awaited, he said.
In Kharif and Rabi 2017-18, 5.26 crore farmers across the country had paid ₹4,218 crore of crop insurance premium and centre and state governments paid ₹10,199 crore and ₹10,294 crore respectively totalling to ₹24,710 crore.
He said in 2016-17, insurance companies on an average collected ₹2,718 per farmer from 5.75 crore farmers across the country including share of states and centre totalling to ₹22,180 crore and farmers were paid ₹12,948 crore and insurance companies "looted" ₹9,232 crore. Only 20% farmers were paid compensation for the crops damaged, while 80% farmers did not face any crop damage due to natural calamity and their money has profited the insurance companies.
The RKSS convener said in Rajasthan during Kharif 2017, ₹56.60 lakh farmers paid premium of ₹231.66 crore and state and centre government paid ₹748.31 crore each calculating to ₹1,728.29 crore to the insurance companies and till June 18, 2018, the farmers got ₹826.21 crore as compensation.
He said the PMFBY scheme has been made to benefit the insurance companies by looting the farmers. He said insurance premium of farmers taking loans are deducted from the loan amount, while those farmers who do not take loans are forced to pay the premium stating that if they suffer any crop loss then they will not get any compensation. He also alleged that there is no mechanism to check that whether bank or insurance companies have paid the compensation. "The situation is that whatever the insurance companies say, the governments accepts. Therefore, there is a scam in payment of compensation because of connivance between the insurance companies, agriculture and bank officers," he alleged.
The samiti on Monday submitted a 26-point proposal to Prime Minister Narendra Modi, in which it demanded from the centre to remove the PMFBY.
Close Story
Personalise your news feed. Follow trending topics