In 4 days, 900 birds fall dead in Jodhpur, vets look for reason
Hundreds of Ring Dove birds have died from an unknown disease in the last four days in Nosar village, about 100 km from Jodhpur city, officials said Wednesday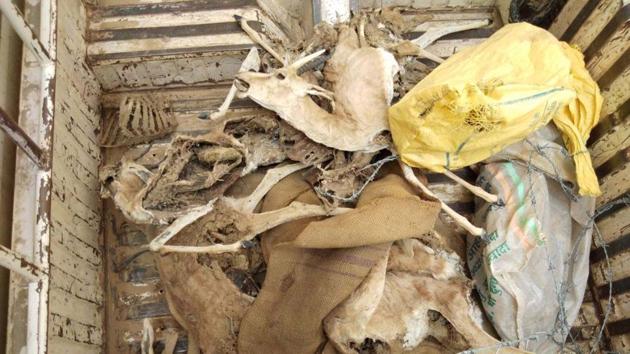 Published on Jun 13, 2018 10:15 PM IST
Hundreds of Ring Dove birds have died from an unknown disease in the last four days in Nosar village, about 100 km from Jodhpur city, officials said Wednesday.
On the basis of the post mortem examination, veterinarians initially termed the cause of death as food poisoning. However, to know the exact reason behind so many birds dying, authorities would be sending the samples to a Jaipur laboratory.
As per the officials, some locals found hundreds of dead birds in their fields. On receiving information about death of hundreds of birds, a team of animal husbandry department reached the village on Tuesday.
"The dead birds have been buried in the soil to prevent spread of any possible infection," said Dr. Dashrath Singh, joint director, animal husbandry department.
Singh said nearly 900 birds have died. He said the birds were of the same species.
Nosar resident Jugal Kumar said that for the last four days he has visited several fields within four km radius of the village and seen hundreds of dead birds
He said the officials of the animal husbandry department had given injections to some sick birds on Tuesday but many dead birds were recovered on Wednesday too.
Nosar Sarpanch Bhairun Singh said the dead birds were rotting in the fields. "Immediate disposal is necessary, so that no disease spreads."
Chief medical and health officer, Dr Surendra Chaudhary, said it was not possible prima facie if the birds died of some illness. He said it was possible that the birds could have died after eating some poisonous granules.
Chaudhary said that as a precaution, people of the area have been asked to be careful. "Villagers have been advised to undergo a screening in case of fever or shortness of breath," he said.
Carcass of 16 chinkara found in Jaisalmer
Jaipur: Sixteen Chinkaras, a protected animal, were on Wednesday found dead in Bhadaria village in Rajasthan's Jaisalmer district, police said.
The animals reportedly died due to thirst and hunger and their bodies were strewn across the village in a radius of around 35 km, assistant conservator of forest Brij Mohan Gupta said. The bodies were sent to a government veterinary hospital, assistant sub-inspector at Lathi police station, Damra Ram said.
Forest ranger Prakash Singh said veterinary doctors conducted a post-mortem and as per preliminary probe, the animals probably died of hunger and thirst. The matter was being further investigated, Singh added.
Chinkara (Indian gazelle) is included in the endangered species list.
Wildlife activists in the area claimed that they animals died after getting stuck in fencing created around a cow shelter. Gupta said the reason cannot be ruled out and necessary instructions have been given to the cow shelter management.
Close Story