Kirrak Party movie review: Nikhil Siddhartha-starrer is a devoted remake of Kirik Party
Kirrak Party movie review: Nikhil Siddhartha plays a college students who starts off as an innocent college student who is scarred by heart break.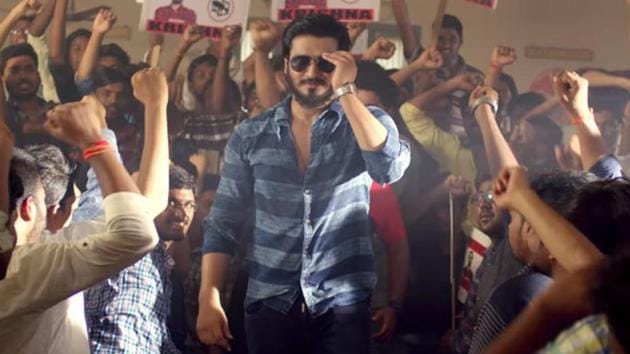 Updated on Jul 29, 2019 06:24 PM IST
Kirrak Party
Director: Sharan Koppisetty
Cast: Nikhil Siddhartha, Samyuktha Hegde, Simran Pareenja
Star Rating: 2.5
Mass bunking, senior-junior ego clashes, first love, last-bench fun and all the firsts that comes with being in college — Kirrak Party is a nostalgic trip down memory lane. Nikhil Siddhartha's movie is a coming of age college drama about a heartbroken student who learns to move on.
Krishna and his group of friends see Meera (Simran Pareenja), a senior student for the first time in the college corridor and all of them fall for her. She is the college's crush and we see the boys trying to impress her all the time. In the meantime, Krishna also stops seniors from hitting on Meera, and his antics result in the budding of a friendship between the two. These antics are laugh-out-loud moments, more like the lighthearted moments that one associates with campus romantic comedies. For instance, to exact revenge from Meera's senior stalker, Nikhil applies glue on the stalker's eyebrows and applies cello tape and Meera rips this off — all while this creepy dude is fast asleep in the hostel room late in the night.
The friendship transforms into love, the rosy variety, but in a blink of an eye, things change and Krishna's innocence — the trait that Meera loves the most — is lost. This life-changing incident locks Krishna up in a personal hell, and he becomes a whole new person. A boy who calls for togetherness among batch mates becomes a man who grows apart from his friends because they are in a different department.
There is a song here that captures this change lyrically beautifully. Krishna's anger at his situation, the buildup of his frustration over his own in action in the form of violence is gripping.
Fast forward to three years, 6 semesters and 9 backlogs later, the heartbreak is still there, the kind that scars a person emotionally. The movie is a journey about how Krishna moves on.
The second half has humour, action and some very massy elements to elicit loud cheers. Krishna as a senior is a no-nonsense person who beats up his friend for scamming students, participates in college elections and campaigns as the last-benchers. He also disappears for days on his Bullet bike and leaves his friends frustrated right before the election. There is no rhyme or reason behind his actions. His aimless existence is not portrayed too dramatically, but it is something that millennials will connect to. The need to head off as and when you like, to take a break when things gets mentally tiring, to not give a damn about what the world thinks when you know you right — these are things one associates with.
Samyuktha Hegde plays Sathya, Krishna's junior who has fallen for him. She stands up for him, helps him when he faces problems and introduces him to Krishna from the past. Samyuktha has played her part with great conviction, just as she did in the original movie Kirik Party.
The highlight of the film is its comic element. From stuffing the principal in a car's trunk to ragging juniors to lay eggs and make omelettes from the eggs laid — there is a laugh every minute.
While the performances by the lead actors and supporting cast is good, Samyuktha as Sathya in the second half takes the cake.
The music by B Ajaneesh Loknath plays an important part in setting the mood — be it the "Last Bench" or the title song. The filmmakers have decided well by staying close to the original film Kirik Party, starring Rakshit Shetty. Keeping the songs close to the original has worked for Kirrak Party. Nikhil's film is not a scene-by-scene remake, but it surely has kept the heart of the film intact.
The one thing that did not work for the film as good as it did in the original is Meera's character. Simran Pareenja's portrayal of Meera did not make an impact that warrants the big change we see in Krishna. Something about this character does not translate completely onto the screen.
Author tweets @Priyanka_S_MCC
Follow @htshowbiz for more
ott:10:ht-entertainment_listing-desktop
Close Story