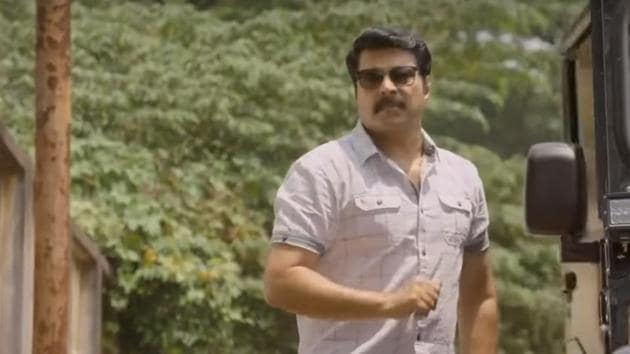 Street Lights movie review: Mammootty is not the star of this film, and we love it
Street Lights movie review:
UPDATED ON JUN 17, 2019 10:30 AM IST
Street Lights
Director: Shamdat Sainudeen
Cast: Mammootty, Soubin Shahir, Harish Perumanna, Neena Kurup
Rating: 3/5

A gang of masked thieves, and a cop who chases them across state borders – this is the plot line of Mammootty-starrer Street Lights, in a nutshell. Mammootty plays the role of James, a cop, but this movie is not about him and it is this fact that works in its favor.

The film begins with three friends - Sachi (Hareesh Perummana), Raju (Dharmajan Bolgatty), Murugan (Stunt Silva) - sneaking into a house with the intent to rob. Sachi and Raju are not very smart thieves -- they usually prefer to 'steal gold chains of decent aunties' and have qualms about tiptoeing in the night for goods. Murugan is the brain behind the operation and that's how the three of them get their hands on a necklace worth Rs 5 crore. Sachi and Raju are frustratingly foolish, and this might cause a lot of consternation to Murugan but provides us comic relief.
Simple theft means simpler plot - is that what you thought? Well, this is where writer Fawaz Mohamed throws a surprise and introduces three characters -- Ramya (Lijomol Jose), a customer care representative at Idea showroom; her cousin (Soubin Shahir) who owns a salon; and a child Mani from her neighborhood. It is these three who add flavor to the film.
Especially Mani – his dad is an alcoholic and mother works as a domestic help to support the family. He cannot afford a new school uniform or a bag, and his classmates pick on him due to this. He has enough pride to say no when his teacher offers to pay for a new uniform. He is determined to get a new uniform and he works for it. He earns Rs 2500 and he gets a new bag, a new set of school uniform and rides to school in an auto. This particular sequence is the best in the film and captured beautifully. Mani, for me, is the hero of this film!
It is thanks to these characters that one gets invested in Street Lights. Mammootty's James is not the hero of this film, he is just the man who introduces us to these character and let's them tell their own story.
It is interesting how director Shamdat uses both Tamil and Malayalam, and the segue is natural. There is enough self referential humour -- Tamil songs are used as ringtones, Kabali Rajinikanth is a screen saver and digs are taken at Mammootty using dialogues from Tamil film Thalapathy.
Coincidences and chance meetings are built into the story and they meld beautifully into the plot. There are twists and turns that blindside us but the climax, in contrast, is not surprising. The ending to this story is something that we can guess at from the beginning, and the film is all about how we get there.
Author tweets @Priyanka_S_MCC
Follow @htshowbiz for more

Close