From tomorrow, use your mobile phone to book AC bus tickets in Thane
Feb 15, 2018 12:17 AM IST
The TMT had first proposed to install the e-ticketing system seven years ago
Starting Friday, those travelling by air-conditioned buses will be able to book tickets online.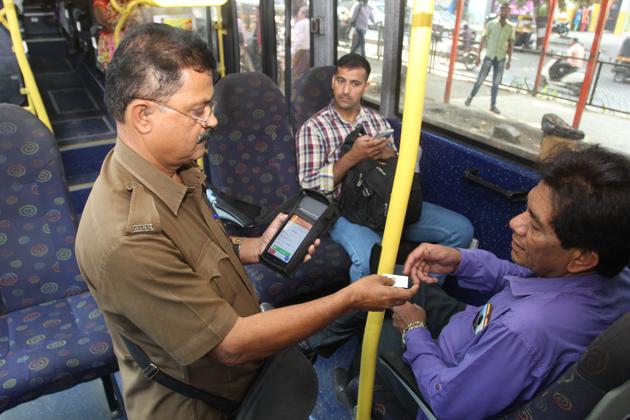 The Thane Municipal Transport (TMT) is launching an e-ticketing service for which it has initiated a two-day training programme for its conductors deployed on AC buses by giving them new machines. Unlike their counterparts in Mumbai and Navi Mumbai, who use e-ticketing machines, conductors in Thane punch tickets.
The TMT had first proposed to install the e-ticketing system seven years ago. However, the project was delayed owing to lack of response to the tenders it floated and several technical lapses since 2011.
Last year, the transport authority revived the project and was finally approved. The new system will be implemented for the 30 AC buses the TMT operates.
TMT manager Sandeep Malvi said, "We have started training the conductors working on the AC Volvo buses to issue e-tickets. From February 16, commuters can book tickets through a mobile application."
They can pay for their tickets using the application and show the e-ticket to the conductor during their journey. Apart from introducing app-based ticket service, machines will be given to the conductors to issue tickets on the spot.
"These machines will store data pertaining to tickets issued during the day," he said.
To avail the app-based ticket service, commuters will have to enter the name of bus stop they are boarding from and the stop they want to alight at.
For on-the-spot e-tickets, commuters can convey their destination to the conductor. To prevent reuse, each ticket will have date and a serial number. The transport body will extend the e-ticket service to regular buses soon.
The transport body spends Rs11 crore a year on printing tickets. Once it implements the new system, the TMT will save Rs7.5 crore annually.
Malvi said, "E-tickets will help us save money and bring in transparency. It will decrease revenue losses by giving us details about the earning per trip. The machine will have the name and number of the route, driver and conductor."