Reimagining BMC's budget for 2018-19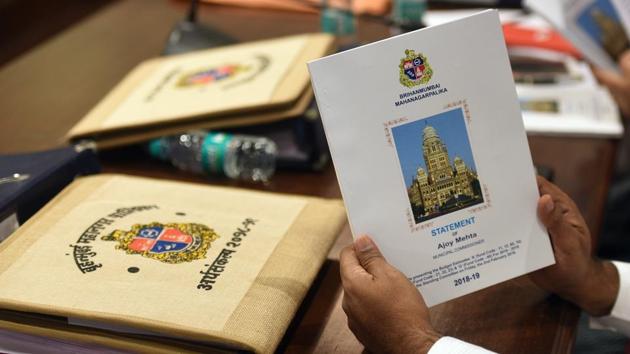 Published on Feb 03, 2018 12:34 AM IST
Hindustan Times |
, Mumbai
Srikanth Viswanathan
Mumbaiites don't really care about the MCGM's budget. But we really can't blame them for it. There is such little information about it and the information is so hard to read and understand. Uploading stodgy PDF documents on websites no longer counts as making information available. Yet, MCGM's latest budget presented yesterday at Rs27,000 crore can be reimagined in so many ways to really make it matter to Mumbaiites and to Mumbai.
Imagine if Mumbaiites had a chance to vote on MCGM's budget and give their inputs into it. Hard copy forms in ward offices, an online form on its website, a mobile app or a feature on the existing Aaple Sarkar app, and a campaign for two months during December and January, urging citizens to send in their inputs and votes for their neighbourhood works and budgets are all easily doable and bring many benefits. It will get citizens to take active ownership of their neighbourhoods, signal citizen priorities to the MCGM facilitating better resource allocation between localities and sectors, and above all build greater trust between Mumbaiites and the MCGM. Neighbouring Pune sets aside monies for citizen inputs and even discloses that separately in its annual budget.
Imagine if the MCGM's Budget came along with a Performance Report on the current year. Further imagine if all Mumbaiites received its quarterly performance report as its rightful shareholders, and attend townhall meetings to discuss the same.
How was money spent in 2017-18, how many citizens benefitted from what spends, how many kms of roads were laid, how many kms of storm water drains were cleaned vs what was targeted, what new assets were created and what was the citizen feedback on them, what were the actual service levels achieved on water supply, solid waste management, sanitation etc., which neighbourhoods got what allocations for what purpose? What really was the MCGM's performance quarter on quarter last year both in terms of finances and operations? Isn't this what Mumbaiites wish to know, rather than a stolid listing of where money is proposed to be allocated next year with no reference to how it was spent last year and what was achieved with it?
Imagine if the best financial minds in Mumbai are able to work with the MCGM to improve its financial performance. The MCGM has a balance sheet size in excess of Rs1,00,000 crore as at 31 March 2016. Equity analysts in Mumbai who volunteered their time to produce an "equity analyst report" of sorts for MCGM, estimate that assuming a haircut of 30%, the MCGM could raise funds via municipal bonds in excess of Rs70,000 crore. But they also see very slow conversion of capital work in progress (CWIP) into fixed assets, with over Rs 23,000 crore (21% of total assets) reflecting as CWIP.
They raise a red flag on its outstanding receivables of over Rs11,000 crore. In their report, these Mumbaiite volunteers recommend that the MCGM publish quarterly/half yearly financial results, make its financials more reader-friendly and citizen-friendly, and empanel a reputed CA firm to audit its financials and publish them by 30 September each year. Mumbai boasts of some of the world's best financial minds as its citizens. If the MCGM reaches out to them, it can transform itself into one of the world's best financially governed municipalities.
Imagine if the MCGM puts out on its website (and mobile app) all its spends online in a format that is easy to read, understand and search, by street, by tender, by contract, and by contractor with actual and estimated dates and costs. After all, there is nothing in the MCGM's affairs that needs to be confidential.
No foreign policy, no strategic military affairs, no nuclear secrets. All its affairs and spends have to do with delivering infrastructure and services directly to citizens.
All of the above four initiatives are fully feasible to implement within one financial year, so as to completely reimagine the MCGM's Budget 2019-20. The cynicism and the lack of trust between Mumbaikars and the MCGM can easily bloom into a love story. Just imagine.
Srikanth Viswanathan, CEO, Janaagraha Centre for Citizenship and Democracy
Close Story
Personalise your news feed. Follow trending topics