Thane Municipal Corporation warns contractors of legal action if they fail to fix potholes
The issue of rising number of potholes on city roads was discussed in the standing committee meeting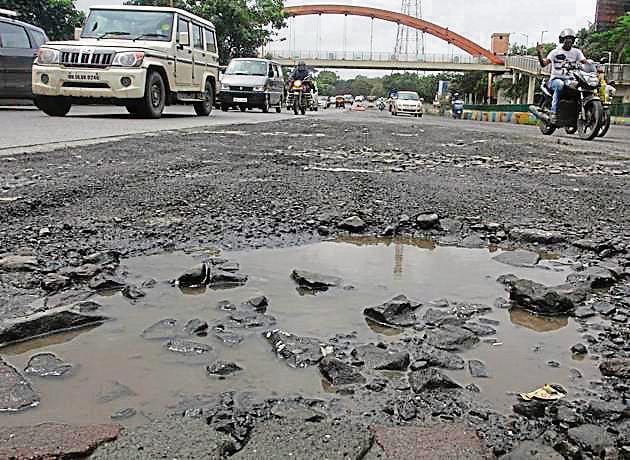 Published on Jul 19, 2018 01:01 AM IST
Contractors will have to fix potholes on the roads they are maintaining, said Thane Municipal Corporation (TMC).
The corporation has also threatened to take legal action against those contractors who shirk their responsibility, said city engineer Anil Patil during a standing committee meeting on Wednesday.
Standing committee members alleged that material used to fill potholes was of substandard quality. They also demanded that contractors who do a shoddy job should be blacklisted.
The issue of rising number of potholes on city roads was discussed in the standing committee meeting. The committee sought an explanation from TMC for potholes resurfacing every monsoon despite civic body spending crores on road repairs every year.
Narayan Pawar, BJP corporator, said, "The material used for repairing roads is inferior. The corporation spent crores on repairing roads, but all the money goes into the contractors' pockets. They don't follow any guidelines while building roads or fixing potholes. Contractors found guilty of doing a shoddy job must be blacklisted immediately."
He claimed that officers are merely holding pressers in the name of fixing potholes, even as commuters suffers.
"Officials and contractors are hand-in-glove. Hence, the corporation is trying to protect them," Pawar alleged.
Anil Patil, city engineer, said road maintenance contracts have been alloted and contractors who are still hired will have to fix potholes.
"If these contractors refuse to fill potholes, we will register cases against them. Moreover, there are no potholes on new roads. Potholes have developed on roads that will soon come up for maintenance. We have also initiated a study potholes. It will focus on their recurrence despite filling them regularly. The study will also offer clarity on material used for building roads and filling of these potholes," he added.
Close Story