'Dead' man comes alive at Mumbai hospital mortuary
Updated on Oct 13, 2015 09:20 AM IST
A 50-year-old homeless man was on Sunday afternoon wheeled into the mortuary of Sion hospital after being declared dead, only for an attendant to realise a few minutes later that he was alive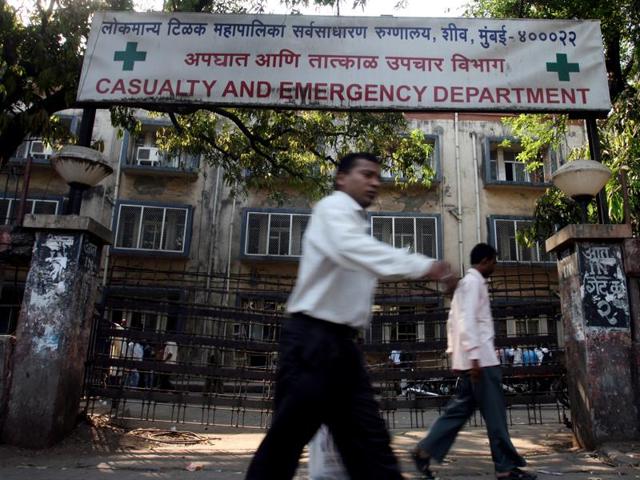 Authorities at a Mumbai hospital were stunned to discover that a 50-year-old homeless man wheeled into the mortuary after being declared dead was still alive.
Officials at the hospital in Sion area have ordered a probe into the incident that occurred on Sunday afternoon.
Suleman Merchant, dean of the hospital, said, "The patient was on a stretcher and his face and ear was infested with maggots, usually seen in decomposed bodies. He was apparently picked up from a bus stop at Sion."
He added: "His pulse and heartbeat were absent. The patient also had fixed dilated pupils, a condition common in patients who are close to death. This could have led the doctor to believe that the patient was dead."
The man, identified only as Prakash, was brought to the hospital by policemen who insisted he was dead. He was sent to the mortuary for an autopsy. An attendant at the mortuary realised the man was alive after he detected some movement.
Doctors resuscitated the man for 15 minutes and shifted him to the hospital's medical intensive care unit. The man is recuperating but continues to be in a delirious state caused by severe intoxication.
Blaming the police for the error, Merchant said, "As police officers were on bandobast duty, instead of bringing the patient inside, they asked the doctor to examine him outside the casualty.
"Our casualty medical officer got intimidated by the police presence. The police kept telling the doctor the patient was dead and insisted he certify him urgently."
Deputy commissioner of police Dhananjay Kulkarni said police were looking into the allegations of lapses by policemen. "Based on the findings of the investigation, the further course of action will be decided," said a police officer.
When a patient is declared dead by a medical officer, the body is usually kept in the casualty section or a ward for about two hours – known as the cooling off period.
"In this case, the casualty was full and so the body was sent to the mortuary, where it would have been kept for two hours. The patient is receiving the best possible care," said Merchant.
He said doctors treat about 188,000 patients every year in the hospital's casualty ward.
"After this incident, we have realised that in such odd cases, we need to perform an ECG to check the heartbeat before declaring a person dead. We are coming up with a protocol to avoid such incidents in the future. No action has been initiated against the casualty officer," said Merchant.
Close Story
Personalise your news feed. Follow trending topics