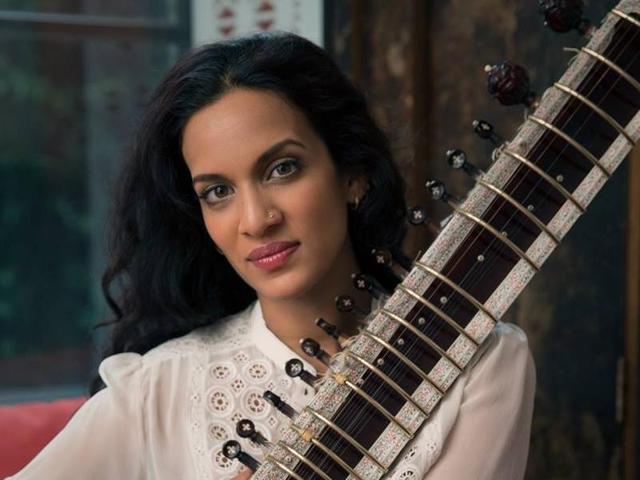 Despite gap, never been away from classical music: Anoushka
Ahead of her India tour, sitar player Anoushka Shankar says that even though her new album is only her second Indian classical record in 10 years,
Hindustan Times | By Arundhati Chatterjee
, Mumbai
UPDATED ON DEC 03, 2015 04:54 PM IST
In her initial years, she may have been popularly known as sitar maestro Pandit Ravi Shankar's daughter, but it didn't take her long to come into her own. Today, with multiple Grammy nominations and eight studio albums to her credit, sitar player Anoushka Shankar is well-known in the global music circuit. As she prepares for a multi-city tour in India - it will also mark her younger son, Mohan's first trip to the country - the artiste, in an email interview, opens up about her latest album, Home, exploring other creative avenues, and more.
Do you plan to go sightseeing with your children in India?
It's been a long gap of two years since I last performed in India, because I was pregnant with Mo (Mohan) last winter, and therefore, didn't come to visit. Naturally, I am looking forward to the concerts, as playing in India is always a special experience. We will be taking a holiday together around New Year's. I also look forward to showing Zubin (her older son) many things about our country and culture. He is nearly five, so he is now old enough to create memories and understand so much more.
Read: I've never worked with an alien, says Anoushka Shankar
Your latest classical album comes after a break of over a decade. Why did it take so long?
Maybe this gap has something to do with four non-classical albums, annual world tours, and two babies. Seriously though, I never meant for a decade to pass between my classical albums, but I have been so deeply involved in my exploratory journey over my other albums that it just happened. I haven't been disconnected from classical music in this period though; I continued to perform classically both with and without my father, and played worldwide with various classical orchestras as well.
Watch Anoushka Shankar pay tribute to her father Pandit Ravi Shankar here:
What are the values that you have imbibed from your father, and would like to pass on to your children?
The desire to constantly learn, grow and improve, no matter how much you have already achieved.
With your latest album, you are returning to Indian classical sound. What prompted this move?
After my father (Pandit Ravi Shankar) passed away, I played at several tribute concerts, and they were more emotional than any of my previous classical experiences. They made me want to make a tribute album in which I played for my father.
Read: Home is deeper than my earlier records, says Anoushka Shankar
While composing a song, do you generally start with Indian classical ragas or western harmonies?
Many a time, it starts with my instrument. The melody might come from my head, but it starts on the sitar, although I may end up giving it to another instrument. From there, either I start to dress it in more western harmonies, or I look for ragas that correspond to the melody, and then find ways to fit it in.
Watch the music clip for Lasya from Anoushka Shankar's album Traces of You:
A couple of your previous albums were nominated for the Grammys. How important do you feel are these awards for an artiste?
Having four Grammy nominations is certainly a feather in the cap, as people tend to take note of things like that, and it adds prestige. But I don't think it means anything in a fundamental, artistic sense. Awards and nominations are so subjective. For instance, there are multiple categories in mainstream music, but only one or a few in Western classical or world music. This means a pop singer can take away more Grammy awards in one night than a classical legend can over a whole career. These things can't be measured.
You have recorded this album in your new studio in London, UK. What are the perks of having your own studio?
It sets you free, logistically and creatively. There was a lack of pressure that was different from, say, the way it used to be when we rented studios 20 years ago. It helped me work around my family more easily.
You had a brief stint in acting, and have written extensively for publications. You have also penned a biography on your father. Are there any other such projects in the pipeline?
I have enjoyed exploring other avenues in the past, and would never say never to it happening again. But at the moment, I'm deeply involved in music, so it's hard to imagine another film happening in the future. Writing, however, I've always loved. I see writing as a possibility in my future.
Close