How PLI is creating a growth ecosystem
Jan 30, 2023 08:07 PM IST
The industry's positive response to the scheme is likely to upgrade the labour force's skills, replace old machinery, enhance production volumes and make logistics and operations efficient, giving India a chance to become a key manufacturing player
The recovery of the Indian economy after the Covid-19 pandemic has sent a message that the country is fast emerging as a key driver of global growth. The National Statistical Office's estimate released on January 6 says that the economy will grow at 7% this financial year. Given the current international economic scenario where global value chains (GVCs) are being reset, India has seen a strategic opportunity to become a prominent global manufacturing player. A progressive policy approach with respect to improving the ease of doing business, scrapping 1,500 irrelevant laws, introducing a competitive corporate tax regime, the availability of skilled labour, the presence of large consumer markets with considerable disposable incomes, the potential for enhanced exports of quality products, and a stable multi-party democracy make India a favourable manufacturing destination. This can reduce global dependency on a single-source country, which was witnessed during the last decade.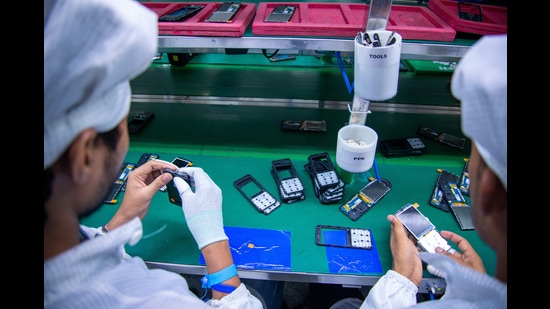 To achieve this strategic vision, the government introduced the production-linked incentive (PLI) scheme in 14 key manufacturing sectors, with an outlay of ₹1.97 lakh crore in November 2020. This is a well-laid-out scheme with consideration for investment, production volumes, enhanced exports with domestic value addition, and employment generation. Incentive rates for the scheme have been designed in a tapering format to motivate and encourage industries to unlock their inherent potential and become drivers of an ecosystem that is self-sustaining and thrives well even after the conclusion of the incentive regime. While applicants are incentivised to perform on several indicators, the government ensures the necessary support for regulatory approvals along with the availability of facilities to applicant companies through Centre-state coordination. In addition, the encouragement to invest in research and development for quality product development enables our industries to align with emerging global trends.
As one of the earliest ones, the ministry of electronics and information technology's PLI scheme for large-scale electronics manufacturing (LSEM) saw successful results, with 97% of mobile phones sold in India now being made in India. Furthermore, they are also being "Made in India for the World" as we witness a sharp growth in smartphone exports by 139% over the last three years. As of September 2022, the PLI scheme for LSEM attracted investments of ₹4,784 crore, with a total production of ₹2,03,952 crore, while also generating 41,000 additional jobs. In the medium-term, the scheme is expected to bring in additional production to the tune of ₹10.69 lakh crore and generate 700,000 jobs. Similar successes are replicated in the pharma sector PLI with 35 imported active pharmaceutical ingredients or key chemical inputs for drugs being developed in India. In addition, other sectors, such as food products, telecom and networking products, and drones are reporting successes with visible growth in investment, employment, and production. Over 600 foreign and domestic firms have been selected across 14 key sectors in two years, indicating enthusiastic industry participation.
The successes signal that the scheme is leading to the development of a potent ecosystem that is self-sustaining and thriving. First, as the PLI scheme focuses on advanced technologies, it is likely to upgrade the skills of the existing labour force. Second, it will replace technologically obsolete machinery and make the manufacturing sector globally competitive. Third, the enhanced production volumes cater to increasing consumer demand. This can be seen for telecom and networking products, where timely intervention by the scheme will enable faster adoption of 4G and 5G products across India. Fourth, with PLI in green technologies, India can pioneer green policy implementation with a reduced carbon footprint. Fifth, better productivity will create a thrust in free trade agreements for better market access. Sixth, increased sales will demand better logistical connectivity. The PM Gati Shakti plan provides multimodal connectivity to manufacturing zones across India, making logistics and operations efficient. Cluster parks with plug-and-play infrastructure have also been introduced to support manufacturing in different regions.
Lastly, an inclusive approach powered through close cooperation with the states is empowering industries and artisans in the hinterland of Bharat to be a part of the India growth story. The one-district-one-product initiative launched to support artisans and manufacturers at the district level and SFURTI, a cluster-based scheme to make traditional industries more productive, profitable, and capable of generating sustained employment, are cases in point. Thus, factors considered a competitive disadvantage are being holistically transformed into short-term and long-term competitive advantage for India and Indian industry.
The pandemic and its resultant global socioeconomic challenges have reaffirmed that the scheme's objectives for achieving strategic, sustainable, and inclusive economic growth for India are well considered. The scheme and its associated ecosystem have ensured that India is well-positioned to develop resilient GVCs, which will continue to provide national security in the evolving global scenario. Indian manufacturers now feel emboldened to move out of their comfort zone with a clear vision of becoming global champions even as India marches towards its emergence as Vikasit Bharat (developed India).
Parameswaran Iyer is CEO, NITI Aayog.
The views expressed are personal