Hutong Cat | China, Taiwan: Two countries, two very different systems
Jun 06, 2022 06:25 PM IST
As military tension tightens across the Taiwan Strait, China is looking at Taiwan's "reunification". So, how did the two countries get here? And will China invade Taiwan?
President Xi Jinping's January 2, 2019 speech is often referenced to glean evidence on how China is looking at Taiwan's "reunification" as military tension tightens across the Taiwan Strait. It's a narrow stretch of water that separates the small, well-functioning democracy from the vast, authoritarian Chinese mainland.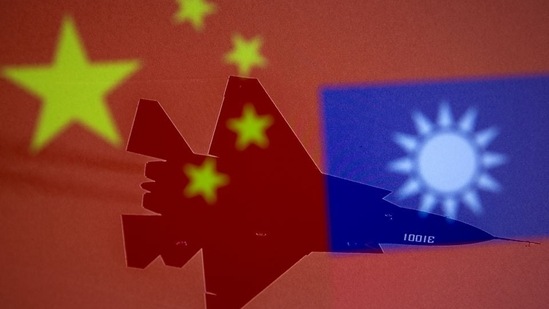 Xi made the speech, titled Message to Compatriots, to mark 40 years of a 1979 statement where China, for the first time, said Taiwan has to be reunited, and not liberated, and brought under the "one country, two systems" model.
(By now, many in Hong Kong will have an opinion about that particular model, but are no longer able to voice it.)
Xi was magnanimous in his speech: "On the basis of ensuring China's sovereignty, security, and interests of development, the social system and way of life in Taiwan will be fully respected, and the private property, religious beliefs and legitimate rights and interests of Taiwan compatriots will be fully protected after peaceful reunification is realised".
He threatened as well: "We make no promise to renounce the use of force and reserve the option of taking all necessary means".
Essentially, he didn't rule out invading a country, independently ruled since 1949, which China considers a renegade, rogue region.
What happened in 1949?
In 1949, Chiang Kai-shek's Republic of China government and its ruling Nationalist or Kuomintang (KMT) party were defeated by Mao Zedong's Communist Party of China (CPC) in a civil war. Chiang and some 1.5 million to 2.5 million people (estimates vary) retreated to the island of Taiwan, which had a history of Japanese occupation until the end of World War II in 1945.
Taiwan, officially the Republic of China (ROC), transitioned from a hard military dictatorship to a full-fledged democracy by the mid-1990s.
But over the next few decades, it lost out to China in terms of global diplomatic recognition under Beijing's relentless international pressure with its "One China principle" — it has kept Taiwan and its 23 million people in diplomatic isolation officially, allowing only proxy ties with countries including India.
Taiwan currently has official diplomatic ties with only 14 countries in the world, mostly small ones in the Caribbean, Latin America, and southern Africa and the Pacific.
But China isn't happy with just that. It wants Taiwan.
"For many Chinese and the Communist government, the focus on erasing 'the Century of Humiliation' is to protect territorial integrity. Taiwan symbolises the last piece of this puzzle after the handover of Hong Kong (from Britain) and Macau (from Portugal)," TY Wang, university professor and chair, department of politics and government, Illinois State University, told HT.
Bonnie Glaser, German Marshall Fund's Asia programme director agreed that it's the "major missing piece" for China.
"Taiwan's existence as a separate entity threatens Xi Jinping's claim that China is now a powerful country and the CPC can defend Chinese interests. He has stated that reunification is a requirement for achieving national rejuvenation, which he has said must be achieved by mid-century," Glaser said.
The need to fit that missing piece into the mainland's geography has intensified. More since the Democratic Progressive Party's (DPP) Tsai Ing-wen became president, first in 2016, and returned to power, much to Beijing's disappointment, in 2020.
Since then, China's People's Liberation Army (PLA) has kept up the pressure — more and more in recent months — on the island with serious military posturing and "real combat drills".
The PLA has held many inter-services military exercises near the island — three large-scale ones have been held in less than a month since early May — and deployed fighter jets around the island, violating Taiwan's air identification zone (ADIZ) frequently, and with impunity.
Last year, Taiwan recorded 969 incursions by Chinese warplanes into its ADIZ, according to an AFP database — more than double the roughly 380 carried out in 2020; and, so far in 2022, Taiwan has reported 465 incursions, a near 50% increase from the same period last year.
Taiwan's defence minister, Chiu Kuo-cheng, said in October that relations with China are the worst they have been for 40 years.
Both countries, however, look at economic engagement in a pragmatic way: Trade volumes speak for it.
According to statistics from Beijing released in January, the trade volume between the mainland and Taiwan was over $328.3 billion in 2021.
The mainland remains Taiwan's largest export market and source of trade surplus.
While Taiwanese investment in the mainland was around $71.3 billion, the amount of investment in Taiwan by mainland businesses stood at around $3.7 billion.
China, the US, and Taiwan
China blames the United States (US) for ratcheting up tension in the Taiwan Strait by selling arms to Taiwan and, only last week, talking about a trade pact with the island.
Beijing keeps reminding the US that the "One China policy" is a key cornerstone of bilateral ties. The US's "strategic ambiguity", however, plays on the fact that its policy is not an endorsement of Beijing's "One China principle". Washington and Taipei maintain ties at various levels, only "unofficially".
"As a leading democracy and a technological powerhouse, Taiwan is a key U.S. partner in the Indo-Pacific. Though the United States does not have diplomatic relations with Taiwan, we have a robust unofficial relationship," is how the US state department defines the ties.
Will China invade Taiwan?
China is unlikely to invade the island anytime soon. But given China's aggressive military posturing for the past several months, even years, Beijing has allowed — maybe deliberately — the speculation of an invasion to flourish.
Russia's invasion of Ukraine has brought in another dimension to that opinion: China is learning from Russia's mistakes, and has pushed back its plans to invade, given the possible impact of international economic sanctions.
"Beijing is watching and drawing lessons from the international response to Russia's violation of international rules, mindful that protecting its domestic legitimacy is a key consideration in Xi's pursuit of its ambition to take Taiwan. In other words, taking Taiwan can't come at the expense of domestic legitimacy and loss of domestic control over society," Zsuzsa Anna Ferenczy, from National Dong Hwa University in Hualien, Taiwan, and former political adviser in the European Parliament, said.
Despite the repeated talk about "reunification" by the Chinese leadership and diplomats, Beijing is likely to wait and watch.
"Whether China will decide to invade Taiwan is likely based more on political and military conditions than a deadline — at least for the near term. It will depend on a correlation of capabilities, intent, and confidence," Russel Hsiao, executive director of the Washington-based Global Taiwan Institute, said.
An invasion would mean that Beijing has to launch one of the largest amphibious attacks across the Taiwan Strait, and a quick military is not certain despite the asymmetry in military strength.
"(As seen from the Ukraine war) The rapid, globally coordinated economic sanctions may also deter Beijing leaders' aggressive actions. The Beijing government is likely to use other means such as information warfare, economic statecraft and diplomatic isolation to place pressure on Taipei," Wang from Illinois State University said.
China, however, will continue to increase military pressure on Taiwan with drills and incursions: Hardly surprising that more Taiwanese are taking shooting lessons, according to new reports.
Back in January of 2019, Taiwanese President Tsai was quick to reject President Xi's speech, and his offer to subsume Taiwan under the mainland's "one country, two systems" model.
"Democratic values are cherished by the Taiwanese people; it's their way of life," Tsai said.
It is unlikely that Tsai's message will go through: The last time China's own citizens demanded democratic values from its government, it didn't end well.
Sutirtho Patranobis, HT's experienced China hand, writes a weekly column from Beijing, exclusively for HT Premium readers. He was previously posted in Colombo, Sri Lanka, where he covered the final phase of the civil war and its aftermath, and was based in Delhi for several years before that
The views expressed are personal
Enjoy unlimited digital access with HT Premium
Subscribe Now to continue reading