250 young, bright minds make it to the finals of InnoVenture
Updated on Jan 29, 2018 04:10 PM IST
Students from Class 4 to 9 participated and produced social innovations.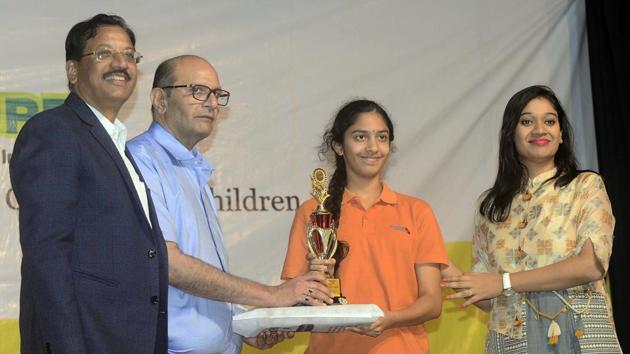 Hindustan Times, Pune |
Ananya Barua
Innovation is not age bound. We have the best of ideas in our innocent days of childhood and those ideas should not be discarded but encouraged to build something substantial. That is exactly, why we began this venture in 2014. It is never too early to become an innovator and an entrepreneur," said Pranjal Jain Gundesha, founder and CEO of a Pune-based startup, Intelligence Plus.
She was speaking at the award ceremony of InnoVenture on Saturday at Vishwakarma Institute of Technology (VIT). InnoVenture is a platform for young entrepreneurial and innovative minds across the country, organised every year. Vishwajeet Kadam, secretary of Bharati Vidyapeeth, and Parag Shah, chief mentor at MIDAS, were present as the guest of honour and chief guest of the event, respectively.
This year, they ventured across 23 states, 220 schools in 107 cities, to find 250 bright student finalists from a pool of 20,000 applicants. "Over the past four years, we have reached out to almost 40,000 students, but our target is to involve over a lakh by 2020, and 10 lakh students by 2025," added Gundesha.
Students from Class 4 to 9 participated and produced social innovations, like the StinkMap to detect and map out odour or polluted air in nearby locations and Intelligent Wastebin which incentivises people to throw waste into the bins and rewards them with small gifts for every disposal.
Inventor of StinkMap, 13-year-old Lalitha Pingali from Inventure Academy, Bangalore, won the Young Innovator's Award. Speaking about her mobile-based application, Pingali said, "The idea struck me when one day, I was returning home in a school bus, with my teacher. A particular area was stinking extremely and my teacher exclaimed why don't we have a google map that can detect odour so as to avoid those areas. That got me thinking, and I realised that actually there is no such application or technology.
"Hence, I created it based on a simple cost-effective technology that can monitor the environmental pollution focusing on the odour and connect it with the GPS map to point out the stink in five categories; from Stinky to Unbearable."
The young innovator further added that this application was not only to help people avoid 'stinky' locations, but also encourage others not to litter or pollute areas with waste. In addition to this, a number of awards in three categories, like Best school for nurturing creativity and innovation, Best enterprising school and Best mentor-ship award were also given out.
"Our education system is one that encourages students not to fail. But one can learn only by failing and then perfecting. Platforms encouraging young innovation such as this, is exactly where they are encouraged to fail and learn," said chief guest Shah.
Personalise your news feed. Follow trending topics