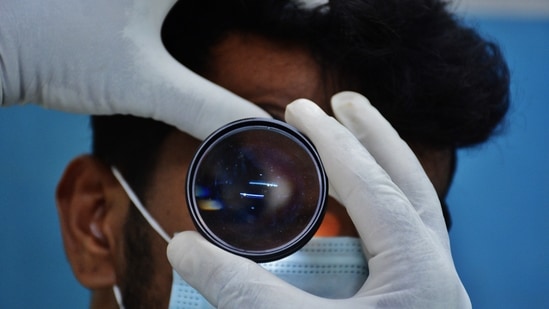 Cornea test can help identify if patients are suffering from long Covid, claims new study
The study conducted by researchers from Qatar and Turkey found that nerve fibre loss and an increase in key immune cells on the surface of the cornea, could be an identifying feature of long Covid
By
hindustantimes.com
| Written by Ayshee Bhaduri | Edited by Poulomi Ghosh
, Hindustan Times, New Delhi
PUBLISHED ON JUL 28, 2021 10:08 PM IST
Signs of nerve damage of the cells found on the surface of human eyes can help doctors understand if the patient is likely to suffer from 'long Covid', a study published in the British Journal of Ophthalmology found. "Corneal confocal microscopy identifies corneal small nerve fibre loss and increased DCs in patients with long COVID, especially those with neurological symptoms," the study concluded.
The study conducted by researchers from Qatar and Turkey found that nerve fibre loss and an increase in key immune cells on the surface of the cornea, could be an identifying feature of long Covid. Nerve fibres are branches of nerves involved in relaying sensory information to the central nervous system. Enrolled in the study were 40 patients, all of whom had recovered from Covid-19 one to six months ago, and 30 healthy control subjects in this cross-sectional study at a single tertiary referral university hospital.
The study says changes in the cornea were more evident in patients with neurological symptoms like loss of taste or smell, dizziness, brain fog, neuropathic pain, numbness etc. All the participants were subjected to a cornea scan using CCM to look for small nerve fibre damage and the density of dendritic cells. The results of the 40 Covid-19 recovered patients were then compared to the 30 healthy ones.
All the 40 people enrolled in the study were given a questionnaire to collect information about their respiratory, cardiovascular, neurological, musculoskeletal, psychological/psychiatric, gastrointestinal, dermatological, and ear, nose and throat symptoms. As many as 22 patients reported neurological symptoms four weeks after being infected while another 13 developed similar symptoms 12 weeks later. "Another major finding of this study is that corneal DC density was increased in COVID-19 patients, comprised of mature DCs in patients with persisting neurological symptoms at 4 weeks, with an increase in both mature and immature DCs at 12 weeks, providing insights into the evolution of immune activation in COVID-19," the study said.
Topics
Close