Cute baby deer gets rescued from a window well. See adorable pic
Published on Jun 06, 2022 01:24 PM IST
This Facebook post shared by the Cheltenham Township Police Department shows how a little baby deer got rescued after falling into a window well.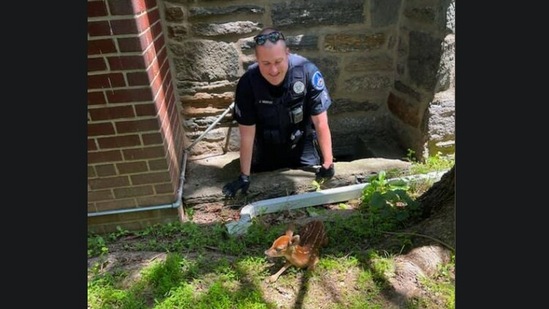 Stories of poor little animals getting rescued, especially young ones, are always heartwarming to get to know of. Just like this one baby deer who was rescued by a Pennsylvania police officer. The cute little creature had fallen into a window well and couldn't get out. Though the baby deer is now rescued and doing well, the story started a little bit differently.
An officer attended to a report from a resident of the city where they told him about a baby deer who was caught in a window well in their neighbourhood. This was reported by the Cheltenham Township Police Department in a Facebook post. "Sgt. Murphy helped a fawn that fell down a window well on Fairview Rd. A neighbour heard it yelling and called the station," begins the caption to this post.
"The fawn was checked over and left nearby for mom to come back. In this case, the baby needed help but most of the time, if you see a fawn out in the open by itself, Mom is usually close by and will leave it for a few hours at a time," it concludes.
The post was shared on Facebook on May 30. Since then, it has received above 300 likes and several comments from people who praised the work of the police department in the rescue of the baby deer.
"The look on your face, Officer, is beautiful. You look like you really enjoyed that moment! Be kind to our animals out there," wrote a Facebook user. "Great job as always," complimented another. "That's awesome. That's exactly the kind of news I like to hear and see. Thank you," posted a third.
The police department has also shared a Facebook post where they clarify what to do when little creatures can be seen abandoned. Part of its caption reads, "So when encountering young wildlife, be it deer, birds, raccoons or other animals, the best thing you can do is leave them alone. If the baby is still in the same spot after 24 hours, then call our non-emergency line or a local wildlife rehabilitator."
What would you do if you saw a baby deer near you?
Close Story
Personalise your news feed. Follow trending topics