Indian workers to be hit as Saudi Arabia bans foreigners from 12 occupations
Saudi Arabia is home to 3.2 million Indians, the largest expatriate community in the kingdom and a majority of them are blue collar workers.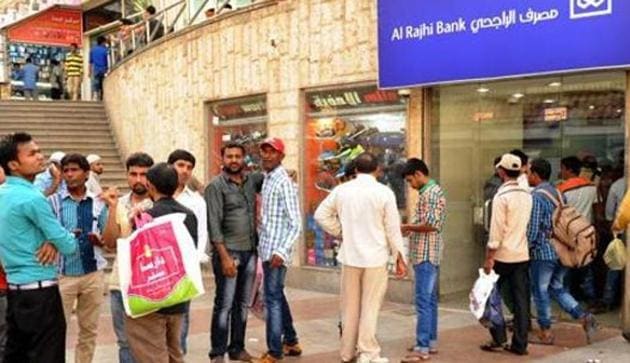 Updated on Feb 06, 2018 10:38 PM IST
Hindustan Times, New Delhi |
HT Correspondent
Saudi Arabia will ban foreigners from 12 activities and occupations in order to provide more jobs to its citizens, a move that is likely to affect a large number of workers from India and other South Asian countries.
Labour and social development minister Ali Al-Ghafees issued a directive last month barring expatriates from certain jobs from the next Hijri year under the Islamic calendar that begins on September 11, the state-run Saudi Press Agency reported.
Expatriates will be banned from outlets selling watches, eyeglasses, medical equipment, electrical appliances and electronics, car spare parts, building materials, carpets, automobiles and motorcycles, furniture and ready-made office materials, ready-made garments, children's clothes and men's wear, household utensils and pastries.
The ban will be rolled out in three phases between September this year and January 2019, reports said.
The order will "enable (Saudi) citizens to work and raise their participation rates in the private sector", SPA reported.
The move is being seen as part of the sweeping changes being made by the ambitious crown prince, Mohammed bin Salman, to revamp the Saudi economy and reduce its dependence on oil revenues.
The unemployment rate in Saudi Arabia crossed 12% last year following the impact of low oil prices.
Saudi Arabia is home to 3.2 million Indians, the largest expatriate community in the kingdom, and a majority of them are blue collar workers.
In Kerala, KC Abdul Khadar, an MLA and chairman of the Pravasi Welfare Committee of the legislature, said the ban will have a "massive impact" on Keralites working in Saudi Arabia. "Any mass job loss in the Gulf will have its immediate repercussions in the state," he said.
Mohamad Rahman, a native of Kozhikkode who runs an electronics shop in Jeddah, too said the new regulation will hit Indian expatriates.
"Since most of them are engaged in blue collar jobs in the kingdom, the ban on certain sectors will be the last straw. After 'nitaqat', it is another blow," he said, referring to kingdom's new "Saudization" policy that requires all enterprises to fill their workforce with Saudi nationals up to certain levels.
Rahman, who was on vacation when he learnt of the ban, said he was unsure whether he could return to Saudi Arabia.
Saudi labour ministry spokesman Khaled Aba Al-Khail said regional governorates would also go ahead with their own moves to restrict some jobs to Saudi nationals.
Increased employment of women in shops selling perfumes, shoes, bags, stockings and garments too will continue as planned, he said.
Close Story
Personalise your news feed. Follow trending topics